Premier Productions and Matthew West Announce "The Brand New Tour"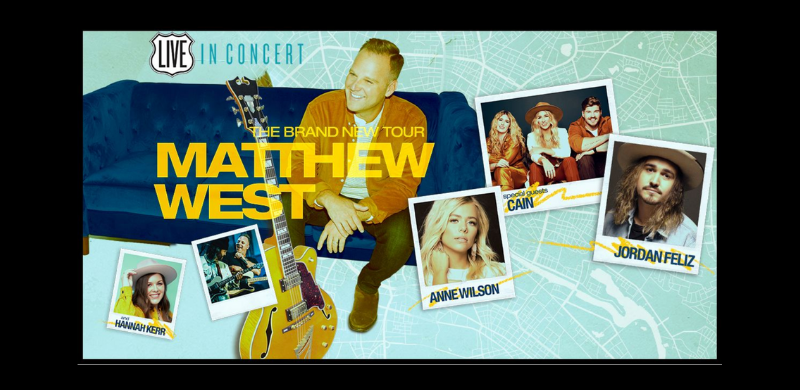 34-City Tour Features Matthew West
With Guests Anne Wilson, CAIN, Jordan Feliz and Hannah Kerr
NASHVILLE, Tenn. (Dec. 2, 2021) – Premier Productions announces Matthew West's The Brand New Tour with special guests Anne Wilson, CAIN, Jordan Feliz and Hannah Kerr. The tour will span 34 cities as audiences experience the excitement and energy of Matthew West's post-pandemic return to the stage.
"I am so excited to hit the road this spring on The Brand New Tour with an awesome lineup of talented artists and friends," said Matthew West. "After the disappointment of COVID concert cancellations and postponements, I'm feeling like a kid again. I can't believe I get to do what I do for a living, getting on a tour bus and playing live music for people. It all feels brand new again and I can't wait! Most importantly though, this world has been through a hard season like I've never witnessed. I'm praying that each night on this tour will be a powerful reminder for all who attend that we serve a God who promises to do a new thing! It's a brand new year, a brand new beginning and a brand new tour! Let's go!"
This tour brings along two of the hottest new artists in Christian music as opening acts. Anne Wilson released her breakout debut single "My Jesus" earlier this year, which reached number one on Billboard's Hot Christian Songs chart while her debut album of the same name reached number twelve on the Top Christian Albums Chart. CAIN joins the tour after their single "Rise Up (Lazarus)" reached number one on the Billboard Airplay Chart and won the 2021 K-Love Fan Award for Breakout Single. Their debut album, by the same name, debuted at number 20 on Billboard's Top Christian Albums Chart.
"This February, I am honored to be able to hit the road with my good friend Matthew West for the Brand New Tour," said Anne Wilson. "We are excited to bring a great show, a great message and a great time lifting up Jesus together to so many cities around the country!"
"Matthew has been a great friend and supporter of ours from day one," said CAIN. "He's part of our family and family is so important to us. We are so excited to be able to join him on the Brand New Tour this spring."
The Brand New Tour will kick off on February 3rd in Williamsport, MD and make stops in Dallas, Atlanta, Columbus, Detroit and more before wrapping on May 7th in Lexington, KY. Appearances by Anne Wilson, CAIN and Jordan Feliz will vary per tour stop. For a full list of dates, cities and more information, visit brandnewtour.com.
Audiences can sign up for the exclusive pre-sale now for early purchasing on Wednesday, December 8th or purchase at the public on-sale on Thursday, December 9th.
"There is a contagious buzz surrounding this tour," said Premier Productions Talent Buyer Josh "Mags" Magnin. "We are so excited to be working with our church partners and venues to deliver Matthew West's largest tour to date. Anne, Jordan, CAIN and Hannah will bring an electric energy to the audience before Matthew takes the stage. Our hope is that each night of the 'Brand New Tour' will be a night filled with hits and memories that will last a lifetime."
##