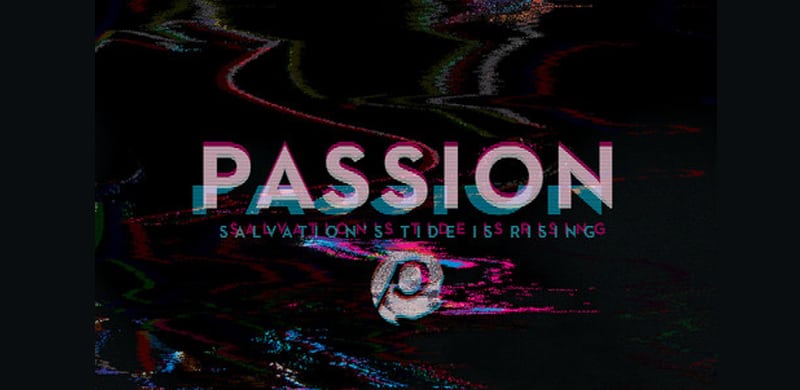 Passion: Salvation's Tide Is Rising Debuts At No. 1 On iTunes Christian Albums Chart
Songs introduced to more than 40,000 18-25 year oldsat Passion 2016 conferences in Atlanta and Houston
Nashville, Tenn. (January 4, 2016) — Several of the world's most renowned worship leaders came together to write and record Passion: Salvation's Tide Is Rising, which debuted at No. 1 on the iTunes Christian Albums chart and reached the Top 5 overall after its January 1 digital release. Physical copies of the album will be available January 29. Featuring Chris Tomlin, Crowder, Matt Redman, Christy Nockels, Kristian Stanfill, Melodie Malone, Brett Younker and Jimi Cravity, the worship anthems were introduced to more than 40,000 18-25 year olds at Passion 2016 conferences held in Houston and Atlanta arenas this past weekend.
Passion 2016
Young adults from all 50 states, 51 countries and more than 1,600 universities gathered across three locations in Atlanta (Infinite Energy Arena and Philips Arena) and Houston (Toyota Center) January 2-4. Special musical guests included Rend Collective, Hillsong UNITED and surprise performers KB, Trip Lee and Tedashii, while students heard from renowned speakers Louie Giglio, John Piper, Christine Caine, Ravi Zacharias and Levi Lusko. The conferences took place simultaneously as bands traveled between locations, and each venue experienced live and simulcast teaching from speakers.
Along with continued support for the END IT Movement to end modern-day slavery, students also donated money for the construction of a hospital to serve at-risk mothers and children in war-torn Syria. Throughout the weekend, students proclaimed the name of God, joining together to sing anthems of worship from Passion: Salvation's Tide Is Rising. Passion 2017 will take place at Atlanta's Georgia Dome, with more than 60,000 college students expected to attend. Click here for additional information. At Passion, students raised $785,127 to help build a hospital in Syria along with an additional $210,000 for immediate needs there. Plus students donated more than 10,000 towels and 60,000 pairs of socks to go to homeless shelters.
Passion: Salvation's Tide Is Rising follows in the footsteps of several Passion albums, many of which have debuted at No. 1 on Billboard's Christian Albums Chart. Listeners have become accustomed to hearing live Passion albums recorded at the annual conferences, but for the first time ever, Passion: Salvation's Tide Is Rising was recorded in a studio prior to Passion, bringing a new element to the latest release.
Passion: Salvation's Tide Is Rising is available for purchase here.
Salvation's Tide Is Rising
1. Salvation's Tide (feat. Kristian Stanfill)
2. My Victory (feat. Crowder)
3. Remember (feat. Brett Younker & Melodie Malone)
4. God and God Alone (feat. Chris Tomlin)
5. Simple Pursuit (feat. Melodie Malone)
6. I Turn to Christ (feat. Matt Redman)
7. Your Grace Amazes Me (feat. Christy Nockels)
8. All We Sinners (feat. Crowder)
9. Surrender (feat. Jimi Cravity)
10. Good Good Father (feat. Kristian Stanfill)
About Passion Conferences
Led by a stirring in the heart of Atlanta-based pastor, Louie Giglio, Passion was birthed in 1997 to see the 20+ million college students across the globe awaken to the reality of an omnipotent and glorious Creator. Since then, millions of students from across the globe have joined the Passion movement, united across ministry and denominational lines, to seek the face of God in worship and prayer at several conferences, four world tours and multiple one-day and regional events. Passion's core scripture, Isaiah 26:8 states: "Yes, LORD, walking in the way of your laws, we wait for you; your name and renown are the desire of our hearts." The small Passion Team is led by Louie Giglio and operates under the direction of a Board that is committed to spreading the fame of Jesus Christ to college students around the globe.
About sixstepsrecords
Founded in 2000 by Louie Giglio, sixstepsrecords is a worship label and a division of Passion Conferences. sixstepsrecords' artists include Chris Tomlin (ADORE: Christmas Songs of Worship), Crowder (Neon Steeple), Matt Redman (Unbroken Praise), Christy Nockels (Let It Be Jesus), Kristian Stanfill (Mountains Move) and Passion (Passion: Salvation's Tide Is Rising). The label partners with Sparrow Records/Capitol Christian Music Group for A&R, marketing, sales and distribution operations. For more information on sixstepsrecords, visit: www.sixstepsrecords.com.
Get Connected with Passion
Website
Twitter
Facebook
Instagram
##
Media Contact:
Kirsten Grenier
the media collective
kirsten@themcollective.com
615-591-7989
www.themcollective.com