NEWS: MercyMe Headlines 2015 FOX News Radio's Todd Starnes All-American Christmas Special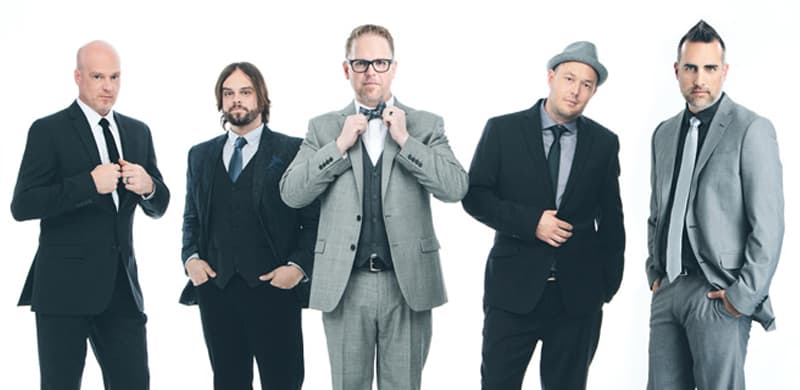 MercyMe, It's Christmas! among top holiday albums of the season
Nashville, Tenn. (December 23, 2015) – Filmed in front of a live audience in Memphis, Tenn., MercyMe's headlining performance on FOX News Radio's Todd Starnes All-American Christmas Special will broadcast this week on hundreds of FOX News Radio stations along with the entire American Family Radio network and the Bott Radio Network. Performing songs such as "Christmastime Again" and "Our Lullaby" from their newest holiday album MercyMe, It's Christmas!, the multi-platinum selling group was joined by GRAMMY® winner Laura Story, jazz great Kirk Whalum and the 300-voice Bellevue Baptist Church Singing Christmas Tree & Orchestra. The show will also be broadcast on FoxNews.com and FoxNation.com. Airings for FOXNewsRadio.com (click "listen live") are scheduled for Christmas Eve (7pm and 10 pm ET), Christmas Day (1 am, 7am, 1pm and 7 pm ET) as well as December 26 (11 am and 5 pm ET) and December 27 (1 pm and 6 pm ET).
The multi-platinum selling group has had a busy Christmas season with the release of their newest holiday album, MercyMe, It's Christmas! and a performance on the 89th Annual Macy's Thanksgiving Day Parade. MercyMe, It's Christmas! has resonated with media nationwide including FOX & Friends, PEOPLE Magazine, The New York Times, Delilah and SIRIUS XM. The holiday album debuted at No. 1 on the Billboard Holiday Albums chart and is currently top four. MercyMe, It's Christmas! is available on iTunes, Amazon and Spotify.
mercyAbout MercyMe:
Since their debut in 2001, GRAMMY®-nominated, multiple American Music Award and Dove Award winners MercyMe have sold more than 8.5 million units in CD, single and DVD sales, garnered 27 No. 1 multi-format Christian radio singles and four consecutive mainstream radio hits with "I Can Only Imagine," (No. 4 AC/Top 25 on Top 40/Hot AC), "Here With Me" (No. 4 AC), "Homesick" (Top 10 AC) and "So Long Self." Their radio success has continued with recent singles "Flawless" (No. 1 for 15 weeks) and "Greater" (No. 1 for 16 weeks), landing them the Top Christian Airplay Artist spot on Billboard's 2015 Year End charts. MercyMe made history in 2014 as "I Can Only Imagine" surpassed 2 million digital downloads, making it the first song in Christian music to go platinum and double-platinum in the digital domain. In 2009, Billboard named MercyMe's "Word Of God Speak" the No. 1 Song of The Decade and the group the No. 1 Artist of the Decade in both the Christian Songs and Christian AC Songs categories, recognizing them as one of the industry's most notable talents. They have sold out venues throughout the US and Canada, including Radio City Music Hall, and have appeared on the Macy's Thanksgiving Day Parade, The Today Show, CBS This Morning, The Tonight Show with Jay Leno, FOX New Channel's FOX & Friends, CNN, ABC News and in the pages of Entertainment Weekly, The New York Times, USA Today and more. MercyMe's eighth studio album, Welcome To The New, garnered Billboard Music Award nominations in all three Christian categories and two GRAMMY® nods. Their brand new project MercyMe, It's Christmas! debuted at No. 1 on Billboard's Holiday Albums chart and offers a fresh spin on seasonal favorites as well as several original songs.
Get Connected with MercyMe:
Website
Twitter
Facebook
Instagram
YouTube
##
Media Contact:
Velvet Kelm & Courtney Hyder
the media collective
velvet@themcollective.com
courtney@themcollective.com
(615) 591-7989
www.themcollective.com