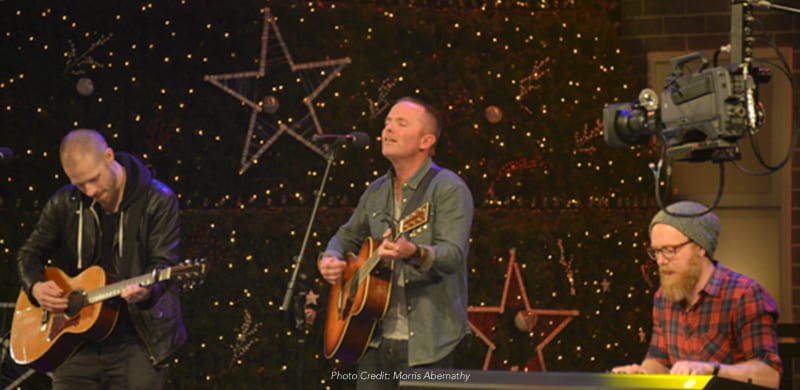 GRAMMY® Award-Winner Chris Tomlin To Perform On Fox News Radio's "Todd Starnes All-American Christmas"
Nashville, Tenn. (December 19, 2014) – GRAMMY® Award-winner Chris Tomlin is a featured performer on Fox News Radio's two-hour Christmas special, "Todd Starnes All-American Christmas," (#toddschristmas) set to air on Christmas Eve. The special will air on a number of Fox News Channel digital properties including toddstarnes.com, FoxNews.com, FoxNewsRadio.com and FoxNation.com. Additionally, the show will air on Fox News Radio affiliate stations along with American Family Radio, Bott Radio Network and KCBI in Dallas.
The special was taped before an audience of almost 4,000 at Bellevue Baptist Church in Memphis, Tennessee. The show was hosted by Fox News Radio Host Todd Starnes, whose daily commentaries air on almost 400 radio stations across the nation.
Tomlin's segment included performances of "O Come All Ye Faithful" and "Angels We Have Heard On High" from his RIAA Gold-certified Glory In The Highest project, as well as "Jesus Loves Me," the current hit single from his latest best-selling effort, Love Ran Red.
Other featured guests on the special include Duck Dynasty's Al Robertson, Former Gov. Sarah Palin, New York Times best-selling author Karen Kingsbury and musicians Ellie Holcomb and Kyle Kupecky along with a 400-voice choir and orchestra.
To learn more about Todd Starnes All-American Christmas, and for detailed air times, visit: http://radio.foxnews.com/toddstarnes/todd-starnes-all-american-christmas.
About Chris Tomlin
With nine albums, 12 No. 1 radio singles, a GRAMMY® Award and eight additional nominations, three Billboard Music Awards, 21 Dove Awards, a platinum and four gold albums to his credit, Chris Tomlin is among the most well-known and influential artists in contemporary Christian music. Referred to by Time magazine as "most likely the most often sung artist anywhere," Tomlin also has 15 of the Top 100 CCLI songs, with 4 of them being in the top 10. BMI and GMA Dove Awards' 2014 Songwriter of the Year, Tomlin's "How Great Is Our God" was his first No. 1 on the CCLI Top 25, moving to No. 1 after becoming one of the fasting rising modern day hymns in CCLI chart history. In addition to having sold more than 5.3 million albums and over 8 million digital tracks, Tomlin made history as his single "Jesus Messiah" (Hello Love) garnered 97 adds at radio its first week and skyrocketed to No. 1, making it the biggest ever add date in Christian radio history. In the midst of his record breaking success, and continuing his role as worship leader at Passion City Church in Atlanta, GA, Tomlin continues touring and leading at Passion Conference gatherings across the US and worldwide. Burning Lights debuted at No. 1 atop the Billboard 200 in January 2013, making history as only the fourth Christian music album to do so, and his tenth recording, Love Ran Red is available now.
[Get Connected with Chris Tomlin]
Website // http://www.christomlin.com
Facebook // http://www.facebook.com/christomlin
Twitter //https://twitter.com/christomlin
Spotify// https://play.spotify.com/artist/6pRi6EIPXz4QJEOEsBaA0m
Instagram // http://instagram.com/christomlin
###
MEDIA CREDIT/CONTACT:
Velvet Kelm
the media collective
velvet@themcollective.com
(615) 591-7989
www.themcollective.com