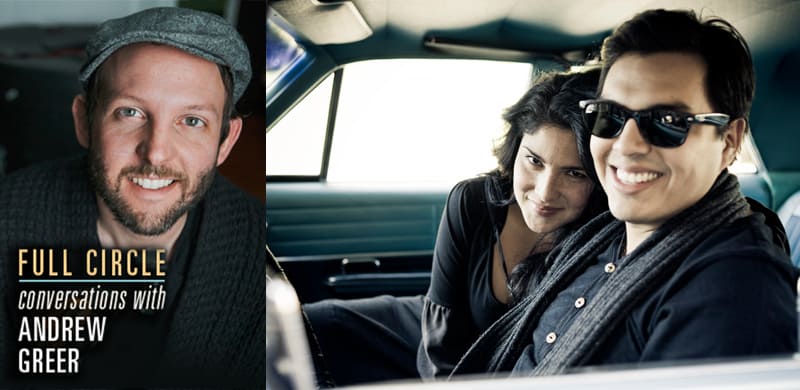 Full Circle: Conversations with Andrew Greer
Join singer-songwriter Andrew Greer as he chats with Christian music history makers past and present.
THIS MONTH: JACI VELASQUEZ & NIC GONZALES
To the world, Jaci Velasquez and Nic Gonzales – frontman and founding member of the Latin-pop band Salvador – are renowned artists, known for blurring the lines of Christian and Latin music with multi-million selling discographies and era-defining radio singles. But to each other, they are simply Mr. and Mrs. Gonzales.
Taking their partnership to the studio to collaborate on Salvador's new Christmas recording, Hope Was Born (Lucid Artist) – chalk full of re-invented holiday favorites Salvador-style and featuring a roster of famous friends – and contributing new tracks to this year's multi-artist Christmas project, All is Calm, All is Bright (Lucid Artist), which includes a song for the season written explicitly for and recorded for the first time by Jaci, the powerhouse couple converses about the impact of Christmas on their music, their lives and the life of their young family in this special Christmastime Full Circle conversation.
Andrew: Nic, your band Salvador released its first Christmas record in October. As an outfit known for fusing pop, gospel, funk and Latin music, why the decision to record Christmas music?
Nic: I feel like anytime you make a decision in music, it's always heavily influenced by your current situation. So one huge motivating factor for us was how much we wanted to create a record that we all could enjoy with our families. Over the years, our family dynamics have changed a lot. We really thought it was important to create something that everyone – from children to grandparents – could sing along with.
Andrew: The record features the help of many well-known friends. The Katinas. Phil Keaggy. StompTown Revival. Your wife, Jaci. What inspired the collaborative approach? And how does teaming up with other artists reflect the community spirit of Christmas for you on Hope Was Born?
Nic: Christmastime is all about family and friends. When making a general CCM record we rarely have the chance to do something so unique, so we decided what better opportunity to work with our friends than right now? And while usually there are a lot of pressures that come with making a record, there's something about the Christmas spirit that simply relaxes artists and helps us all get back to the core of why we do what we do – to celebrate the birth of Jesus Christ.
Andrew: Jaci, I had the honor of writing for you a new Christmas song – "Heartbeat of a Baby" – and with Nic's help, produce the track for this year's multi-artist project, All is Calm, All is Bright. As a disciple of Christ how does this song speak to you? As a mother, how does this song speak to you?
Jaci: Recording this song with you was an extremely enjoyable experience! It really helped me stay mindful of what the birth of Jesus truly means – that hope and redemption were gifted to the world the day that this baby was born. And as a mother, the song takes on a whole new meaning. It is unfathomable to think of having to give up either of my babies so that the world could someday be saved. Such a humbling thought!
Andrew: How do you guys celebrate Christmas in the Gonzales household?
Jaci and Nic: Our favorite tradition happens on Christmas Eve. Every Christmas Eve we set up a projector in the backyard and build a big fire while the boys roast marshmallows, drink hot chocolate and watch The Polar Express. It's a blast!
For our children, we've found that the star at the top of the Christmas tree is what really connects them to the season spiritually. Our boys love the story of how the wise men follow the star and seek out baby Jesus. So our hope and prayer as parents is that they will always be just like the wise men, seeking, searching and following Jesus.
View a live video of Salvador's "Hope Was Born" here!
Watch the trailer for All is Calm, All is Bright featuring Jaci & Nic here!
##
About Jaci: Jaci Velasquez has three RIAA® certified Platinum® albums, three RIAA® certified Gold® albums, 16 number one singles, 6 singles in the top 10, 7 Dove Awards, has graced more than 50 magazine covers, appeared in ads for Pepsi, Doritos, Target, and is the co-host of the syndicated morning show, "The Family Friendly Morning Show with Doug and Jaci Velasquez" on Today's Christian Music Radio Network with more than 1.5 million listeners. For more information visit: jacivelasquez.com.
About Nic: Nic Gonzales has cemented his place in Christian music history as the founder and frontman of Dove Award-winning Latin-pop band Salvador. Consistently one of Christian music's top-rated live acts, the band's first Christmas record, Hope Was Born, released this fall. Infused with Salvador's unique big band Latin/Tex-Mex flair, Hope Was Born features a wide range of special guests, including Phil Keaggy, StompTown Revival, The Katinas and Nic's wife, Jaci Velasquez. For more information visit: salvadorlive.com.
About Andrew: Andrew Greer is a Dove Award-nominated singer-songwriter, writer and co-creator of the innovative Hymns for Hunger Tour with fellow singer-songwriter Cindy Morgan. His instrumental record, All Things Bright & Beautiful: Hymns for the Seasons (Lucid Artist), held the #1 spot on Nielsen Christian SoundScan's Instrumental chart for 25 consecutive week last year. Andrew's first Christmas record, Angel Band: The Christmas Sessions, reached the Top 10 on iTunes' Singer-Songwriter chart and features collaborations with music legends Phil Madeira, The McCrary Sisters, Cindy Morgan and Sandi Patty. For more information visit: andrew-greer.com.