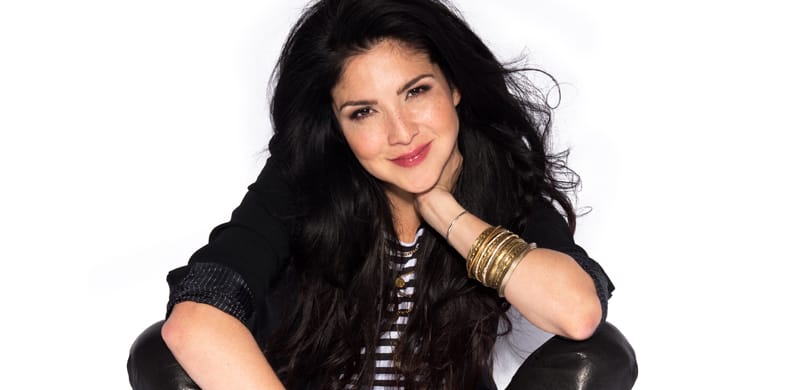 Critics Laud Album As "Authentic, Spectacular, Stunning"
Album Marks Velasquez's 1st Simultaneous English/Spanish Release, 1st Worship Album, 1st Album In Five Years; Sparks 1st Major Tour In Seven Years
Spanish Single, "Gloria Al Rey," Goes To Radio Today; English Single, "God Who Moves The Mountains," Hits Radio April 28
Bilingual, multi-Platinum selling recording artist and actress Jaci Velasquez releases her first, full-length studio album in over five years today from Integrity Music. The highly-anticipated, critically acclaimed recording, both the English-language version, Trust, and Spanish-language Confío, is now available globally in over 160 nations. A Billboard Latin Music Award winner with five Spanish albums to her credit, this marks the first time for Velasquez to simultaneously release an album in both languages.
Produced by David Leonard (All Sons & Daughters) and Chris Bevins (Salvador, Phillips Craig & Dean), Trust (Confío) is also the first worship album from Velasquez and features new songs penned by her and her husband, Nic Gonzalez, along with songs by Martin Smith (Delirious?), Michael Farren, Dustin Smith and more. Notable tracks include the first English-language single going to radio April 28, "God Who Moves The Mountains," "Praise The King" and the Spanish-language version of this song that is at radio today throughout Latin America, "Gloria Al Rey," "Lay It At The Cross," which is being featured as LifeWay Christian Stores' April "song of the month," "Grande Eres Dios" ("Great Are You Lord") and "Trust You," a song that sparked the project's title and captures the core message of this new album.
---

"Trust is an underlying theme for me as a wife and a mom," says Velasquez. "You can't have a relationship without trust. Like my husband and I, there are no secrets and we trust each other no matter what. The same is true with my relationship with Jesus."
Velasquez and her vertical, Godward songs of worship on Trust (Confío) has been or will be receiving upcoming covers, features and reviews in outlets like Christianity Today, CCM Magazine (April 15 cover story), Simple Grace, Leading Hearts (May/June cover story), Soul 2 Soul Radio, GigSalad, MTL Magazine, JesusFreakHideout.com, Life with Purpose Radio, Christian Musician, Iconic Magazine, Faith Filled Family Magazine, Christian MARKET and JesusWired.com, as well as in Spanish outlets like CVC LA VOZ, Zona Vertical, Altar7.com and many more. Critics are also touting Trust (Confío) as "authentic," "spectacular," "stunning":
"Jaci has done a spectacular job sharing her heart with the world through her album Trust…a stunning work to add to her collection." – NewReleaseToday.com
"…Jaci Velasquez showcases her personal and worshipful side with contemporary/Latin pop stylings and a lovely voice that sounds like it's barely taken a break…" – CCM Magazine
"…this is an excellent worship album…in keeping up with her lofty standard of great songs. Let's hope this will be the first of many worship albums in Velasquez's discography." – Hallels.com
"There is a distinct authenticity and attention to detail present in every song, and the message of peace found in trusting God is proclaimed loud and clear." – The Christian Beat
"…Jaci Velasquez has shown us through 42 minutes of inspiring worship to Jesus, that He is still here, and she still is a force to be reckoned with…check out Trust on March 31, and marvel at Jaci's prowess as a singer and a worshipper!" – 365 Days of Inspiring Media
---

Music fans will have the opportunity to see Velasquez sing her new songs, as well as her mega-hits like "On My Knees" and other fan favorites spanning 17 albums and 16 No. 1 radio singles, on her first major tour in over seven years. Her 20-city, album-launch "Trust Tour" featuring a full band and Nic Gonzales (lead singer of Salvador) has already been received by enthusiastic crowds in Miami, West Palm Beach, San Antonio, Dallas and more, and is in Midland, TX tonight before traveling to these Texas cities in the coming days: El Paso (4/1), Lubbock (4/2), Webster (4/7), Fort Worth (4/8) and Garland (4/9).
Sponsored by One Child Matters, a child sponsorship organization helping to meet the physical and spiritual needs of children in poverty-stricken areas of the world, and booked by Charles Dorris & Associates, LLC the tour is expected to continue in major markets throughout the US and Latin America. Watch Velasquez's Facebook page for all the latest concert updates.
In addition to the album and tour, Velasquez is currently working on a book, a clothing line that raises support for Autism related causes, and she will be featured in two Christian films releasing in 2017. For all the latest Jaci Velasquez news, go to www.jacivelasquez.com, Facebook, Twitter and Instagram.
About Jaci Velasquez:
Velasquez has three RIAA® certified Platinum® albums, three RIAA certified Gold® albums, 16 No. 1 singles, 6 more singles in the top 10, 7 Dove Awards, 2 Latin Grammy® Award nominations, 3 Grammy Award nominations, has graced more than 50 magazine covers including Teen People, Latin Girl, Teen Beat, Parade and People In Espanol, has appeared in ads for Pepsi, Doritos and Target, and co-hosted for nearly seven years Salem Broadcasting Network's "The Family Friendly Morning Show with Doug and Jaci" on Today's CMR Network with more than 1.5 million daily listeners. In addition to writing, recording, international touring and serving as an advocate for Autism awareness, Velasquez has been featured in five faith-based films since 2011, hosted the SESAC Christian Music Awards, GMA IMMERSE, and has been internationally active in a plethora of the music industry's niches since her impressive emergence as an award-winning artist at the age of 16.
About Integrity Music:
Integrity Music is part of the David C Cook family, a nonprofit global resource provider serving the Church with life-transforming materials. With offices in Nashville, Tennessee (US) and Eastbourne, East Sussex (UK), Integrity is committed to taking songs of substance to the local church and its leaders around the world. Integrity publishes many of the top songs in the Church, including "Great Are You Lord," "Revelation Song," "Open The Eyes Of My Heart," "Your Great Name," "I Am Free," "How He Loves," "Great I Am," and "We Believe," among others. Additional information is available at www.integritymusic.com.
##