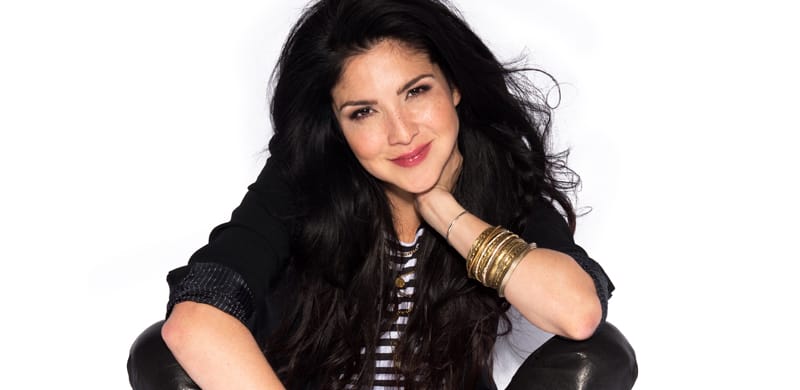 Bilingual, multi-Platinum selling recording artist and actress Jaci Velasquez announces her first major tour in over seven years, the "Trust Tour" launching March 2 in Jacksonville, FL. The tour supports her first, full-length studio album in over five years, the English-language Trust and Spanish-language Confío releasing globally to over 160 nations March 31 from Integrity Music.
With plans to hit major markets throughout the US and Latin America, the initial winter/spring leg of the "Trust Tour" will traverse Florida and Texas into churches in 19 cities and features a full band, including Velasquez's husband Nic Gonzales (lead singer of Salvador). Sponsored by One Child Matters, a child sponsorship organization helping to meet the physical and spiritual needs of children in poverty-stricken areas of the world, the tour will also feature special guest Jamison Strain. (See full tour itinerary below and on Velasquez's Facebook page.)
"Virtually every market on this tour is already selling well though ticketing partner iTickets," says tour promoter Charles Dorris, DR Artist Management. "Jaci's brand has vibrancy to it because so many of her fans have literally grown up with her, singing her songs, following her on Facebook where she has over a million likes and then listening to her for several years on the nationally heard Salem Radio Network show, 'The Family Friendly Morning Show with Doug and Jaci.' I foresee these events becoming a sing-along with several songs most everyone will know."
While on tour, Velasquez will sing her mega-hits like "On My Knees" and other fan favorites spanning 17 albums to date (not including compilations) that have gathered 16 No. 1 radio hits, 5 Grammy® nominations, 7 Dove Awards, 3 RIAA Gold Records and 3 RIAA Platinum records. She will also sing new music from her highly-anticipated Trust (Confío) album, including the debut radio single, "God Who Moves The Mountains," which goes for ads April 28.
This new single, written by David Leonard (All Sons & Daughters), Dustin Smith and Richie Fike, was the spark that ignited the vertical, Godward songs of worship on Trust (Confío), Velasquez's first-ever worship album. Awakened in the middle of the night by her youngest son, Soren (born in 2009), who was having "bad dreams," Velasquez consoled him and decided to play this song, which she recently received from Integrity Music. What followed was a moving time of worship for mom and son that chased away the fear.
"We adults are worried about paying our bills, getting our car fixed, health, but being scared in bed alone is a mountain to a seven-year-old," shares Velasquez, who is a dedicated mom to two young boys. "Soren and I both were moved to worship, and our lives changed in that moment."
"I don't know a lot about worship as a music genre," continues Velasquez, "but I know how God can use music to move people. What we experience in church, in worship, we want to have that experience every day… at home, in the car. In the middle of the day, God uses it to meet us in the middle of our chaos, to move us closer to him, to remind us of who we are and who He is."
Produced by Leonard and Chris Bevins (Salvador, Phillips Craig & Dean), Trust (Confío) also marks the first time for Velasquez to simultaneously release an album in two languages. A Billboard Latin Music Award winner with five Spanish albums to her credit, Velasquez's new album features the single, as well as new songs penned by her and her husband along with songs by Martin Smith (Delirious?), Dove Award winner Michael Farren and more. Notable tracks include "Rest," "It's Never As Dark As It Seems To Be" and "Trust You," which sparked the project's title and captures the core message of this new album.
"Trust is an underlying theme for me as a wife and a mom," says Velasquez. "You can't have a relationship without trust. Like my husband and I, there are no secrets and we trust each other no matter what. The same is true with my relationship with Jesus."
The theme of trust also encompasses Velasquez's hope for her son, Zealand (9), who has Autism. "There are so many days in my life that I feel like I am losing control," confesses Velasquez. "The song 'Trust You' comes from that moment of where I have to 'shake my hands,' step away and remind myself that 'I know you are worried, but God loves him more than you do Jaci. Stop worrying'."
The full Trust (Confío) track listing follows:
Trust (English) Track List:
1. Trust You
2. I Will Call
3. God Who Moves The Mountains
4. Great Is Your Faithfulness
5. It's Never As Dark As It Seems To Be
6. Great Are You Lord (Feat. Nic Gonzales)
7. Lay It At The Cross
8. Rest
9. Praise The King
10. Sound Of Your Kingdom
Confío (Spanish) Track List:
1. Confío
2. Clamaré
3. Dios Que Mueve Montes
4. Cuan Grande Fidelidad
5. Nunca es tan mal como aparenta ser
6. Grande eres Dios
7. Llévalo a la cruz
8. Descansaré
9. Gloria al Rey
10. Sonido de tu Reino
---
Jaci Velasquez winter/spring "Trust Tour" itinerary follows:
Mar 02 Jacksonville, FL, The Church at Argyle
Mar 03 Pensacola, FL, Brownsville Assembly of God Church
Mar 04 Port Charlotte, FL, Community Life Center
Mar 05 Crystal River, FL, Crystal River Church of God
Mar 09 Melbourne, FL, Promiseland Church
Mar 10 Fort Pierce, FL, Christ Family Church
Mar 11 Miami, FL, New Testament Baptist Church
Mar 12 West Palm Beach, FL, Winners Church
Mar 16 San Marcos, TX, Christ The Rock
Mar 17 San Antonio, TX, First Assembly of God Church
Mar 18 Missouri City, TX, The Freedom Center Church
Mar 19 Edinburg, TX, Abundant Grace Community Church
Mar 30 Abilene, TX, Abilene First Church of the Nazarene
Mar 31 Midland, TX, Lifehouse Fellowship
Apr 01 El Paso, TX, Grace Christian Center
Apr 02 Lubbock, TX, Emmanuel Worship Center
Apr 07 Webster, TX, Challenger Columbia Stadium
Apr 08 Ft. Worth, TX, Hope Works Church
Apr 09 Garland, TX, Curtis Culwell Center
Purchase tickets to these shows HERE.
In addition to the album and tour, Velasquez is currently working on a book, a clothing line that raises support for Autism related causes, and she will be featured in two Christian films releasing in 2017. For all the latest Jaci Velasquez news, go to www.jacivelasquez.com, Facebook, Twitter and Instagram.