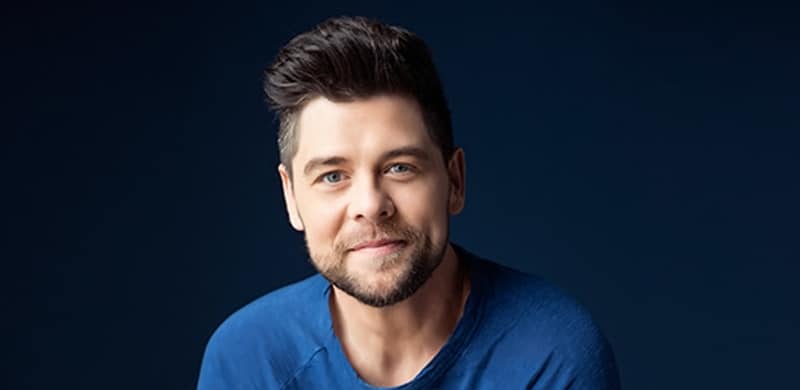 Grammy-winning Christian recording artist Jason Crabb is launching his own label, Billboard has learned exclusively. Red Bus Records will partner with Daywind Music Group for marketing and distribution. Crabb plans to release his first album through the new venture later in 2017 and is looking to sign other faith-based acts to the Red Bus roster.
"We wanted to do an imprint label where we could bring on new artists to help them get their start or even a country artist or two that want a place to do a gospel record," Crabb tells Billboard. "We want to facilitate that for them, really help in that area, because we know that side of this business. That's what we want to do is help people. It's something that I've always dreamed about."
Crabb plans to be very involved in signing and developing new acts. "I would really love to be hands-on, especially with the production and helping artists," Crabb shares. "The biggest thing sometimes is knowing what not to do. If they are going to put their energy into something, [I want to] help them spend their energy where it's best spent. I really want to be hands-on and that's why I'll have to be very selective. We're not going to sign 20 artists. It's going to be a couple here and there. I would really love to be in the production part of it, and if I don't fit with them, then we'll find the person who does."
The Kentucky native rose to prominence performing with his siblings as the Crabb Family. When the group disbanded to pursue separate interests, Jason signed with Spring Hill Music Group and released his self-titled solo debut in 2009. The album won the Grammy for best Southern/country/bluegrass gospel album in 2010. He followed with Because It's Christmas in 2010 and Love Is Stronger in 2013 before exiting Spring Hill to sign with Provident Music Group, Sony's Christian music division. Crabb's 2015 release Whatever the Road targeted a more contemporary audience while still including tracks geared toward his core fan base. The project earned a Grammy nom for contemporary Christian album.
"I learned a lot from my experience with Provident, and I'm proud to have been on their label," says Crabb, a multiple Dove Award winner who was named artist of the year in 2012. "My friendship and respect for what they did for me and what they do for other artists will always remain high. I have nothing but good things to say about Provident. It's just that we tried a few things and the direction that I'm headed didn't seem to match what they were doing and so it was kind of a mutual agreement [to part ways]."
Daywind's distribution division, New Day Christian Distributors, recently amped up its presence in the marketplace by expanding its relationship with Word Entertainment to include distribution of all titles/artists on Word and the Curb Christian rosters. Daywind Music Group president Ed Leonard is excited to add Crabb's new venture. "Jason Crabb is a once-in-a-generation talent with an amazing history and future," he says. "We look forward to working together as we combine our significant resources with Jason and his team to continue to reach the lost for Christ."
Crabb is equally enthusiastic about the new association. "I am excited to be partnering with Daywind Music Group for marketing and distribution," he says. "Over the past several years they have continually grown, and with their new acquisition of both Word and Curb artists for their distribution, I really feel we will make a great team together. Ed gave me free rein and said, 'Hey, we want your ideas. We want those specialty records. We want this.' They feel that I can bring some things to them that maybe they don't have. This is going to be a growing process for all of us and it's going to be a fun journey. The whole team just feels like it's going to be a unique and fun chapter in all of our lives."
Crabb is starting to write songs for his next album and knows exactly the direction he has in mind. "When you've been on the road for so long, you know what connects with people," he says. "This next record is going to be totally for that core audience that's been with us for so long. It's going to be for them. It's not going to be, 'Hey, we've got to create a radio record' or 'We've got to create something we think will work for a commercial or movie.' We're just going to write it and do it for the fans, for the people out here and I'm excited about that. I'm more excited about that than I've ever been about a record."
##