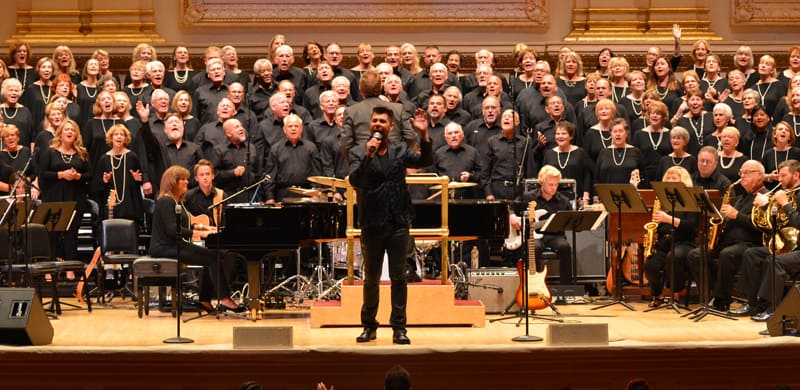 Special Guest Gloria Gaynor Surprises Crowd
Jason Crabb made his solo debut at New York's historic Carnegie Hall this past Saturday, June 4, 2016. The performance included Crabb backed by his band and the First Baptist Woodstock Choir & Orchestra with Pastor Johnny Hunt also speaking.
During the evening concert, Jason had a surprise for the crowd. Gloria Gaynor, singer of the iconic worldwide hit, "I Will Survive," was in attendance. Crabb called Gaynor to the stage and together, they delivered a duet on the classic spiritual, "Take My Hand, Precious Lord." The soulful voices filled the hall as the crowd rose to their feet in applause.
Crabb performed songs from his Grammy nominated project, Whatever the Road, and – with the help of the First Baptist Church of Woodstock Choir & Orchestra – delivered beloved classics "Through the Fire" and "I'm Amazed."
Carnegie Hall is known as the most prestigious stage in the United States. Built in 1891, it is listed on the U.S. National Register of Historic Places and is a U.S. National Historic Landmark.
The appearance marks the first time Crabb has appeared as a solo artist. Previously, The Crabb Family appeared at the famed hall during a Gaither Homecoming appearance later released on DVD.
Through the years, the venue has welcomed a diverse array of talent, including Judy Garland, Yo-Yo Ma, Benny Goodman, Frank Sinatra, Luciano Pavarotti, the Beatles, Tina Turner and a host of others.
More information on Jason Crabb is available at www.JasonCrabb.com.
ABOUT JASON CRABB:
In his career, Kentucky-born Jason Crabb has won a GRAMMY (in 2010 for Best Southern/Country/Bluegrass Gospel Album, Jason Crabb) and 21 Dove Awards, both as a solo artist as well as with the Crabb Family. In 2012, the Gospel Music Association's Dove Awards crowned Crabb as both Artist and Male Vocalist of the Year.
Since his first solo release in 2009, Jason Crabb has performed at many of the world's most prestigious stages such as Carnegie Hall, the Grand Ole Opry, the Brooklyn Tabernacle and Billy Graham's final crusade in NYC. He has also shared the stage with artists such as Wynonna, Brad Paisley, Blake Shelton, Sandi Patty, the Oak Ridge Boys and more. He has appeared on Donald Trump's "Celebrity Apprentice" (NBC) and alongside Duck Dynasty's Willie Robertson.
Jason Crabb has been covered in such outlets as Associated Press, Huffington Post, Billboard, USA Today online, Fox News, Entertainment Tonight, Country Weekly, among others, and was named one of Nashville's Most Beautiful People by Nashville Lifestyles Magazine. Jason Crabb is also a regular host on TBN (Trinity Broadcast Network.)
##
Media Contact:
Aaron Crisler
aaron@conduitmedia.biz