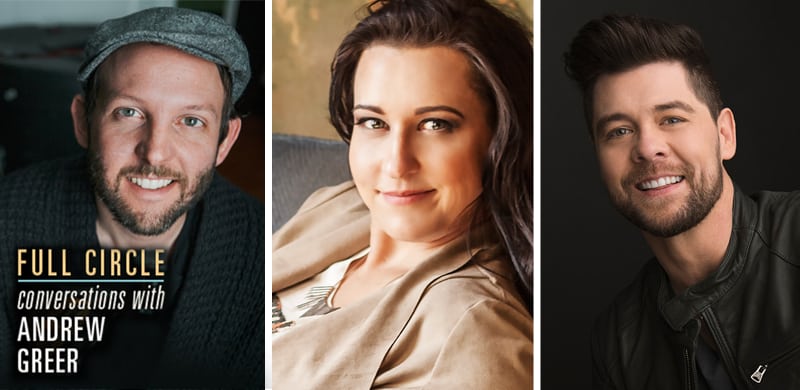 Join singer-songwriter Andrew Greer as he chats with Christian music history makers past and present
THIS MONTH: JASON CRABB + NATASHA OWENS
Jason Crabb is one of gospel music's few young legends. Still in his thirties, the southern soul singer has racked up twenty-one Dove Awards – including Artist and Male Vocalist of the Year in 2012 – and was awarded his first Grammy Award in 2010. His distinctive vocal chops have landed him prestigious invitations from a wide-range of historic stages such as Carnegie Hall, the Grand Ole Opry and the Brooklyn Tabernacle, plus shared platforms with a lengthy list of pinnacle artists like Brad Paisley, The Oak Ridge Boys and Sandi Patty. Yet it Jason's Kentucky-bred demeanor and generous heart that has instilled diehard loyalty in millions of Crabb connoisseurs around the country.
Indie artist Natasha Owens is also no stranger to Crabb's musical charm. The Texas native singer-songwriter-worship leader leaned on Jason's music for spiritual encouragement and emotional healing during a season of deep depression instigated by the death of her father in a tragic accident. Fast forward to 2015 and Owens is now an integral part of Jason's touring family, sharing the stage with the young legend night after night while performing her own set list of hope-infused tunes birthed from her journey out of the darkness, and into the light.
On the heels of Jason's latest best-selling release, Whatever the Road (Provident), and Natasha's newest EP, No One But You (Independent), the two musical ministers converse about sharing the stage, new songs and the stories that made them worth writing.
Andrew: Jason, you began in southern-minded music. Through the years, you have evolved into a full-force CCM artist. How does the decidedly Adult Contemporary/Pop direction of Whatever the Road – as well as the messages within – reflect or depict who you are today?
Jason Crabb: I've always loved all kinds of music, and I believe God uses all different types of musical tastes to reach people right where they are. This record is probably more "me" than anything I've ever done. I co-wrote seven of the songs on the project, and those songs were born out of my own life experiences and the people I talk to every night at concerts. Their life stories inspired so much of this music.
As an artist, I think every one of us in music continually evolves. Musically, this is a natural progression of where we've been headed for a while now. Lyrically, I've always picked songs that have a strong Christ-centered message and give hope to the listener that "He won't' leave you", that He is always there for you. That won't ever change.
Andrew: Natasha, your background is worship music. How does your new EP, No One But You – also decidedly Adult Contemporary/Pop – reflect who you are as a person and artist today?
Natasha Owens: I consider myself a restoration artist with a primary focus to help broken people. Sometimes with restoration the topic can be a little heavy. I wanted the music to contain deep lyrics but have a very upbeat and hopeful feeling in the music. In my opinion, the entire project gives a great balance between upbeat and hopeful with worship. You can't create a restoration CD without worship music.
Andrew: The EP's title track is your musical response to the loss of your father in a tragic accident in 2010. How does this song chronicle your journey into healing after his death?
Natasha: After the shock wore off, I spiraled into depression. I would go to church and people would ask me how I was doing. I would say, "Not so great." I would get responses like, "Are you still dealing with grief?" The church is made to be a hospital but people are so busy they can't slow down to help. I would paste on a fake smile and act like everything was great, but on the inside I was so broken I felt like I could not breathe.
"No One But You" talks about how when no one sees the broken pieces, God does. He takes those broken pieces inside and mends them back together with your tears.
Andrew: Jason, your latest single, "He Knows What He's Doing," is also inspired by tragedy. What's the story behind this impact song?
Jason: A young girl named Lillie came to a concert and wanted to sing with me. She had cancer. When she got on stage, she sang every note loud and strong. The next day I was scheduled to be in Nashville writing with my producer Jason Ingram. When I walked in the door, Jason said, "What do you want to write today?" Just then, I got a text saying: Lillie's mom said to tell you thanks for letting her sing with you. I told Jason the story of Lillie and he said, "Let's write that."
No matter what is going on in life, God knows what He's doing. We have to trust Him even when it's hard and makes absolutely no sense to us at all.
"No matter what is going on in life, God knows what He's doing. We have to trust Him even when … it makes absolutely no sense to us at all."
Andrew: Natasha has shared the stage with you on tour in dozens of cities across the United States. How did your paths cross?
Jason: My manager, Philip Morris, brought Natasha to my attention. Once we met and got to know each other, I knew I wanted to have her on the road with me. I just love Natasha and her family! People identify with Natasha because she's been through some hard times. When she shares her testimony of losing her father, people know what that's like. She is real and people know that when they meet her, when they hear her speak and listen to her music.
Andrew: And you, Natasha?
Natasha: My manager asked me, "If you could travel with anyone, who would it be?" I told him Jason. I have been a follower of Jason's music for many years. His restoration songs like "Through the Fire," "Sometimes I Cry" and "Please Forgive Me" helped me during my tough time. My band, and my husband who travels with me, connected with Jason's group immediately. I really appreciate Jason for taking a chance on me and for believing in my ministry.
Andrew: At the end of the day, after all the striving, the working, the planning to perfect the music and influence standings in the industry, what is the point?
Jason: The only reason we pack the big red bus every week is to see the power of God change lives and impact people. To experience the moment when someone gives their heart to the Lord or that moment when you know a person found encouragement through a song or word spoken. There's nothing like it.
I am eternally grateful and humbled that God would pick me, a boy from Kentucky, to even be a small part of the work He is doing in people's lives.
##
About Jason Crabb: Kentucky-born Jason Crabb has won a GRAMMY Award and 21 Dove Awards, both as a solo artist and as a member of the legendary Crabb Family. In 2012, The Gospel Music Association awarded Jason with a Dove Award for both Artist of the Year and Male Vocalist of the Year. Since his first solo release in 2009, Jason has performed on prestigious stages like Carnegie Hall, the Grand Ole Opry, Brooklyn Tabernacle and Billy Graham's final crusade in New York City. He has shared the stage with artists like Wynonna, Brad Paisley, Sandi Patty, the Oak Ridge Boys, and more. Jason was named one of Nashville's Most Beautiful People by Nashville Lifestyles Magazine and hosts his own television show on TBN (Trinity Broadcast Network). For more information, visit jasoncrabb.com.
About Natasha Owens: Natasha Owens has spent most of her life in Texas and currently lives in the Dallas area, with her husband and two sons. She was raised in a musical family, began singing at four years of age, and was involved with choirs and praise teams while growing up. In May 2010, Owens faith was tested when her 58-year-old father died from a tragic gun accident that instantly killed him. Overcome with grief, she retreated from life and found it difficult to heal. During this time, her pastor from Turning Pointe Church in Allen, TX asked her to become the Music Minister for the congregation. Natasha accepted the position and this music ministry began the healing process for Owens, while laying the foundation for her budding music career. This led to sharing the stages with Michael W. Smith, Jason Crabb, Sanctus Real, and releasing her first album, I Made It Through in 2014. No One But You is Owens second national project and released August 28th. For more information, visit natashaowensmusic.com.
About Andrew: Andrew Greer is a multiple Dove Award-nominated singer-songwriter, author and co-creator of the innovative Hymns for Hunger Tour with Dove Award-winning singer-songwriter Cindy Morgan. His 2013 record, All Things Bright & Beautiful (Lucid Artist), held the #1 spot on Nielsen Christian SoundScan's Instrumental chart for 25 consecutive weeks. Angel Band: The Christmas Sessions reached the Top 10 on iTunes' mainstream Singer-Songwriter chart and features collaborations with music legends Phil Madeira, The McCrary Sisters, Cindy Morgan and GRAMMY®-winning legend Sandi Patty. Andrew's songs have been recorded by artists like Jaci Velasquez, Nic Gonzales (of Salvador) and Seth & Nirva. His first book – Transcending Mysteries: Who is God, and What Does He Want from Us? (Thomas Nelson) – released earlier this year. For more information visit: andrew-greer.com or hymnsforhunger.com.