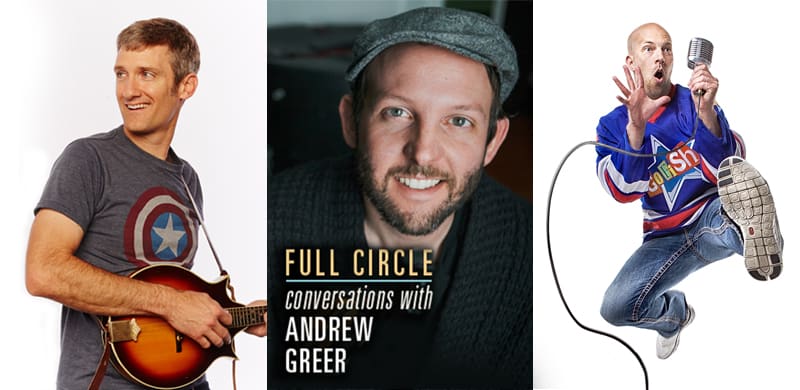 Full Circle: Conversations with Andrew Greer
Join singer-songwriter Andrew Greer as he chats with Christian music history makers past and present.
THIS MONTH: Randall Goodgame + Go Fish
For over a decade, singer-songwriter Randall Goodgame has set the song bar high with his insightful singer-songwriter records, his knack for the craft affirmed by the list of thoughtful songwriter peers who have recorded his songs – Jason Gray, Caedmon's Call, and Ginny Owens.
Multi-faceted vocal band Go Fish came into focus industry-wide as a late-90's CCM pop group with radio-ready chops to rival any gold-selling contemporary of the era.
Yet as their careers of Goodgame and Go Fish advanced, the musical entrepreneurs output evolved from adult-focused to all ages. And as their own family numbers grew, the creative fathers were compelled to use music to meet the spiritual needs of the bustling broods in their lives at home and in the lives of their audience members on the road. The result? Goodgame's Slugs & Bugs records and Vacation Bible School resources – including the recent release of Sing the Bible with Slugs & Bugs, produced by Ben Shive (Brandon Heath, Sara Groves) – have penetrated the iPods playlists of thousands of spiritually sensitive families across the country. And Go Fish's family entertainment resources have created musically-driven, Bible-focused curriculum like Backstage with the Bible, Kickin' It Old School and last year's mega-seller, Gotta Move!
Here Goodgame and founding Go Fish member, Jamie Statema, discuss music as definitive resource for foundational spiritual growth.
Andrew: Randall, your career has been steeped in thoughtful songwriter prose. And Jamie, Go Fish began as an adult pop vocal band. When did you each realize you were being led to exclusively focus your music and ministry efforts on children and families?
Randall Goodgame: About five years ago, after years of writing silly songs for VeggieTales, and years of struggling as a dad to live out the Gospel with my kids, I realized that combining those two ideas – silliness and the Gospel life – could be richly inspiring for me as a songwriter. Personally, I finally had a satisfying answer to the question, Why do you leave your family every weekend to go play music for a living? When art engages the whole family, like a PIXAR movie does so well, it can profoundly impact each member, building shared experiences and a language they can draw on for the rest of their lives.
Jamie Statema (of Go Fish): Go Fish had been performing as a CCM band for eight years when we released our first children's album in 2003. We had never seen a response like what we saw when we began to create children's music, and we haven't looked back since. We had no idea there was such a hunger out there for music that the entire family could enjoy together and are privileged to make great music for kids that won't drive parents bonkers!
Andrew: How can music help ingrain Scripture and Truth in the mind of a child?
Jamie: The exact same way it can be ingrained in the mind of an adult. C.S. Lewis said, "A children's book worth reading only in childhood isn't worth reading even then." We feel the same way about children's music. Kids are smart, and the key to good children's music is to not dumb it down. As a dad, I'm constantly asking myself what truths I want to pass down to my boys. If they can retain rock solid theology because it's communicated through a song, that's a win whether you're five or eighty-five.
Randall: Yes. Music is mysterious. There's something about music that impacts our ability to remember, and that's what we want for our kids (and for ourselves!) – we want them to be able to remember God's Word. Simple, pleasant melodies are a huge help.
Andrew: Randall, how have your own children influenced your creative pursuits?
Randall: In so many ways. First, they keep me young at heart. They are children, and Jesus tells me that they are a wonderful example for how I should live with Him. Second, like all kids, they are hilarious. They say and do things that only kids say and do, which can immediately turn into funny songs. And third, it is part of my job as a dad to lead them into a relationship with Jesus. As I struggle with that calling, I mine my successes and failures for inspiration.
Andrew: Jamie, has being a father impacted how you create children's music?
Jamie: Being a dad has changed the very definition of children's music for me. Like most people, I used to think of children's music as Barney or The Wiggles. While observing my three sons it dawned on me, their favorite artist is TobyMac. As a songwriter, this simple realization changed my whole perspective on the genre of children's music.
Andrew: How can music help families grow together in the Kingdom?
Randall: When families listen to and enjoy the same music together, it creates a powerful relational bond, no matter what kind of music. If some of the content of the music is Kingdom-minded, and parents initiate conversation or respond to children's questions honestly, it can facilitate important moments in the spiritual life of a family. But simply enjoying music together, even if it is not lyrically about the Gospel, can help families grow together, which has Kingdom implications down the road.
Andrew: Does the Christian music industry have a responsibility to create and offer music that specifically reaches children and families?
Jamie: Research shows that most decisions for Christ are made by the age of thirteen. So from a pragmatic ministry perspective, catering to this demographic simply makes sense. What excites me about children's music in our industry is that as Christian artists, we have an opportunity to lead the way. The theme song for our last VBS curriculum Shine reached number one on the iTunes children's music chart a few months ago. Last Easter, our version of Christ The Lord Is Risen Today was in the top five right between SpongeBob and Mickey Mouse. I think that is something to celebrate!
Randall: Absolutely. If our industry wants to impact the Kingdom in a mighty way for generations to come, a great place to start is with elementary-aged children. Like Jamie said, since most human beings have decided what they are going to believe about God by age twelve or thirteen, it makes all the years before that seem pretty important.
###
About Randall Goodgame: A singer and sought-after songwriter, Goodgame has penned selections for Caedmon's Call, VeggieTales, Jason Gray and Ginny Owens, among others. Along with award-winning singer-songwriter Andrew Peterson, Goodgame created Slugs & Bugs & Lullabies in 2007 to an overwhelming response from parents. Goodgame, who now helms the series, has released 2010's A Slugs & Bugs Christmas and 2011's Slugs & Bugs Under Where?, as well as a Slugs & Bugs Vacation Bible School curriculum. His popular Slugs & Bugs LIVE concert for families makes numerous tour stops across the country each year. For more information, visit: slugsandbugs.com.
About Go Fish: Since 2003, Go Fish has been one of the leading providers of family entertainment and children's ministry resources. Among the group's numerous successful recordings and DVDs are Party Like A Preschooler, Kickin' It Old School and Christmas With A Capital 'C.' Go Fish concert appearances have drawn capacity crowds in churches, theatres and arenas across the country for more than a decade. The group has also created such popular VBS curriculum as Backstage With The Bible, Kickin' It Old School and Praise. Thousands of churches around the world have utilized Go Fish's VBS programs, including their latest curriculum, Gotta Move! Which has become the group's best-selling resource to date. To find out more, visit: gofishguys.com.
About Andrew: Andrew Greer is a Dove Award-nominated singer-songwriter, writer and co-creator of the innovative Hymns for Hunger Tour with fellow singer-songwriter Cindy Morgan. His instrumental record, All Things Bright & Beautiful: Hymns for the Seasons (Lucid Artist), held the #1 spot on Nielsen Christian SoundScan's Instrumental chart for 25 consecutive week last year. Andrew's first Christmas record, Angel Band: The Christmas Sessions, reached the Top 10 iTunes' Singer-Songwriter chart and features collaborations with music legends Phil Madeira, The McCrary Sisters, Cindy Morgan and Sandi Patty. His first book, co-authored with friend and fellow singer-songwriter Ginny Owens, is due out on Thomas Nelson early 2015. For more information, visit: andrew-greer.com or hymnsforhunger.com.