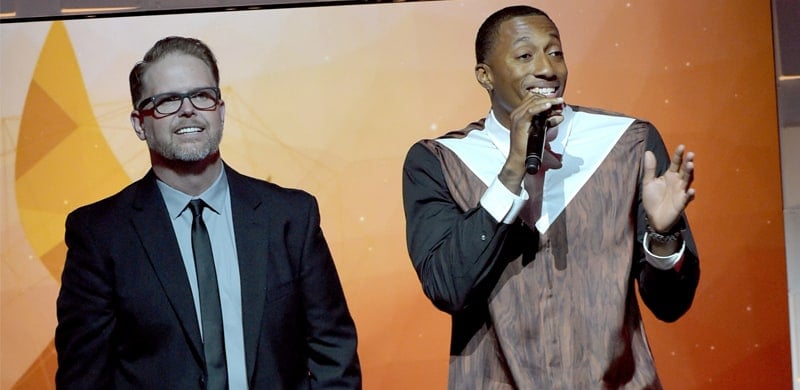 FOR IMMEDIATE RELEASE: HILLSONG UNITED TAKES HOME FIVE DOVE AWARDS INCLUDING "ARTIST OF THE YEAR" AND "SONG OF THE YEAR" AT THE 45TH ANNUAL GMA DOVE AWARDS
SWITCHFOOT TAKES HOME THREE AND SKILLET CLAIMS TWO TROPHIES AT THIS YEAR'S CEREMONY CO-HOSTED BY BART MILLIARD AND LECRAE
ELLIE HOLCOMB IS NAMED "NEW ARTIST OF THE YEAR"
UNIQUE PAIRINGS, DEBUT PERFORMANCES AND SPECIAL RECOGNITIONS CAPPED AN UNFORGETTABLE NIGHT IN CELEBRATING THE YEAR IN CHRISTIAN AND GOSPEL MUSIC
Award Show To Air On The Trinity Broadcasting Network (TBN) On Sunday, October 12
NASHVILLE, Tenn. (October 7, 2014) – Tonight, the 45th Annual GMA Dove Awards were handed out in 42 categories, as well as 4 special awards, with Hillsong UNITED taking home 5 honors, including the coveted "Artist of the Year" and "Song of the Year" trophies. Switchfoot and Skilletjoined Hillsong UNITED as multiple winners of the evening. Co-hosted by Lecrae and MercyMe's Bart Milliard, the awards drew a record attendance at the Allen Arena on the campus of Lipscomb University. The entire show will be broadcast exclusively on Trinity Broadcasting Network (TBN) on Sunday, October 12. For a full list of winners, please click HERE:
List of televised award winners:
Song of the Year: "Oceans (Where Feet May Fail)" – Hillsong UNITED
Artist of the Year: Hillsong UNITED
New Artist of the Year: Ellie Holcomb
Southern Gospel Recorded Song of the Year: "Revival" – Karen Peck & New River
Contemporary Gospel/Urban Recorded Song of the Year: "Every Praise" – Hezekiah Walker
Rap/Hip Hop Album of the Year: Never Land – Andy Mineo
Pop/Contemporary Album of the Year: Overcomer – Mandisa
Traditional Gospel Recorded Song of the Year: "A Little More Jesus" – Erica Campbell
Praise and Worship Album of the Year: Majestic – Kari Jobe
Inspirational Film: God's Not Dead
Special recognition honors also presented this evening included:
Lifetime Achievement Award – Hillsong
GMA IMPACT AWARD – Eddie DeGarmo
The Grady Nutt Humor Award – Akintunde
The Outstanding Mainstream Contribution to Gospel Music Award – SiriusXM
Quote pulls from the 45th Annual GMA Dove Awards:
"We believe the local church is going to be the salvation to the rest of the world. Keep the church strong. Through the sacrifices of many…on behalf of 1000s of volunteers, over the past 30 years- I've been honored to be a part of this." – Creative Pastor JD, accepting on behalf of Hillsong
"We always say faith, family, and ducks. In that order." – Alan Robertson
"I was writing this music for the people that sit in the back pew of the church. People that do come, but it's not quite in their hearts." – Jonathan McReynolds
"We grew up singing at those old time tent revivals, and we've been praying this year that God would just revive this world." – Karen Peck and New River on "Revival"
"It's called "Thicker Than Water"…we are kind of like the black Brady Bunch." – The Tankards' Rock Rockman
"People are hungry. They want some light from heaven. The song inspired the film. These guys came along and made it into something special." – Michael Tait of the Newsboys on "God's Not Dead"
"When you hear a good traditional gospel song it makes you wanna go buy a three piece suit." – Pat Boone
"I'm amazed by his love, I'm honored by the fact He would choose me and use me to spread his love." – Erica Campbell
"I have been encouraged tonight in a polarized world to see a bunch of young folks with a whole lot of energy coming together to praise the Lord." – Bill Gaither
"We praise until the breakthrough comes, and I love to get to watch that happen." – Kari Jobe
"Honestly, I'm just sitting in God's Word and the songs just keep coming." – Ellie Holcomb
"Some of our jokes we made up on the fly. I love Lecrae; we have been friends for a while and he is just one of my favorite people." – Bart Millard of MercyMe referring to co-host Lecrae
Official images provided by Rick Diamond and Terry Wyatt of Getty Images for the 45th Annual GMA Dove Awards:
45th Annual Dove Awards – Pre-Show http://mm.gettyimages.com/mm/nicePath/gyipa_public?nav=pr247059182
45th Annual Dove Awards – Red Carpet http://mm.gettyimages.com/mm/nicePath/gyipa_public?nav=pr247059205
45th Annual Dove Awards – Show http://mm.gettyimages.com/mm/nicePath/gyipa_public?nav=pr247059355
Jonathan McReynolds and Meredith Andrews were the co-hosts of the preshow ceremony where over 30 of the awards were received and outstanding performances were made by many top artists. Both the preshow and the Dove Cares Red Carpet were streamed on www.hearitfirst.com/live.
The night could not have been a success without the contributions of the partners which include: Cantinas Foundation, SoundExchange, St. Jude Children's Research Hospital, Grand Canyon University, Lipscomb University, Hear It First, Salem Communications, Yes Lord! Radio.
Tonight's 42 award presentations represent a wide-array of musical styles ranging from Gospel, Contemporary Christian, Rap/Hip-Hop, Urban, Country, Worship, Contemporary and Traditional Gospel, Rock, Pop, Bluegrass, Spanish Language and Inspirational categories.
The memberships of the GMA (Gospel Music Association) determine the winners in each category. Kraft CPA is the official accounting firm for the GMA.
###
About GMA: Founded in 1964, the Gospel Music Association serves as the face and voice for the Gospel/Christian music community and is dedicated to exposing, promoting and celebrating the Gospel through music of all styles including Pop, Rock, Praise & Worship, Urban Gospel, R&B, Hip Hop, Southern Gospel, Bluegrass, Country and more. The GMA community includes agents, artists, church leaders, managers, promoters, radio personnel, record company executives, retailers, songwriters and other industry visionaries. The GMA produces the GMA Dove Awards and IMMERSE. For more on supporting the GMA or becoming a member, please visit www.gospelmusic.org.
About the Trinity Broadcasting Family of Networks: With 28 networks and growing worldwide, the Trinity Broadcasting Family of Networks is the world's largest faith-and-family television group, airing a broad range of church and ministry programming, Christian music, family friendly movies, children's programming, and shows for teens and young adults 24 hours a day to every inhabited continent via 87 satellites and 20,000 television and cable affiliates. In addition, TBN's most popular global networks are available on computers, smart phones, and other mobile devices, and over 24,000 hours of entertaining and inspiring On-Demand programming is accessible via TBN's innovative online network, iTBN.org. To find out more about the Trinity Broadcasting Family of Networks, log on to www.tbn.org.
Dove Awards Social Media Platforms:
Website – www.doveawards.com
Facebook – www.facebook.com/DoveAwards
Twitter – www.twitter.com/GMADoveAwards #DoveAwards
YouTube – www.youtube.com/GMADoveAwards
Hearitfirst – www.hearitfirst.com/artists/dove-awards
Pinterest – www.pinterest.com/doveawards
MEDIA CREDIT/CONTACT:
DOVE AWARDS:
Jules Wortman
Wortman Works Media & Marketing
615.989.1519 or 615.260.9985
jwortman@wortmanworks.com
Lacey Printz
Wortman Works Media & Marketing
253.709.6034
lprintz@wortmanworks.com