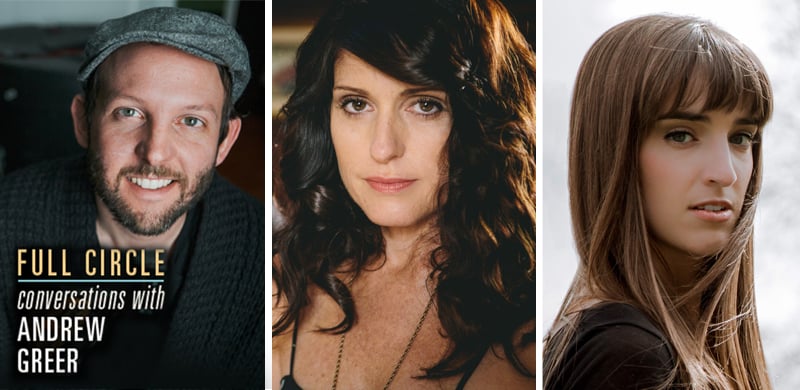 Full Circle: Conversations with Andrew Greer
Join singer-songwriter Andrew Greer as he chats with Christian music history makers past and present.
THIS MONTH: CINDY MORGAN + HOLLY STARR
Cindy Morgan is one of the most respected singer-songwriters in modern Christian music history. As her friend and frequent tourmate, I have witnessed firsthand the influence her musical catalog has impressed upon the lives of thousands of listeners from coast to coast.
Add up a pair of Grammy nods, a gaggle of Doves and diverse songwriter credits (think everyone from Amy Grant to Rascal Flatts) – plus ongoing musical mentorship to budding Music City songwriters – and it is apparent fans and industry folk alike treasure the gift of Cindy's musical heart.
Holly Starr has substantiated a significant young artist career in Christian music having written and released four studio recordings that yielded two Top 25 radio singles, accumulating nearly two million combined YouTube views. Major feats considering Holly's national success has been achieved while remaining solely independent. Oh, and she's only 24.
But Starr, a Washington native, and Morgan, a resident Nashvillian, have more in common than early artist success or the ability to craft commercially viable radio hits. They both feel a deep spiritual connection with music and the power of melody to share the story of God with every single soul.
Commemorating the releases of their most recent story set lists – Cindy's Bows & Arrows (Lucid Artist) and Holly's Everything I Need (Artist Garden Entertainment) – the sensitive songstress' sit down to talk what they know best … songs.
---
Andrew: You both started writing songs as teenagers. How did you know your motivation was music at such a young age?
Cindy: It's like a runner wants to run. They don't know why, but they just have to run. For me, I just have a song in my head.
A melancholy childhood plays into success for being a writer. That was definitely true for me. Having a teenager, I see all of her angst; I remember that angst. I remember thinking, I will never survive my mother! [Laughs] And I'm sure Olivia is thinking the same thing. There is a lot of what you want to the world to be. So that's the tension that fuels a lot of writing at a younger age. And that is the breeding ground for instinctive writing. It's less craft, but it is powerful in that you say what you feel.
Andrew: You are obviously a great song-crafter. So how did you grow the craft-aspect of your songwriting?
Cindy: When an editor enters a writer's life that is when the craft starts, from my experience. You come to Nashville, sit down with your A&R director and he says, "Alright, you have ten songs written in this one song. So we need to choose a song." [Laughs]
When I decided to push pause on being an artist to become a full-time songwriter, that's when I was forced to write in the true craft of writing. Some people just do that instinctively, but I didn't really understand the craft until I was a staff writer and had to learn to write for someone else, not just for me. That's when you have to make sure everything lines up, is heading in the right direction and clear. But the danger of writing a well-crafted song is that it loses that instinctive writing, that young angst. So the key is combining those two – the craft and that instinctive heart.
Andrew: What was your motivation to begin writing, Holly?
Holly: I grew up with a deep passion for my friends to know Jesus. After joining our youth worship team in the seventh grade, I realized music could be a tool to do that. My mission is still the same today, to direct people to Jesus through the music I write.
My songwriting has evolved in a lot of ways, but co-writing and learning how to write a song with respect to song form has had the biggest impact on the quality of my songs. There is something really beautiful that happens when you get two or three people in a room bouncing ideas off each other, and learning how to quickly toss out bad ideas, or just not the best ideas.
"I grew up with a deep passion for my friends to know Jesus… I realized music could be a tool to do that. My mission is still the same today, to direct people to Jesus through the music I write."
Andrew: Co-writing is a great topic. Was that a painful process at first?
Holly: Oh my goodness, yes. [Laughs] I thought, I am not doing this. They are taking over all my songs. There is no way I'm going to enjoy singing that. Then the more you see the craft the more you see how it is actually benefitting the song. And you think, Oh, I want to teach somebody how to do that.
Cindy: I co-write with so many younger writers. I often wonder what they think about the process, at first. When you started co-writing, what was the part of the process that you hated?
Holly: I hated when they changed what I wrote. [Laughs] I was really timid at first. I live in Washington, so the whole Nashville industry thing was new. To bring something that was so intimate between God and me to somebody who treated it less important, which wasn't the case but they were more seasoned in writing, I was afraid to say, "This is important to me." And then being brave to say something about it.
Cindy: Did you get brave?
Holly: Yes, definitely. I'm still in the middle of that, but it's a lot easier now. Seeing that I do have good ideas. The producers do have good ideas. The co-writers do have good ideas. Giving everybody credit and seeing that it's iron sharpening iron, and being okay with that.
Cindy: I love to hear your thoughts. I put myself back in my own shoes, when I was new to town and working on my first record, the only thing I got to write was "How Could I Ask For More". Everything else was staff writers. They were good lyrics, but I thought, OK. This isn't as much fun.
When young writers are in that pristine moment. Pristine because it is unedited, it is natural. There is magic inside of that. If they throw out a line that in any way can work, I want to keep it. There is a thread that has to run through, the lyric needs to make sense, but there is an element of poetry that [you don't want to lose]. If it sounds like everything else, who cares?
Holly: Yes. It was hard to come into a writing session with a song that I had labored over in the privacy of my home and my heart, only to see it get tossed or chopped up. The more I have grown as a songwriter though, the more I have learned how necessary that process is. And how grateful I am for it!
Andrew: Story is a big motivator for you guys. Was story an elemental part of your new records?
Holly: Story is essential in my writing, specifically story that comes from things I have witnessed or gone through personally. When I bring real life into my music, it's as if it gives life-blood to the melodies every time I sing them.
Cindy: I think country and folk music tell the best stories. I've always been a big fan of folk music writers. I remember years ago, someone said when you read the lyric it should read like a story. I definitely think story is paramount in songwriting.
Andrew: Anybody in creative fields – a writer, a songwriter, a painter – at some point struggles with the art they create. Is it meaningful? Compared to service-oriented professions like a nurse or teacher, is music an impactful profession? Do those insecurities ever impact you as a creative?
Holly: For me, it is definitely in the calling – to direct people's minds and attention towards God. Music is my vehicle in which I can do that. I feel at peace when I know I'm doing what God created me to do. So as long as I'm writing songs with the purpose of drawing attention and adoration to God, then I don't easily get discouraged.
I believe music is incredibly important and impactful. I believe we need melodies and rhythms. They do something for our soul words alone can't do.
Cindy: When I think about people whose lives are difficult, really difficult, they are not going to a writer's room at 10 A.M., writing songs and thinking, This is so hard. [Laughs] It's a completely other kind of life. I still want the music that I am a part of to curb that. I do believe that those people need inspiration to keep them going in their lives.
For us, music is thoughtful. But I talk to so many people where a certain song gets them through a rough a period of time they didn't think they could survive. When you hear that, music really becomes an effective calling. I think it's hard, the narcissistic tendencies of being an artist. And the music industry loses itself sometims. But there is a way for that to not happen and to think of this as a calling.
##
About Cindy Morgan: A two-time GRAMMY® nominee and one of Nashville's most influential singer/songwriters, Cindy Morgan has garnered 12 Dove Awards, 21 #1 hits, and has penned songs for such artists as Amy Grant, India.Arie, Rascal Flatts, Natalie Grant, Michael W. Smith and Francesca Battistelli, among many others. Half of the acclaimed pop duo St. Lola in the Fields with longtime writing partner Jeremy Bose, their songs have been featured in numerous films and television shows. In addition, Morgan co-created the Hymns for Hunger initiative with Dove-nominated singer/songwriter Andrew Greer. Through hundreds of concerts, the annual tour raises awareness and resources for local and international hunger relief organizations. For more information, visit cindymorganmusic.com.
About Holly Starr: Since her debut in 2008, Starr has become known for her thoughtful songwriting and accessible pop melodies. A native of Quincy, Washington, her previous Artist Garden Entertainment releases include Embraced (2008), Tapestry (2010) and Focus (2012). Videos of her hit singles "Don't Have Love" and "Through My Father's Eyes" have collectively garnered nearly 2 million YouTube views to date. For more information, visit hollystarrmusic.com.
About Andrew: Andrew Greer is a Dove Award-nominated singer-songwriter, author and co-creator of the innovative Hymns for Hunger Tour with Dove Award-winning singer-songwriter Cindy Morgan. His 2013 record, All Things Bright & Beautiful (Lucid Artist), held the #1 spot on Nielsen Christian SoundScan's Instrumental chart for 25 consecutive weeks. Later the same year, Angel Band: The Christmas Sessions reached the Top 10 on iTunes' mainstream Singer-Songwriter chart featuring collaborations with music legends Phil Madeira, The McCrary Sisters and GRAMMY®-winning legend Sandi Patty. Andrew's songs have been recorded by artists like Jaci Velasquez, Nic Gonzales (of Salvador) and Seth & Nirva. His first book – Transcending Mysteries: Who is God, and What Does He Want from Us? (Thomas Nelson), co-authored with fellow singer-songwriter Ginny Owens, released this spring. For more information visit: andrew-greer.com or hymnsforhunger.com.