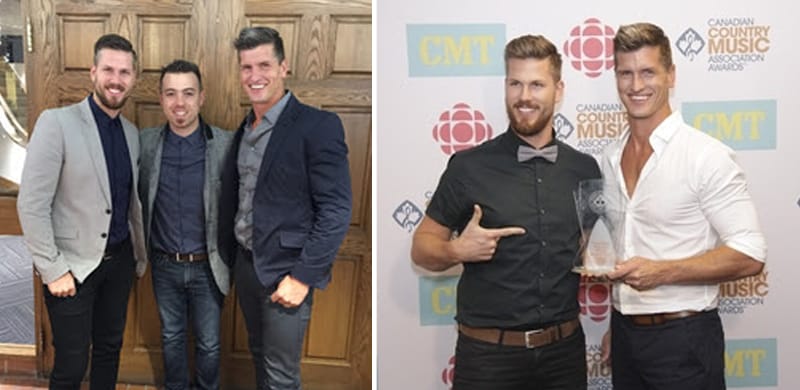 RFDTV Visits Nashville-Based Studio
Nashville, Tenn. (Sept. 14, 2015)… Full Circle Music joined Canadian Country Music Award (CCMA) winning High Valley for the 2015 CCMA Awards held in Halifax, Nova Scotia on Sept. 13, 2015. High Valley was among the big winners of the night, taking home the trophy for "Group or Duo of the Year." Full Circle's Seth Mosley produced and wrote on High Valley's County Line, also up for album of the year. Other artists taking part in the show broadcasted across Canada on CMT (Canada) and CBC-TV were Florida Georgia Line and Thomas Rhett.
RFDTV recently stopped by Full Circle Music's Studio to learn more about the origin of the music group and what it is like to work with everyone from Ricky Skaggs and Newsboys to High Valley. Watch the story below.
About Full Circle Music:
Under the leadership of GRAMMY®-winning producer and songwriter Seth Mosley (SESAC Writer of the Year 2014, Billboard No. 1 Producer 2013), Full Circle Music is comprised of a team of producers, engineers, songwriters, editors, studios and creators that work with both signed and independent artists. With 20 No. 1 singles and credits including Mat Kearney, MercyMe, TobyMac, Jon Foreman (Switchfoot), Sidewalk Prophets, Newsboys and country acts like High Valley, Ricky Skaggs and more, the Full Circle Music team offers a wealth of combined experience from multiple genres including pop, Christian and country.
Get Connected with Full Circle Music:
Website
Facebook
Twitter
Instagram
##
Media Contact:
Velvet Kelm, Courtney Hyder and Kirsten Grenier
velvet@themcollective.com
courtney@themcollective.com
kirsten@themcollective.com
(615) 591-7989
www.theMcollective.com