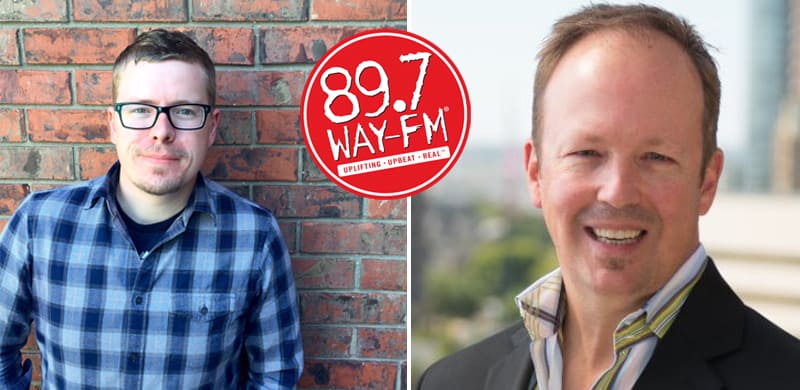 Pictured L-R: Bryan Johns, Tim Dukes
(Colorado Springs, CO) WAY Media Chief Operating Officer Lloyd Parker has named Tim Dukes as the general manager and Bryan Johns as the operations director of the new WAY-FM station in Dallas/Fort Worth.
Dukes comes to WAY-FM after operations and marketing positions at NextMedia Group and Tribune Interactive, both in Chicago. He worked as Program Director at WLUP also in Chicago. Before that he had regional programming stops in Atlanta, San Diego and Cincinnati for Clear Channel from 1994-2004.
Recently Tim was Chief Operating Officer at Halftime Institute and Pastor of Gateway Business Leaders at Gateway Church in Dallas/Ft. Worth.
Parker stated, "I couldn't be more excited about Tim joining the WAY-FM team. He brings passion along with a wealth of knowledge and experience to our new station in Dallas/Ft Worth."
Bryan Johns returns home to Dallas after 8 years as operations director at WAY-FM/ Louisville where he oversaw the local programming, operations and promotions, as well as the recent addition of a full power station in Evansville, Indiana.
Dukes added, "I'm thrilled to join the talented team at WAY-FM and combine my 24 years in media with my last 4 years in non-profit. Bryan and I have already bonded over barbeque and are ready to bring this ministry to the Metroplex."
WAY-FM was founded in 1987 by Bob and Felice Augsburg as a single station in Ft Myers, FL. WAY-FM and WAY Media Network Services airs on over 100 radio stations in 26 states. Markets served include; Denver,CO; Portland,OR; Nashville,TN and West Palm Beach, FL. For more info, visit www.wayfm.com
##
Media Contact:
Lloyd Parker
Chief Operating Officer
WAY Media
719 955-1953
wayfm.com