NEWS: More Talent Announced for 46th Annual GMA Dove Awards on October 13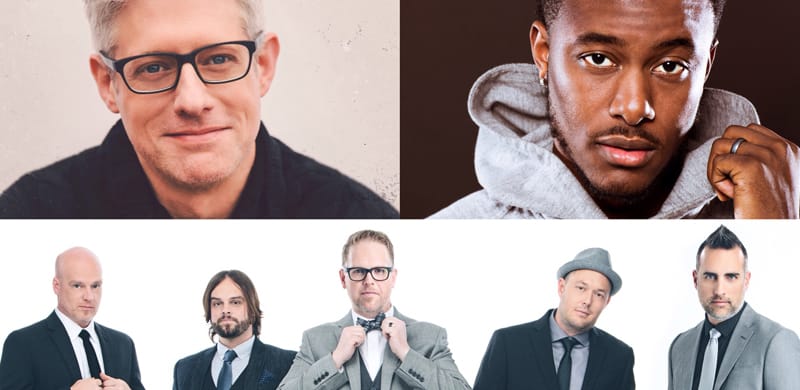 MercyMe, KB, Matt Maher, Tedashii and Brian Courtney Wilson Set to Perform
Jason Crabb, Gloria Gaynor, Natalie Grant, Bernie Herms and Deitrick Haddon to Present
TheOverflow Announced as Official Music Streaming Service
NASHVILLE, Tenn. (September 15, 2015) – The GMA (Gospel Music Association) announces more performers and presenters for 46th Annual GMA Dove Awards. MercyMe, KB, Matt Maher, Tedashii and Brian Courtney Wilson will perform, and Jason Crabb, Gloria Gaynor, Natalie Grant, Bernie Herms and Deitrick Haddon will present top honors along with show co-hosts Erica Campbell and Sadie Robertson. The GMA Dove Awards will take place in Allen Arena at Lipscomb University on Tuesday, October 13, 2015 and will air on the Trinity Broadcasting Network (TBN) on Sunday, October 18, 2015. For ongoing Dove Awards updates and breaking news, please visit the GMA social networks and The Dove Awards website.
These new appearances join already announced performers Casting Crowns, Lauren Daigle, Kirk Franklin and Danny Gokey. Presenters include Blanca, Bill Gaither, Michael W. Smith and Michelle Williams.
In addition, TheOverflow is partnering with the event as the official music streaming service. For the first time ever, fans can "vote" for their favorite artists within TheOverflow app to become "TheOverflow Fans Favorite Artist" award. For more information on voting, visit their website or download the app to your mobile device.
"I am personally thrilled to be partnering with the GMA for this year's Dove Awards. The GMA and the Dove's have always been about building and showcasing excellent Christian music that extends the reach of the Gospel," says TheOverflow CEO Stephen Relph. "TheOverflow desires to help steward the accelerating consumer shift to on-demand streaming while promoting great Christian music and driving a deeper connection to the living and active word of God."
The GMA Dove Awards will feature artists from every style of Gospel/Christian music coming together to celebrate the impact of their music. Over 1,500 professional members determine the Dove Award nominees with the winners voted on by the entire GMA membership of nearly 2,500. The awards are produced by the GMA.
Tickets to the 46th Annual GMA Dove Awards are now on sale at the Allen Arena box office in Nashville or at www.doveawards.com.
About TheOverflow:
TheOverflow is the first and only unlimited, on-demand Christian and Gospel music service that helps users draw closer to Christ by listening to as many songs as they want anytime, online or offline, discover new music, engage in artist-led devotionals and share new music with friends. TheOverflow subscribers can build their own collections of favorite songs, albums and artists or lean back and listen to curated playlists from TheOverflow and our partners. Subscribers can currently access TheOverflow on iOS and Android phones. TheOverflow is a privately owned corporation controlled and managed by Christians.
About GMA:
Founded in 1964, the Gospel Music Association serves as the face and voice for the Gospel/Christian music community and is dedicated to exposing, promoting and celebrating the Gospel through music of all styles including Pop, Rock, Praise & Worship, Urban Gospel, R&B, Hip Hop, Southern Gospel, Bluegrass, Country and more. The GMA community includes agents, artists, church leaders, managers, promoters, radio personnel, record company executives, retailers, songwriters and other industry visionaries. The GMA produces the GMA Dove Awards and IMMERSE and GMA Honors. For more on supporting the GMA or becoming a member, please visit www.gospelmusic.org or contact the GMA directly at 615.277.1376.
About the Trinity Broadcasting Family of Networks:
With 28 networks and growing worldwide, the Trinity Broadcasting Family of Networks is the world's largest faith-and-family television group, airing a broad range of church and ministry programming, Christian music, family friendly movies, children's programming, and shows for teens and young adults 24 hours a day to every inhabited continent via 87 satellites and 20,000 television and cable affiliates. In addition, TBN's most popular global networks are available on computers, smart phones, and other mobile devices, and over 24,000 hours of entertaining and inspiring On-Demand programming is accessible via TBN's innovative online network, iTBN.org. To find out more about the Trinity Broadcasting Family of Networks, log on to www.tbn.org.
##
Media Contacts:
Jules Wortman
Wortman Works Media & Marketing
jwortman@wortmanworks.com
Elyse Wiser
ewiser@wortmanworks.com