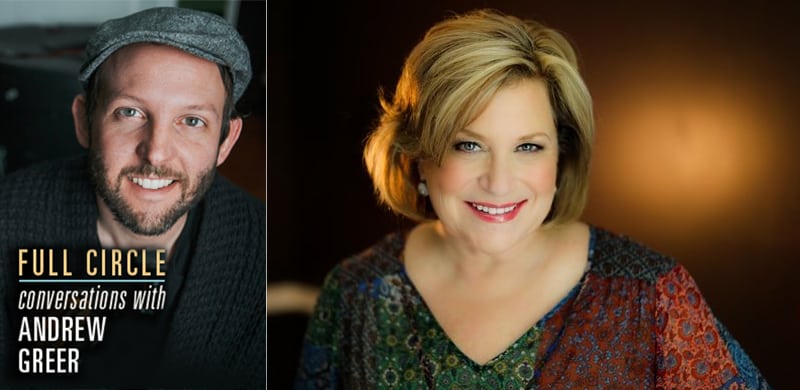 Full Circle: Conversations with Andrew Greer
Join singer-songwriter Andrew Greer as he chats with Christian music history makers past and present.
THIS MONTH: SANDI PATTY + ANDREW GREER
Having been awarded 5 Grammy Awards, 40 Dove Awards and a slew of Platinum and Gold records, guested on television staples like The Tonight Show and The Today Show, and performed in every venue imaginable from Carnegie Hall to the White House to the Indy 500, it is safe to say Sandi Patty is a music legend.
So when I asked the Gospel Music Hall of Famer if she would sing with me on the revered Latin masterpiece "Ave Maria" for an independent multi-artist Christmas project I had the honor of producing for retail this year – All is Calm, All is Bright (Lucid Artist) – and she said, "Yes," I was thrilled. And shocked. But what I experienced when Sandi stepped into that Nashville studio was what audiences across the world have experienced in gracious encounters with her on and off stage for over thirty years – an infectious blend of top echelon musical poise and downhome demeanor. Some folks call it grace.
With a golden Christmas catalog, Sandi's artistry has become synonymous with the holidays. And on the heels of the release of her fourth seasonal studio recording, Christmas Blessings (Somerset), the performance veteran will trek her troupe of spirited musicians from city to city with the heart-driven desire to help tell God's great story of redemption through the medium she knows best – music.
So without further ado, a conversation with the always-gracious Sandi on music and faith at Christmastime.
Andrew: Since The Gift Goes On released in 1983, your Christmas discography has remained one of the best-celebrated and best-selling holiday collections in gospel music. What is it that draws you to Christmas music so deeply?
Sandi: I have always loved Christmas music and the Christmas season so much. Some of my favorite family memories have been made during this season. The music, the sights, the sounds, the smells, the joy, I love everything the season represents. My dad was a minister of music and pastor, and many Christmases we were involved with productions at our church. Christmas is celebrating a huge cornerstone of the Christian faith – my faith – the birth of our Savior! That is worthy to be sung about time and time again.
Andrew: You utilized a decidedly more stripped down direction for Christmas Blessings versus the symphonic backdrop of your previous efforts. What inspired the more subtle approach?
Sandi: I suppose the honest answer is the older I get the simpler I want life to be. Some things are out of my control, but the things like how busy I am and how frantic I let life become, those are totally within my control. So like most of my recordings throughout my career, I want them to be a reflection of where my life is at the moment. And at the moment, life is simpler and less chaotic. And that feels really nice.
Andrew: What records provided some of your earliest Christmas music memories? And what modern artists are you listening to during the holidays now?
Sandi: Karen Carpenter's Christmas recording continues to be a benchmark for me. It is simply beautiful – beautiful music, beautiful production and beautiful singing. I also loved anything Julie Andrews sang, especially at Christmastime. I have added collections through out the years like The Ray Conniff Singers, Michael Buble, David Foster and Natalie Grant.
Andrew: From Branson to California, the Christmas Blessings tour begins before Thanksgiving and ends just before Christmas Eve! What is the live Christmas experience like for you? And how do you stay sane and spirited when not home for the holidays?
Sandi: I love sharing Christmas music with the audiences who are so kind to come to the concerts. There is a sweet kind of magic that happens in a live show that is hard to capture fully on a recorded project. No two concerts will be the same and that is the joy and a little bit of the anxiety of live shows. From Performing Arts Centers to full incredible symphonies and orchestras to smaller intimate church settings, the Christmas Blessings tour is everywhere and I truly love them all. I have the most amazing band accompanying me. Some of these guys I've worked with for over thirty years, so it becomes like a family on the road.
I do become very, very focused on vocal health. Most days I won't even talk prior to the show. Talking is one of the worst things on your voice. To gear up for this tour, I want to be very vocal health smart so that I can really enjoy every night with each audience.
Andrew: As I've experienced over and over again, you are a big-hearted human being who is always generous with her musical gifts. I was honored to duet with you on "Ave Maria". What prompted you to consider collaborating on this more understated-folk arrangement of the Baroque perennial?
Sandi: I said "Yes" first simply because I like who you are as a human being on this earth. You are a bright light! I also said "Yes" because I hope I never get set enough in my ways to stop growing and learning. This was a musical and vocal challenge for me and I loved being able to support you, my friend, and learn something new musically in the process. Plus, I really love the song "Ave Maria".
Andrew: Finally, and most personally, what does Christmas mean to you?
Sandi: Chuck Swindoll has been quoted as saying, "This is the one time of the year that the world is singing our [Christian] songs." I love the idea of that quote. The message of Christmas, the celebration of Jesus' birth and our gratefulness to God for sending His only Son, this is why I love this season. As followers of Jesus, it is so important that we celebrate Him all year long, not just at Christmas.
There also seems to be a little more kindness in the air and good will toward our fellow humans. I like that part of it, too!
View the Official Music Video for Andrew and Sandi's "Ave Maria" here!
##
About Sandi: As one of the most highly acclaimed performers of our time with five Grammy® awards, forty Dove Awards, four Billboard Music Awards, three platinum records, five gold records, and eleven million units sold, Sandi Patty is simply known as "The Voice." She became one of the country's best-loved performers virtually overnight when her infamous rendition of "The Star Spangled Banner" caused phone lines to jam at ABC News during the televised rededication of the Statue of Liberty in 1986, leading to high-profile patriotic performances on PBS' "A Capitol Fourth," the Indianapolis 500 and the 1997 Presidential Inaugural Gala. In addition to her gospel music career, Sandi has performed in pops concerts with symphonies across the country, including the New York Pops, Boston Pops, Cincinnati Pops and Dallas Symphony. The author of seven books, including the best-selling autobiography, Broken on the Back Row, Sandi has made numerous appearances on television including Extreme Makeover: Home Edition, Macy's Day Thanksgiving Parade, The View, The Today Show among many others. She was inducted into the Gospel Music Hall of Fame in 2004 and as an Indiana Living Legend in 2007. Sandi and her husband, Don, have eight children and currently reside in Oklahoma City, OK. For more information visit: sandipatty.com.
About Andrew: Andrew Greer is a Dove Award-nominated singer-songwriter, writer and co-creator of the innovative Hymns for Hunger Tour with fellow singer-songwriter Cindy Morgan. His instrumental record, All Things Bright & Beautiful: Hymns for the Seasons (Lucid Artist), held the #1 spot on Nielsen Christian SoundScan's Instrumental chart for 25 consecutive week last year. Andrew's first Christmas record, Angel Band: The Christmas Sessions, reached the Top 10 on iTunes' Singer-Songwriter chart and features collaborations with music legends Phil Madeira, The McCrary Sisters, Cindy Morgan and Sandi Patty. For more information visit: andrew-greer.com or hymnsforhunger.com.