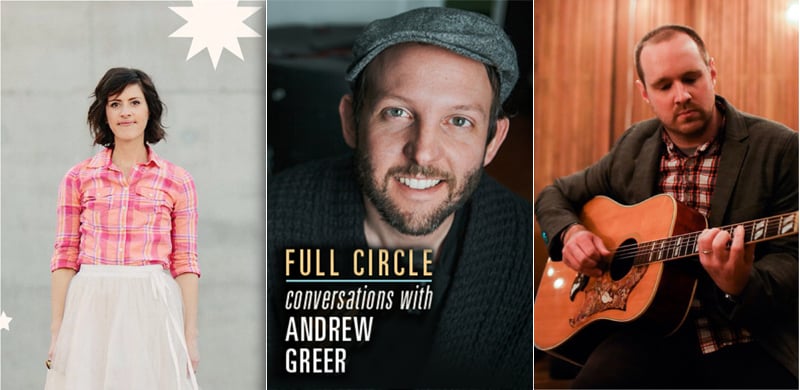 Full Circle: Conversations with Andrew Greer
Join singer-songwriter Andrew Greer as he chats with Christian music history makers past and present.
THIS MONTH: JJ Heller + Andrew Osenga
She is an independent music darling. Her songs have received Top 20 radioplay, landing her discography on the Christian and folk music sales charts and placements on multiple television shows, including a celebrity cover of her song, "When I'm With You," by Jennifer Love Hewitt's "Riley Parks" character on Lifetime's The Client List. And her latest LP, Dream of You, is nominated for a 2014 Dove Award for Inspirational Album of the Year, alongside gospel music legends Michael W. Smith and Sandi Patty.
He is a critically acclaimed singer-songwriter turned A&R man at major label force Capitol Christian Music Group. From pop-rock frontman of now-defunct Forefront Records' The Normals and member of thoughtful songwriter collective, Caedmon's Call, to Steven Curtis Chapman's right-hand music man and producing for and writing with some of Nashville's most celebrated signed and unsigned artists, his time with the industry has run the gamut.
On the eve of their joint bill on the Gospel Music Association and Under the Radar radio-sponsored showcase at Nashville's The Rutledge, Wednesday October 8, the evening after the Dove Awards, JJ Heller and Andrew Osenga sit down to talk music industry state of affairs, influences and how they got to know each other in this crazy universe we know as "the music business".
Andrew: Your tunes land in diverse contexts. Most artists dream of having their music remain uncategorized. How did you keep your music from getting pigeonholed?
JJ Heller: That's an interesting observation! It's never been my intent to avoid being categorized. My husband, Dave, and I have always written our songs with a hope that they would ring true for the Church and the un-churched – to write and record songs that we believe in. If someone is watching a TV show and hears one of our songs, or stumbles across our music on a Pandora station, we hope the material will resonate with them and inspire them to think about the things that really matter in life. To me, that's a universal concept that doesn't need to be pigeonholed into a musical genre.
We have the luxury of being independent. Many of our creative decisions wouldn't fly with a record label because they need the big singles to pay their staffs. Our situation allows us the freedom to write a record full of lullabies, for example, with zero potential for radio play, but great potential to connect with our listeners.
Andrew: Andrew, as a member of a major label staff but with years of independent artist experience, what is an independent artist's contribution to an industry that seems so driven by radio play and record labels?
Andrew Osenga: That question could inspire a novel. To try and be succinct – one of my greatest skills, no doubt – I would say that we're just in a new world. Labels provide amazing resources for a certain type of artist, but many artists have goals that don't require that set of resources.
Personally, I have had a great indie career making records in spaceships, tour buses and my daughters' playroom, building a small but loyal following who have been incredibly encouraging for years. My fans enjoy what I do and I don't have to play by any rules other than being honest and making something I love. I've been able to do that because my bills were paid working with Steven Curtis Chapman, Caedmon's Call and Andrew Peterson, all artists on labels.
I'm a firm believer in both models, and everything in between. It's a great time to be an artist because, if you're aware of what you want, the metrics of success are different for every artist, as are the means to achieving that success. Half of being an artist these days is creating the art, the other half is figuring out how to tell the world about it. Everything else is a result of that creativity.
Andrew: JJ, as an independent artist who has received radio airtime, what do you feel your contribution to the music industry is?
JJ: Our entrance onto the radio scene was nothing short of an act of God. I'm not sure how much impact I have on the existing industry, but I hope my music is influencing the next generation of songwriters. When I was in college, Dave and I found a lot of inspiration from Jennifer Knapp, Caedmon's Call, and Jars of Clay. It's pretty crazy to think that I might be serving other up-and-coming musicians in the same way.
Andrew: Speaking of songwriting, I read you began writing your first "story songs" a few years ago, after listening to the music of Patty Griffin and Damien Rice. Have these discoveries been challenging or freeing for your songwriting process?
JJ: I used to think all story songs had to sound like country music. So when I heard Patty Griffin's music I was completely inspired. She has a way of writing about everyday things in an artful way. It's ironic that sometimes the more specific a story song gets, the more relatable it becomes. It's definitely still a challenge for me, but so worth it. I'm a sucker for a song that tells a good story. A brilliant example of this is a song called "A Little Bit of Everything" by Dawes. It's one of my new favorites.
Andrew: Andrew, who are your songwriting influences – past and present?
Andrew Osenga: In the very beginning, my influences were Steven Curtis Chapman and Michael W. Smith. Then U2, Jars of Clay and Pearl Jam. I also got really into the California Christian bands of the 90's – The Prayer Chain, The Choir, The 77's. These days it's Paul Simon, Brandon Flowers of the Killers, Bruce Springsteen and still U2. Also, I'm deeply indebted to my amazing songwriting community here in Nashville: Andrew Peterson, Randall Goodgame, Andy Gullahorn and Ben Shive.
Andrew: Now as an A&R man at a big label, how has working with artists in that process influenced your own musicianship and songwriting?
Andrew Osenga: I came to Nashville as an English major at Belmont University. I wanted to teach high school English. Working as an A&R person is very similar to what I was doing as a producer and what I wanted to do back in college. I had a teacher in high school define poetry as "the simplest way of saying something." I aim for that in my songs and I push my artists to do the same.
I talk often about "show, don't tell". What does this song idea look like in practice? How does this Scriptural concept play out in grief or in joy? Don't tell me what to do, show me what it looks like if I do or if I don't. Figure out who you are and what you have to say and then tell me a story in your own voice and your own way.
It's all about connection. I want to people to get past the production, the lights, the marketing, even the artist, and understand the truths in the song. In the end, God loves us and redeems us. Life is incredibly tragic, difficult and beautiful, and God loves us and redeems us.
Andrew: How did you guys first connect?
Andrew: JJ and Dave were introduced to me through my dear friend Jeremy Casella (whose latest indie record, "Death in Reverse" is a masterpiece). Jeremy had met them in Arizona, and was taking them around to meet different producers to talk about their first record. The Hellers and became friends immediately. I ended up playing the electric guitars and singing BGVs on a number of JJ's records, and we wrote together a bit, as well. I love them as people, and JJ's music just keeps getting better and better. It's been fun to watch their career bloom.
JJ: We're huge fans of Andrew's work. In this business, it's sometimes difficult to find someone you can trust to share new songs with. Songs are extremely personal, and no one likes a harsh critique, but Andy has been a great sounding board for us in the past. We really trust and value his opinion.
Andrew: Andy, your career has run the gamut. What is the thread that keeps you motivated in music throughout all the changes and contexts?
Andrew Osenga: I just love songs that tell a great story and invite me in. And musically I love songs that take me out of the moment and make me feel something. Passion, honesty, risk and beauty are what keep me invested in music.
In a personal sense, I love the community that surrounds music. The other artists, songwriters, producers, engineers, players and business people I work with are my friends. I'm invested in the projects I work on because I want those people to succeed and for their stories to connect at a bigger level.
Andrew: JJ, what does the future hold for our industry?
JJ: I don't think anyone knows what the future holds, but I do know indie artists have more opportunities than ever before. In some cases, talent is the deciding factor, but most of the time it comes down to how well artists are connecting with their fans and how many hours they're willing to put in to develop their musicianship, social media presence, and business relationships. There's a great quote by Thomas Edison that says, "Opportunity is missed by most people because it is dressed in overalls and looks like work."
###
About JJ Heller: Having received multiple television placements and Top 20 chart positions at Christian radio due to her authentic songwriting style, JJ Heller is one of music's premier independent artists. Her latest full-length record, Dream of You, is a 2014 Dove Award nominee for Inspirational Album of the Year. To find out more, visit: slugsandbugs.com.
About Andrew Osenga: From the mouth of Mr. Osenga himself: "I've had the incredible opportunity to share the stage with my heroes, write songs that have been a part of both weddings and funerals, and have made the most amazing friends. I've played somewhere around 2000 shows and done over half a million miles in a 15-passenger van. I got to perform at Carnegie Hall! I have somehow been able to play guitar and sing harmonies with the absolute best songwriters in a town called Music City." I think that sums it up pretty well. To find out more, visit: andrewosenga.com.
About Andrew: Andrew Greer is a Dove Award-nominated singer-songwriter, writer and co-creator of the innovative Hymns for Hunger Tour with fellow singer-songwriter Cindy Morgan. His instrumental record, All Things Bright & Beautiful: Hymns for the Seasons (Lucid Artist), held the #1 spot on Nielsen Christian SoundScan's Instrumental chart for 25 consecutive weeks last year. Andrew's first Christmas record, Angel Band: The Christmas Sessions, reached the Top 10 iTunes' Singer-Songwriter chart and features collaborations with music legends Phil Madeira, The McCrary Sisters, Cindy Morgan and Sandi Patty. His first book, co-authored with friend and fellow singer-songwriter Ginny Owens, is due out on Thomas Nelson early 2015. To find out more, visit: andrew-greer.com or hymnsforhunger.com.