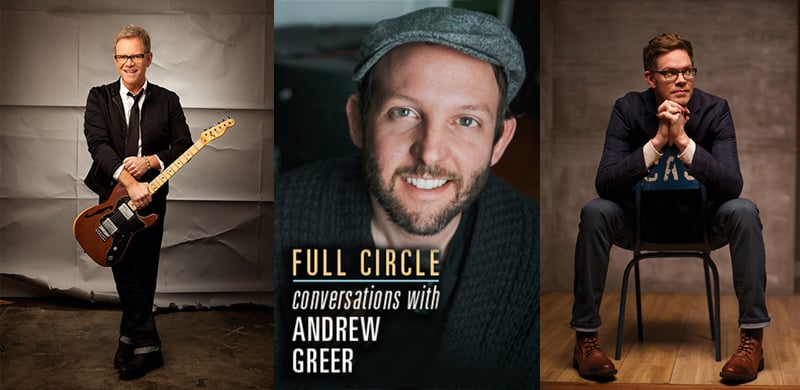 Full Circle: Conversations with Andrew Greer
Join singer-songwriter Andrew Greer as he chats with Christian music historymakers past and present.
This Month: Steven Curtis Chapman & Jason Gray
Though Contemporary Christian music legend Steven Curtis Chapman and singer-songwriter radio darling Jason Gray released their major label jumpstarts twenty years apart – Chapman's First Hand (Sparrow) debuted in 1987; Gray's All the Lovely Losers (Centricity) in 2007 – the thoughtful-pop fan favorites are matched by best-selling discographies, strings of radio hits and humanitarian hearts, investing in the lives of families worldwide through Chapman's Show Hope adoption advocacy organization and Gray's personalized partnership with child sponsorship mainstays, World Vision. In an exclusive conversation for the GMA, Steven and Jason talk songs, each other, and joining forces on tour this fall to celebrate Chapman's eighteenth studio recording – The Glorious Unfolding – releasing October 1 (Reunion/Provident).
Andrew: What songwriters influenced you growing up?
Steven: My dad is my biggest influence in my songwriting and my musicianship. His shop, Chapman Music, opened in 1967 in Paducah, KY, and is still the spot for guitars and lessons. As a young boy I remember Dad and his buddies playing music together in our kitchen. I am also very grateful to Bill Gaither for his early belief in me. I'll never forget driving the roads around Anderson, IN as he took the time to listen to my songs and encourage me in the journey.
Jason: Well honestly, Steven was a huge influence. More To This Life was a big record for me. I remember trying to learn how to play every song on that record. Rich Mullins was also a major influence, as well as Randy Stonehill, Mark Hear, and Charlie Peacock. Beyond the Christian market, Paul Simon and Peter Gabriel were huge influences.
Andrew: Jason, are you a prolific songwriter? Or do you need a purpose to write?
Jason: With my schedule these days, I don't always have time to be in writing mode. I write in seasons, like when it's time for a new record. I'm a slow writer. My songwriting process is pretty consuming. It was easier to be prolific when I was more easilysatisfied. I'm always reaching for more, both artistically and commercially. So songwriting is an exhausting process that I can only afford – mentally and emotionally – when I need to.
Andrew: Steven, what did the songwriting process for The Glorious Unfoldinglook like?
Steven: I really wanted to make this album feel honest and true to the recent events of my life, and yet very fresh and relevant. I felt like this was the time to be a little bit more exciting and energetic. I was ready to crank it up. With this music and the lyrics, you will hopefully hear that and get a sense of the excitement and joy that went into the songwriting process.
Andrew: When did you first hear of Jason Gray?
Steven: I first heard Jason Gray on the radio. I connected with and loved his storytelling and honest writing right away. I'm looking forward to touring with him and great friend to the Chapman's, Laura Story. The plan is to play plenty of favorite songs and introduce some new music. We are praying for God to use these concert nights to encourage and draw people closer to Himself. We're looking forward to worshipping together, telling some stories, plus a whole lot of fun and energy. I hope our friends can join us.
Andrew: Jason, when did you first hear of Steven?
Jason: I bought his first record, First Hand. I was an early adopter. [Laughs] Steven has a rare gift for writing songs that feel both accessible and personal. He forged the way for many of today's artists like Brandon Heath and Matthew West. It's an incredible honor to get to share the stage with him. When I was making my first record in Nashville, I remember overhearing the session players talking about how kind Steven was. I thought, "I hope people will speak of me that way." His example both as a songwriter who serves his listeners and as a man who serves those around him has been very formative for me.
##
About Steven: Steven Curtis Chapman has sold over ten million records, recorded 47 No. 1 radio hits, been awarded five Grammy Awards, an American Music Award, and 57Dove Awards – more than any other artist to date. Chapman and his wife Mary Beth created Show Hope to raise awareness about orphan care. To find out more visit: www.stevencurtischapman.com or www.showhope.org.
About Jason: After enjoying a successful indie music career, Jason Gray signed with Centricity Music in 2006. His three full-length studio recordings have spawned four Top 5 AC hits and two ASCAP awards. He recently celebrated his first #1 single with "Nothing is Wasted," the title cut from his latest EP. For more information, visit: www.jasongraymusic.com.
About Andrew: Andrew Greer is an acclaimed singer-songwriter, respected music journalist, and co-creator of the innovative Hymns for Hunger Tour with fellow singer-songwriter Cindy Morgan. All Things Bright & Beautiful: Hymns for the Seasons (Lucid Artist), an instrumental collection produced, arranged, and performed by Greer, held the #1 spot on Nielsen Christian SoundScan's Instrumental chart for 23 consecutive weeks. A 2013 Dove Award nominee, Andrew's first Christmas record, Angel Band: The Christmas Sessions, releases this fall and features collaborations with music legends Phil Madeira, The McCrary Sisters, Cindy Morgan, and Sandi Patty. For more information, visit: www.andrew-greer.com or www.hymnsforhunger.com