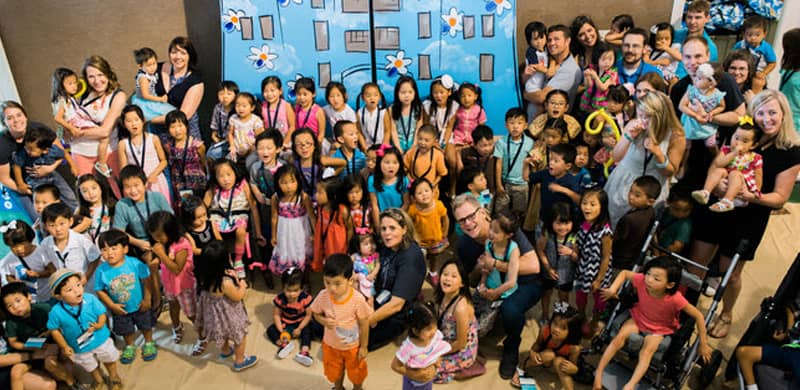 Chapmans Host 80+ Families at Their Home
Franklin, Tenn – 30 June 2015 – Show Hope, a nonprofit organization founded by Steven Curtis Chapman and his wife Mary Beth for the purpose of caring and advocating for millions of orphans worldwide, recently held a Special Care Centers Reunion for more than 80 families at the Chapmans' home in Franklin, TN.
A year after Maria Chapman's passing in May of 2008, Show Hope opened Maria's Big House of Hope, their flagship Special Care Center, located in Luoyang, China. Maria's Big House of Hope provides life-giving medical care for orphans with special needs in the hope that each child will eventually be adopted into a family. Because a state-run orphanage may care for hundreds of children at a time, they often do not have the resources or expertise to provide specialized medical attention. Show Hope has been given the unique privilege to step into this need through Maria's Big House of Hope and four other Care Centers in the Henan province.
Currently, Show Hope provides life-giving care for more than 300 orphans with special needs at their five Care Centers in China. To date, more than 500 children have been adopted from all Care Centers.
On May 30, the Chapmans hosted a gathering for families from around the U.S. who have adopted children from one Show Hope's Special Care Centers. This was also an event to honor the memory and legacy of Maria Sue Chapman. It was truly heart-warming to see so many children happy and home with their forever families.
Families from 25 states came to the Chapman's family barn for a beautiful day of remembering all that God has done for these children. More than 400 people were in attendance, and Mary Beth and Steven Curtis Chapman were able to meet each family and child. The families enjoyed inflatables, entertainment, crafts, barbecue, a petting zoo, and hayrides. It was a day of full hearts and the sweet sounds of children laughing together.
Click here to find out how you can help support Show Hope and its Special Care Centers or visit the links below:
Twitter
Facebook
Pinterest
Instagram
YouTube
About Show Hope:
Since its inception, Show Hope has helped provide forever homes through Adoption Aid grants for more than 4,500 orphans from 50+ countries, including the U.S. In addition, more than 1,600 orphans with special needs have received critically needed medical care through Show Hope's Special Care Centers, giving them a hope for a family and a future. Through numerous initiatives designed to engage individuals, students, families, and communities, Show Hope is mobilizing a movement to care for the world's children who need it most.
Show Hope is continuously developing a variety of programs to mobilize the church body to get involved and to help transform the life of an orphan. From their Student Initiatives program (which includes the Red Bus Project for college students and The Movement for high schoolers), to their short-term trips for teens and adults, their Advocates program and the monthly sponsorship program, there are so many ways to get involved in the movement to care for orphans.
To find out more information, please visit ShowHope.org.
##
Media Contact:
Merge PR
P.O. Box 1271
Franklin, TN 37065