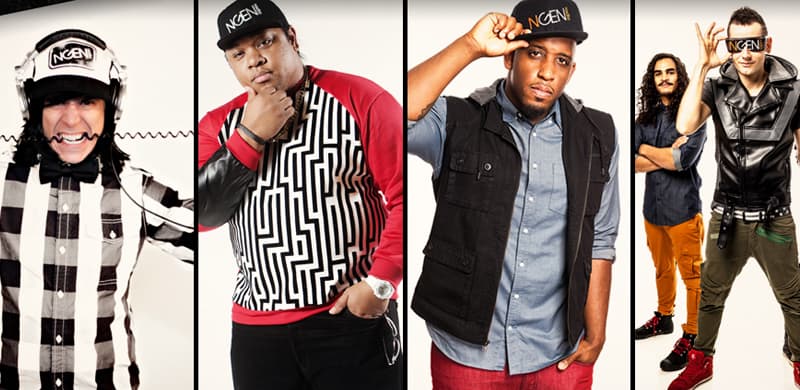 The easiest play is to always follow suit. For KSBJ, that's not an option.
For the contemporary Christian radio station out of Humble, Texas, risk is an essential part of the station's identity. In fact, as Tammy Johnson explains, if employees are not taking risk, then they are failing in their job performance. As the head of KSBJ's exciting endeavor entitled NGEN, Tammy knows firsthand how important the culture of risktaking is at KSBJ.
Tammy is the station manager for NGEN radio, an on-air and online music station geared toward a younger demographic that's making waves and providing hope. We recently asked Tammy to tell us about this faith venture, the culture of creativity as KSBJ, and the financial realities behind the launch of NGEN.
ON THE FORMAT OF NGEN:
NGEN is a hip-hop and pop format, so we play hip-hop and pop music for the NOW generation. We stream it on translators and transmitters located in Houston, but we don't stream out to just local stations. We are a national radio station, and a lot of our national radio listeners listen on the app and on the web. We have an app for Android and iPhone.
You have to understand A.C. radio to understand the radical-ness that NGEN has taken.
A.C. radio tends to target a 35-to-54-year-old, and it has a perception of being safe for the whole family. I used to tease our old program director. I'd say "Oh what, did Jesus blank on the cross for our sins? Is that how I share the gospel on A.C. radio?" Because A.C. radio literally was taking it that far. You couldn't say words like "death" or "die", so you start to question yourself. We can't share the gospel if that's the case.
Well, KSBJ has been trying really hard to kind of fillet the "safe for the whole family" perception. As an A.C. radio station, we have said, "No, we aren't going to take that stance." Obviously, we believe in being trusted by our listeners, so we won't take for granted their trust. But yes, we are going to use words to convey the gospel message.
ON THE MESSAGE OF NGEN:
NGEN is such a different place. We can talk about real life issues, from pornography to addiction, to cutting, suicidal thoughts, and homicidal thoughts. We even have kids reaching out to us about gender issues, which is a brand new day and age for that stuff. People are feeling really safe with us. This last fall and spring, we had a campaign, "NGEN: Where you belong". It's a place where we try to take down any walls where people don't feel like they belong, and be more inclusive than exclusive. On social media, we find non-believers listening to us, and some of the comments are "I'm not a Christian, but I love this radio station."
So people are finding hope. People are finding encouragement. The lyrics on the station are pretty overtly gospel as well as overtly and culturally topical. We play artists like Lecrae, Andy Mineo, Derek Minor, Tedashii, Family Force Five. If you peel back some of those artists' lyrics, it sounds mainstream because they talk about sex and drugs, but they have a Biblical perspective on those topics. What I think is cool is that we do believe in having conversations, and we are 100 percent unashamed of the gospel of Jesus Christ, but we want to give people an opportunity to hear a biblical worldview on today's cultural topics.
ON THE ORGANIZATIONAL VALUE OF RISK:
I love my boss. He says faith is spelled 'r-i-s-k.' Number one, my boss is the general manager of all the stations. We have an A.C. format, NGEN, a special events company, and a ticketing company. I work for someone who, if I'm not taking a risk, I'm failing. So you have to be within an organization that appreciates risk, and values it so much that if people aren't taking risks, there are reprimands to that, instead of flying under the radar and playing it safe.
From a cultural perspective, we're expected to take risks. However, these have to be calculated risks for each brand. We get to take more risks with NGEN than we do with the mother ship. Our mission is to be a voice of hope, connecting people to God, and that statement is full of meaning from our leadership. We are the voice, the radio waves going through the car, online computers, and at our events. Hope is Jesus and what He gives. We can express Hope in a variety of different ways.
ON FINANCES VS. RISK:
We calculate our risk, and we do things like perceptual studies. We do a lot of research, music auditorium testing, and focus groups to find out our guardrails for risk. The decisions we make for NGEN are not the same decisions that we make on KSBJ. The guardrails are super-wide on NGEN, and more restrictive on KSBJ. KSBJ has been blessed financially, and maybe it's because of their willingness to take risks, that God pours finances into this ministry, and so KSBJ currently funds NGEN radio.
We are turning four this year. We are listener supported, and NGEN has been able to raise one fourth of our annual budget in four years, but we are still at a 75% deficit annually. KSBJ has covered that, and is prepared to cover it for the next year and a half to two years, while we try to figure out the business model, for making something like NGEN financially viable.
ON THE NEED FOR ENTREPRENEURIAL THINKING:
In A.C. radio, the listener is also the supporter, so you've got two things going on. With NGEN, yes, some of the listeners are supporters, but we believe that we will have to find funding in other models and other places because we don't believe that NGEN constituents are going to be 100 percent the funder. Maybe not even 50 percent of the funding.
So it's where we've come in this journey, that we are like Christopher Columbus, we are setting out to the Americas that we hear about. We are figuring out where we are in this course, and where we are headed. Because of that, we have to figure out different models to make it happen. Because we know what we know, I think other stations do desire to have a format like NGEN. I think other stations desire to reach young people. We are reaching 12-34 year olds. That is what our target is.
For NGEN, 74 percent of our local listeners are 12-34 years old. That's the highest for reaching that age group for any local secular or Christian radio station. So we know the format is working. We are reaching young people. We're getting emails, and the communication of the music is changing lives. It's the same thing with our national listeners. Our number one age group is 12-to-17-year-olds, so we are hitting the target early on.
ON THE FUTURE OF NGEN:
Yes, we definitely want to continue to grow. We need to grow the awareness of the NGEN app, because the young people, that's how they are listening. We desire to grow nationally, and we know we have international appeal. We believe that NGEN would make a great affiliate and has syndication possibilities. There are radio stations that may not have the 1.2 million dollar annual budget that it takes to run a radio station like NGEN, but they have a translator or transmitter and desire for NGEN to be an affiliate. We are open to those discussions.
What I see is, there are people with the same heart, the same mission, with some resources, but not all the financial resources. We have made a commitment to the financial resources, so I'd love to see if NGEN would be able to expand through affiliate, through syndication, and national awareness.