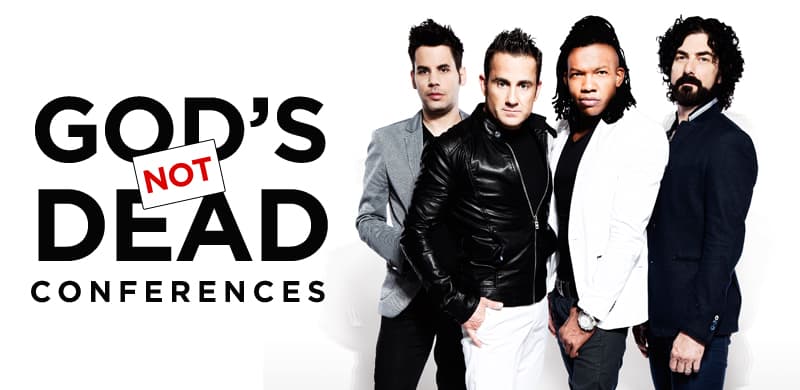 NASHVILLE, Tenn.—With a goal of helping young people better understand and defend their faith, Platinum-selling, Dove Award-winning Newsboys announce the first God's Not Dead Conference. Targeting youth groups and families, the God's Not Dead Conference will feature teaching sessions focusing on apologetics led by speaker Nic Allen, praise and worship music, a keynote message and a private concert by the Newsboys. The inaugural God's Not Dead Student Conference will be held in San Antonio July 7–10, 2016.
"As Newsboys travel around the world, and especially here in the U.S., a lot of people have told us about their want to understand God's Word in greater depth and to be able to defend their faith to their friends," says Newsboys' Duncan Phillips. "We are super pumped about the first-ever God's Not Dead Conference, and can't wait to see what God has in store in San Antonio."
"It's our prayer that the God's Not Dead Conferences will allow for a deeper investment into our youth so they can continue to follow the call of Matthew 28:19-20," adds Newsboys manager Wes Campbell, president/founder, First Company Management. "As they enter adulthood, it's important they have developed a well-formed, Bible-based understanding of what they believe, to effectively defend their faith in all aspects of their lives."
For additional information, visit godsnotdeadconferences.com. Student registration begins at $99. Additional speakers and artists to be announced.
##
Media Contact:
Brian Smith, President
Emily Kohl, Vice President
turningpointpr.com