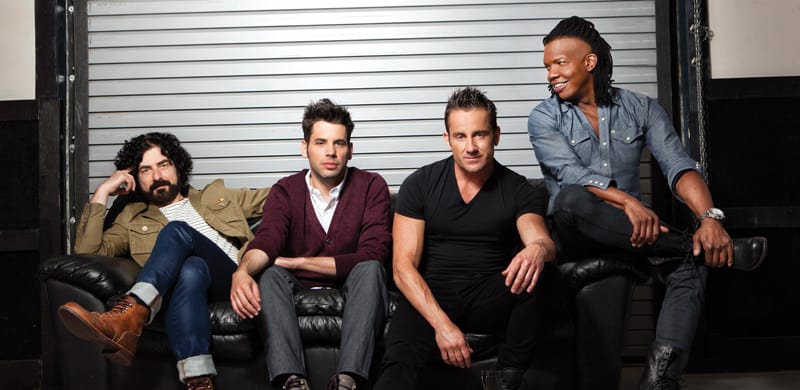 NASHVILLE, Tenn.—Platinum®-selling, Dove Award-winning Newsboys are giving back to the Columbia, South Carolina, community whose residents have been impacted heavily by recent flooding. In conjunction with their upcoming October 23 "We Believe…God's Not Dead" 2015 Fall Tour stop at the South Carolina State Fair, held in Columbia, the Newsboys will be making a financial contribution to Harvest Hope Food Bank, which has served hundreds of thousands of meals to local residents since flooding began.
Newsboys' "We Believe…God's Not Dead" 2015 Fall Tour has garnered multiple sellouts since beginning September 18 in Las Vegas. The tour also features Dove Award-nominated FairTrade Services pop/rock band Hawk Nelson and special guest GRAMMY®-nominated Gotee singer/songwriter Ryan Stevenson.
Helping define the sound of Christian music for more than two decades, Newsboys' live performances continue to sell out venues across the country. Comprised of lead vocalist Michael Tait, Jody Davis (guitar), Jeff Frankenstein (keys) and Duncan Phillips (drums), the band has sold more than 8 million units, amassing eight Gold® certifications, 33 #1 radio hits, four GRAMMY® nominations and multiple Dove Awards. "God's Not Dead," Newsboys' chart-topping, Platinum®-certified single, inspired Pure Flix's 2014 hit film of the same name.
The 2015 South Carolina State Fair runs through October 25. For ticket information, visit SCStateFair.org or call 803-799-3387. For further information on Harvest Hope Food Bank, visit harvesthope.org.
##
Media Contact:
Brian Smith, President
Emily Kohl, Vice President
turningpointpr.com