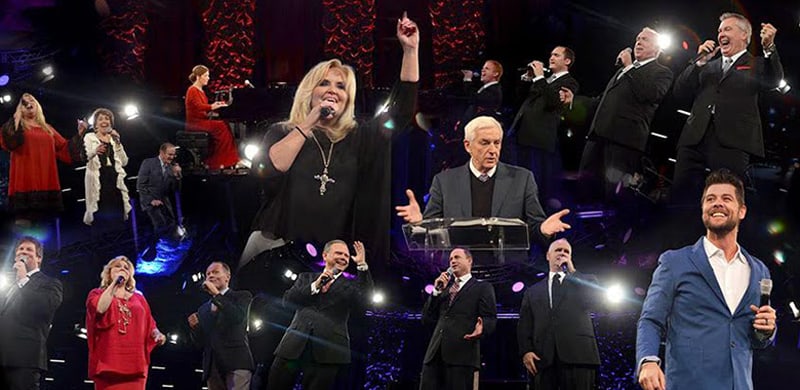 59th Annual Event Enjoys Expanded International Audience
October 9, 2015 – A global audience enjoyed the 2015 edition of the NQC (National Quartet Convention) held last week in Pigeon Forge, TN. The 59th annual event – held at the LeConte Center – attracted attendees and webcast viewers from over 30 countries. In addition to the United States, the NQC was enjoyed by gospel music lovers in Canada, United Kingdom, Czech Republic, Chile, Netherlands, Australia, Norway, Taiwan, Argentina, Mexico, Peru, Nicaragua, and many more!
The 59th annual NQC (National Quartet Convention) concluded on Saturday night, October 3, 2015. The 2015 edition of the popular event included over 100 hours of gospel music, speakers and more spread out over the course of seven days in beautiful Pigeon Forge, TN.
A veritable who's who in gospel music performed during this year's event as artists performed for approximately 40,000 throughout the week. Attendees enjoyed The Hoppers, Kingdom Heirs, Greater Vision, Mark Trammell Quartet, Jim Brady Trio, The Nelons, Jason Crabb, Ernie Haase & Signature Sound, the Collingsworth Family, Jeff & Sheri Easter, and many, many more during the morning chapel services, afternoon showcase spectaculars and evening concerts.
Additionally, the convention featured comedy – Tim Lovelace, Aaron Wilburn and Dennis Swanberg, and speakers – Todd Starnes from Fox News and Dr. David Jeremiah.
The 60th Annual NQC will be held September 25, 2016 – October 1, 2016 at the LeConte Center in Pigeon Forge, TN.
About NQC
The NQC was founded in 1957 by gospel music legend and former backup vocalist for Elvis Presley, J.D. Sumner who co-produced the event with James Blackwood. The annual convention was moved in later years to Nashville, TN and then to Louisville, KY where it was held for 20 years.
The LeConte Center in Pigeon Forge, TN – a $45 million special events facility – serves as the host for gospel music's largest annual event.
Featured artists are a "Who's Who" of gospel music, and nightly concerts feature up to 20 acts. Among them are the Booth Brothers, Greater Vision, the Hoppers, the Kingdom Heirs, Triumphant and the Collingsworth Family, as well as prominent soloists such as Grammy Award winner Jason Crabb.
##
Media Contact:
Aaron Crisler
NELON PR
615-474-8673
aaron@nelonpr.com