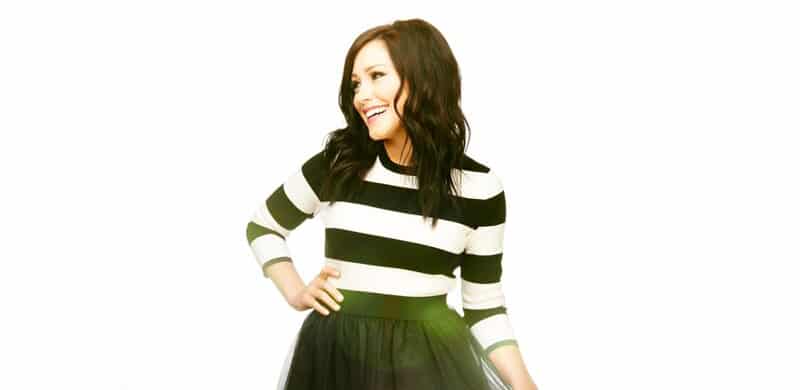 DOVE NOMINATIONS

---
Total Career Doves:
4
2015 Dove Nominations:
Artist of the Year
Worship Song of the Year ("Forever (We Sing Hallelujah)")
More Info:
www.karijobe.com
By Lindsay Williams
Kari Jobe will serve as a presenter at this year's Dove Awards. The worship leader recently released Majestic (Revisited), a reimagined special edition of her 2014 Dove Award-winning album, Majestic (Sparrow Records). Kari has been quite the road warrior this year, performing at Chris Tomlin's sold-out "Worship Night in America" events and joining the line-up of the multi-worship artist OutCry Tour. She'll head out with Matt Redman on the "Unbroken Praise Tour" this fall, hitting cities throughout the U.K. Next year, she's poised to release her biggest achievement to date—a baby. The songstress will give birth to her first child in early 2016. Kari recently gave us 60 seconds of her time to talk wardrobe malfunctions, red carpet maternity wear and dressing room must-haves…
Proudest Dove Awards Moment To Date…
Wearing my pants backwards (on accident) to receive my award for Worship Album of the Year.
What I'd Be Doing If I Wasn't An Artist…
I'd be a marriage and family counselor.
Where I Was When I Learned About This Year's Dove Nominations…
I was on a family vacation celebrating my sister's 30th birthday!
What I'll Be Wearing On The Red Carpet…
Besides [wearing] my pants on correctly, I have to find something maternity this year 'cause I'll be 5 1/2 months pregnant!
Three Items I Can't Live Without In My Dressing Room…
My oil diffuser, traveling steamer and a full-length mirror!
See Kari Jobe appear at the 46th Annual GMA Dove Awards on Oct. 13. Watch her on the Trinity Broadcasting Network (TBN) telecast Oct. 18, starting at 9 p.m. CST.
##