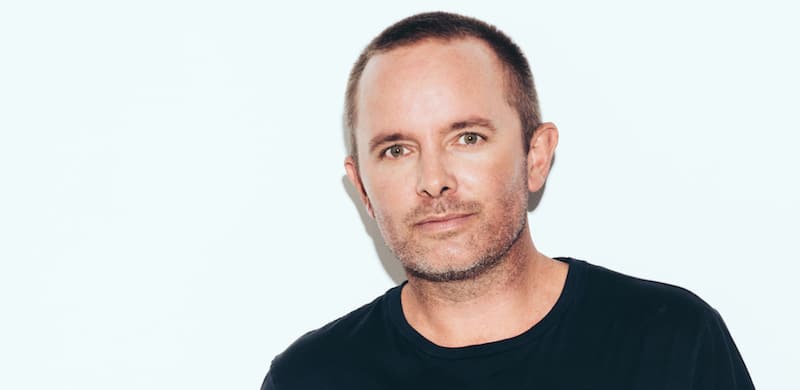 Chris Tomlin Launches Fall Leg of "Love Ran Red Tour"
Biggest tour of GRAMMY® winner's career kicked off last week in Nashville
New single, "Good Good Father" quickly tops iTunes Christian Songs Chart
Chris and Lauren Tomlin open up about their marriage and more in CALLED Magazine cover story
Nashville, Tenn. (October 12, 2015) — Chris Tomlin has set out on the second leg of what's already been the biggest tour of his career, the "Love Ran Red Tour." Featuring special guests Rend Collective, the 22-city tour kicked off in Nashville last week. Tomlin will continue to share uplifting music from his hit album Love Ran Red, including title track "At The Cross (Love Ran Red)," which recently hit the No. 1 spot on the National Christian Audience chart.
More than 200,000 people attended the first leg of the tour this spring, selling out venues in Chicago, Seattle, Phoenix, Dallas and more. The tour helped raise more than $700K for CURE International, an organization with which Tomlin is partnering for the "Love Ran Red Tour." For tickets and additional tour information, click here.
Brand new music from Tomlin is resonating with listeners as his recently released single, "Good Good Father," hit the No. 1 spot on the iTunes Christian Songs Chart the day it released.
In less than two weeks, more than 25 radio stations have added the single, including many large markets across the country and network stations KLOVE, AIR1 and Sirius XM. The single is shooting up the charts, already hitting No. 19 on the National Christian Audience Chart.
"In every record, there's a song that comes along that I'm just captured by. God is a good Father, and I think people need to hear that more than ever," Tomlin said. "What a beautiful thing to stand and proclaim and just let people experience the heart and the power of those words – 'you're a good good Father.'"
Pat Barrett and Tony Brown wrote "Good Good Father," and Barrett is featured on the track. "What an honor to carry this song," Tomlin continued. "It was really important to me that Pat Barrett, who wrote the song, be a part of the recording because he captured the heart so well."
Tomlin and his wife Lauren recently opened up about their marriage and ministry as they spoke candidly with CALLED Magazine for a cover feature. To read what the two had to say, click here.
Tomlin is also preparing to release ADORE: Christmas Songs of Worship, available October 23. Billboard recently premiered "What Child Is This? (feat. All Sons & Daughters)" along with a Behind The Album feature.
Love Ran Red Tour
Oct 08 – West Riverfront Park Amphitheater – Nashville, TN
Oct 09 – ASU Convocation Center – Jonesboro, AR
Oct 10 – iWireless Center – Moline, IL
Oct 11 – Ralston Arena – Ralston, NE
Oct 13 – Old National Events Plaza – Evansville, IN
Oct 15 – Koka Booth Amphitheater – Cary, NC
Oct 16 – Jacksonville Veterans Memorial Arena – Jacksonville, FL
Oct 17 – Infinite Energy Center – Duluth, GA
Oct 18 – CFE Arena – Orlando, FL
Oct 20 – Baton Rouge River Center – Baton Rouge, LA
Oct 22 – Reed Arena – College Station, TX
Oct 23 – American Bank Center – Corpus Christi, TX
Oct 24 – Ford Park – Beaumont, TX
Oct 25 – BOK Center – Tulsa, OK
Nov 05 – Memorial Coliseum – Fort Wayne, IN
Nov 06 – Wolstein Center at Cleveland State University – Cleveland, OH
Nov 07 – Van Andel Arena – Grand Rapids, MI
Nov 08 – Bank of Kentucky Center – Cincinnati, KY
Nov 10 – Charleston Civic Center Coliseum – Charleston, WV
Nov 11 – Altria Theater – Richmond, VA
Nov 13 – Royal Farms Arena – Baltimore, MD
Nov 14 – CONSOL Energy Center – Pittsburgh, PA
About Chris Tomlin
With ten albums, 13 No. 1 radio singles, a GRAMMY® Award and eight additional nominations, three Billboard Music Awards, 21 Dove Awards, a platinum and four gold albums to his credit, Chris Tomlin is among the most well-known and influential artists in contemporary Christian music. Referred to by TIME Magazine as "most likely the most often sung artist anywhere," Tomlin consistently has several songs in the top 20 of the Top 100 CCLI songs. BMI and GMA Dove Awards' 2014 Songwriter of the Year, Tomlin's "How Great Is Our God" was his first No. 1 on the CCLI Top 25, becoming one of the fasting rising modern day hymns in CCLI chart history. In addition to having sold more than 7 million albums and over 8.9 million digital tracks, Tomlin made history as his No. 1 single "Jesus Messiah" (Hello Love) garnered 97 adds at radio, making it the biggest ever add date in Christian radio history, and recently tied the record for most top tens in the history of Billboard's Hot Christian Songs chart as his current hit, "At the Cross (Love Ran Red)" broke into the top ten. In the midst of his record-breaking success, Tomlin continues touring and leading at Passion Conference gatherings across the US and worldwide, including his recent Worship Night In America events, which sold out NYC's Madison Square Garden, Denver's Red Rock's and Sacramento's Sleep Train Arena. Burning Lights debuted at No. 1 atop the Billboard 200 in January 2013, making history as only the fourth Christian music album to do so, and his tenth recording, Love Ran Red is available now. ADORE: Christmas Songs of Worship will debut during the 2015 Christmas season.
Get Connected with Chris Tomlin
Website
Facebook
Twitter
Spotify
Instagram
##
Media Contact
Velvet Kelm & Kirsten Grenier
the media collective
velvet@themcollective.com
kirsten@themcollective.com
(615) 591-7989
www.themcollective.com