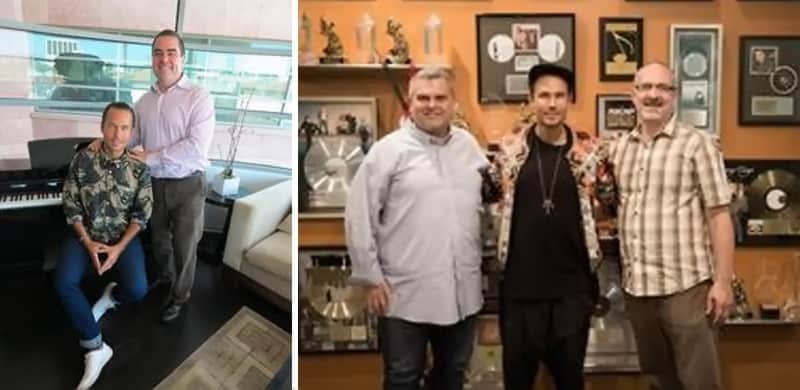 Pictured Left: Jonas Myrin and Evan Lamberg, President – North America, Universal Music Publishing Group
Pictured Right: Peter York, President of CCMG; Jonas Myrin, and Casey McGinty, Executive Vice President of CCMP
UMPG To Develop Myrin's Pop Artist and Songwriting Career
SANTA MONICA and NASHVILLE (October 12, 2015) — Grammy-winner Jonas Myrin, one of the most prolific and successful songwriters and musicians in Christian music, has signed a new global deal with Universal Music Publishing Group (UMPG) and its Christian music publishing division, Capitol CMG Publishing. The joint announcement was made today by Evan Lamberg, President of North America, UMPG, and Bill Hearn, CEO of Capitol Christian Music Group (CCMG).
Through the exclusive agreement, UMPG will co-publish all new songs Myrin writes outside of the Christian music genre, and the creative team at UMPG will work with him to broaden opportunities for him in pop music as an artist, songwriter and producer. Through the exclusive agreement, UMPG will co-publish all new songs Myrin writes outside of the Christian music genre, and the creative team at UMPG will work with him to broaden opportunities for him in pop music as an artist, songwriter and producer. Capitol CMG Publishing will administer his entire back catalog and co-publish his new songs for the Christian and worship market, and administer new songs written specifically for Hillsong Church recordings.
Jonas Myrin has written more than 100 songs recorded by artists in multiple genres including Christian, gospel, urban, pop and for film soundtracks. His latest hit "10,000 Reasons" (performed by Matt Redman), went platinum and recently spent 15 consecutive weeks at No.1 on the Christian AC Chart. The song also earned two Grammys, five Doves and a Billboard Music Award for Top Christian Song. Myrin has additionally achieved international success as a solo artist with numerous hits including "Day of the Battle," which went gold in Europe. Based in Los Angeles, he is actively songwriting and working on his American debut album as an artist.
"I have known Jonas and been a big fan of his for years, and it's going to be creatively very exciting to finally work closer with him on his pop music career. There are really special things ahead for him, and I could not be happier that he has chosen Universal Music Publishing as his home," said Lamberg.
"Jonas Myrin's ability to work so effectively with writers and ministries from every part of the world and every aspect of Christian music and the church has been remarkable to watch over the past decade. His success has been unprecedented, and for the first time he will now have the reach of a global music publisher in his corner. We are humbled to be a part of that team and know the best is still yet to come from Jonas," said Hearn.
Peter York, President of CCMG, added: "Jonas Myrin is so highly respected by our Capitol CMG A&R staff, producers and artists both at the label and in publishing. He has successfully contributed vital songs on many of our existing records, and we are excited to work with him to resource the global community of faith with his songs that impact lives."
"My dream has always been to touch hearts through my music in every sphere of life. I'm so grateful for this unique publishing partnership with UMPG and Capitol to carry out this mission. The sky truly has no limits when given the opportunity to work with two of the finest music executives in the world, Lamberg and Hearn in one dynamic team," said Myrin.
Myrin has written songs that have been recorded by the world's most successful Christian recording artists, including Hillsong United, Chris Tomlin, Passion, Matt Redman, Rend Collective, Israel Houghton and Jesus Culture, to name a few. His music has significantly impacted the faith-based audience worldwide — three of the top 10 most popular songs currently sung by millions of people in churches worldwide were co written or written by Myrin, including "10,000 Reasons," "Our God," "Cornerstone," and powerful anthems like "Christ Is Enough," "No Other Name" and "At The Cross." In addition, Myrin has penned numerous hit pop songs for successful international recording artists, including Natasha Bedingfield, Latin Grammy Award-winner Christian Chavez, and the world No.1 album for Japanese act Tohoshinki (a.k.a. TVXQ).
Please visit CapitolCMGPublishing.com for more information.
About Capitol CMG Publishing
Capitol CMG Publishing's roster includes many of the industry's top songwriters, such as TobyMac, Michael W. Smith, Kirk Franklin, Chris Tomlin, Casting Crowns, Third Day, Mandisa, Jeremy Camp, David Crowder, Matt Redman, Ben Glover, Chris Stevens, Aaron Lindsey, David Garcia, Tim Hughes, Jamie Grace, Brenton Brown and Leeland.
CCMGP also encompasses many of the world's most prominent Christian music catalogs, including sixsteps, Thankyou Music, Integrity, Hillsong, Gaither, Maranatha! Music, Emack (the publishing catalog of Christian record company Gotee Records), the Lorenz Creative Services catalogs, Reunion Music (whose catalog includes the Eric Clapton hit "Change The World") and the Sparrow catalogs (containing numerous legendary gospel and Christian evergreens). Songs from these historic catalogs have been recorded by music's legends including Bob Dylan, Dolly Parton, Ray Charles, Linda Ronstadt, Amy Grant, Elvis Presley and Willie Nelson. With its massive collection of copyrights and the strength of the Brentwood Benson Music Publications brand, Capitol CMG Publishing is the leader in Christian music publishing worldwide.
Media Contact
Merge PR
Stacie Vining or Lori Mahon
Stacie@MergePR.com | 615.260.4679
Lori@MergePR.com | 615.579.1266