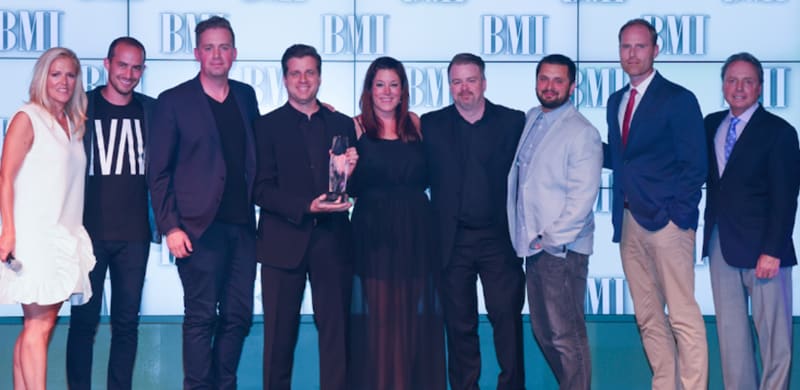 Pictured L to R: Leslie Roberts (BMI), Joel Timen (Word Entertainment), Josh Bailey (Word Entertainment), Rod Riley (Word Entertainment), Janine Appleton (Word Entertainment), Ben Vaughn (Warner/Chappell), Jonathan Mason (Word Entertainment), Trevor Mathieson (Word Entertainment), Jody Williams (BMI); Photo Credit: Steve Lowry
WORD MUSIC PUBLISHING HONORED WITH THE PUBLISHER OF THE YEAR AWARD AT THE 2016 BMI CHRISTIAN MUSIC AWARDS
for KING & COUNTRY RECEIVES SONG OF THE YEAR FOR "SHOULDERS" (WARNER-TAMERLANE PUBLISHING/WORD MUSIC PUBLISHING)
NASHVILLE, TENN. (June 23, 2016) Word Music Publishing was honored with the Publisher of the Year Award at the 2016 BMI Christian Music Awards. This marks the second time in the last four years that Word Music Publishing has been named BMI's Publisher of the Year, earning the highest percentage of copyright ownership among the year's most-performed songs. In addition, for KING & COUNTRY received the prestigious Song of the Year Award for their hit song "Shoulders" (Warner-Tamerlane Publishing/Word Music Publishing) at the banquet held on Tuesday, June 21.
"On behalf of everyone on the Word Music Publishing team, we are so honored to partner with our elite group of artists, songwriters, and producers," shares Josh Bailey, Senior Vice President of A&R and Publishing. "The awards given this week are a true testament to great songs and great team effort, and we're humbled by the impact these songs have had. Thank you to BMI for a wonderful evening and for their continued partnership and advocacy."
About Word Publishing:
From its inception Word Music Publishing has enjoyed a rich church music heritage serving as home to some of the world's most beloved hymns and Gospel songs. From that platform, careers of the cornerstones of early Contemporary Christian Music were launched. With an impressive array of new songwriters and artists, Word Music Publishing continues to establish themselves as a leader in the Nashville's music publishing scene. Word Music Publishing represents some of Christian Music's best and brightest while serving as a diverse music publisher with creative assets and activity in Country (WORDCountry), Rock and Pop music genres, with an active profile providing music for Film and TV placements. Word Music Publishing is a Division of Word Entertainment, a Curb Company, celebrating 65 years of history.
##
Media Contact:
Merge PR | Lori Mahon
Lori@MergePR.com | 615.579.1266