NEWS: BMI Honors Christian Music's Best at the 2016 BMI Christian Awards in Nashville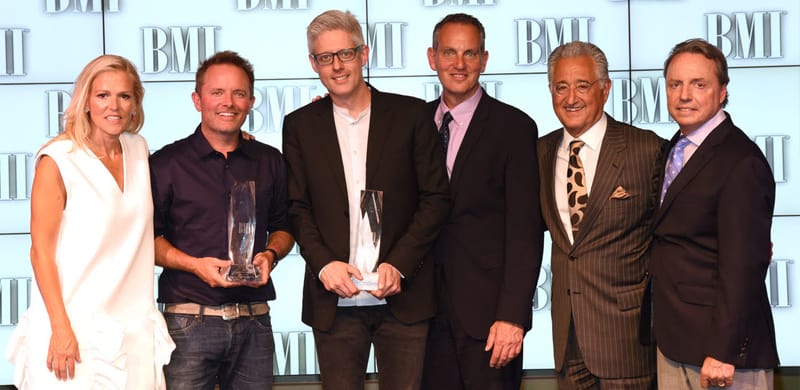 Picture L-R: BMI's Leslie Roberts, BMI Songwriters of the Year Chris Tomlin and Matt Maher, BMI's Mike O'Neill, Del Bryant and BMI's Jody William at the 2016 BMI Christian Awards
For King and Country's "Shoulder" Named Song of the Year; Word Music Publishing earns Publisher of the Year
Matt Maher and Chris Tomlin Named Songwriters of the Year
NASHVILLE, June 23, 2016 – Broadcast Music, Inc.® (BMI)®, global leader in music rights management, honored the top 25 songs played on Christian radio during the past year at the 2016 BMI Christian Awards, held Tuesday evening at BMI's Nashville offices on Music Row. The songwriters and publishers of the past year's most performed Christian rock, contemporary Christian, inspirational, southern and urban gospel songs on U.S. Christian radio are honored at the annual awards.
"We're honored to be able to celebrate these top Christian music creators," Jody Williams, Vice President, Writer/Publisher Relations, noted. "These songwriters and publishers earned incredible airplay while spreading a wonderful message."
The invitation-only event featured a special tribute to Joe Moscheo by Steven Curtis Chapman and performances by All Sons & Daughters and Matt Maher.
The Song of the Year title went to "Shoulders," written by BMI songwriter Luke Smallbone with Ben Glover, Joel Smallbone and Tedd Tjornhom and published by Dayspring Music, Kilns Music and Warner-Tamerlane Publishing Corporation. The song was recorded by For King and Country and reached number 4 on the Billboard Christian Airplay chart.
The Songwriter Of The Year award went to two outstanding songwriters this year. Matt Maher earned the title for his songs "Because He Lives (Amen)," Come As You Are" and "Soul On Fire." His co-writer on "Because He Lives (Amen)," Chris Tomlin, also was awarded Songwriter of the Year for the song, as well as "At The Cross (Love Ran Red)" and "Jesus Loves Me."
Word Music Publishing (Dayspring Music and Warner-Tamerlane Publishing Corporation) took home the Publisher of the Year award. The company had the highest percentage of copyright ownership among the year's most-performed songs, including the hits "More Than You Think I Am," "Save My Life," "Shoulders," "Through All Of It" and "Who I Am."
Williams and Executive Director, Writer/Publisher Relations, Leslie Roberts served as the evening's hosts. A complete list of the 2016 BMI Christian Awards is available at www.bmi.com/christian.
##
About BMI:
Celebrating over 75 years of service to songwriters, composers, music publishers and businesses, Broadcast Music, Inc. ® (BMI®) is a global leader in music rights management, serving as an advocate for the value of music. BMI represents the public performance rights in more than 10.5 million musical works created and owned by more than 700,000 songwriters, composers, and music publishers. The Company negotiates music license agreements and distributes the fees it generates as royalties to its affiliated writers and publishers when their songs are performed in public. In 1939, BMI created a groundbreaking open-door policy becoming the only performing rights organization to welcome and represent the creators of blues, jazz, country, and American roots music. Today, the musical compositions in BMI's repertoire, from chart toppers to perennial favorites, span all genres of music and are consistently among the most-performed hits of the year. For additional information and the latest BMI news, visit www.bmi.com, follow us on Twitter @BMI or stay connected through Broadcast Music, Inc.'s Facebook page.
Media Contact:
Lauren Branson
lbranson@bmi.com