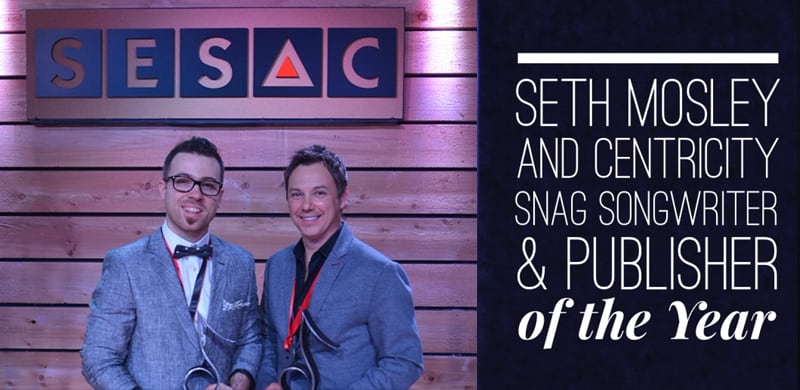 NASHVILLE, Tenn.—Centricity Publishing took home top honors at the 2015 SESAC Christian Music Awards, held last night in Nashville. CentricSongs was named Christian Publisher of the Year, while Centricity Publishing's Seth Mosley received the Christian Songwriter of the Year award. In addition, both CentricSongs and Mosley were recognized with seven national performance activity awards, as well as honors for the Billboard #1 song, "Fight Song," written by Mosley and recorded by The Almost.
"Being recognized as SESAC's Christian Publisher of the Year, and having Seth honored as Songwriter of the Year, are both great honors and a testament to the amazing talent we are blessed to be able to work with and support," said Steve Rice, Vice President, Centricity Publishing. "With a GRAMMY® Award, Gold album, and numerous #1 singles, Seth has had an incredible year. As a team, we couldn't be more excited about what the future holds."
Also during the ceremony, Centricity Music recording artist Unspoken performed their #1 single, "Start A Fire," while labelmate Jason Gray served as a presenter.
Launched in 2005, Centricity Publishing has become a leader in writer and song development. Helmed by industry veteran Steve Rice, Centricity Publishing is home to award-winning writers Seth Mosley and Jonathan Lee, as well as many acclaimed artist/writers from the Centricity Music label, including Jason Gray, Lauren Daigle and Unspoken. In addition to placing songs in the country market (Trisha Yearwood, High Valley), the company's music has been utilized by NFL Network, Speed Network, Jane by Design, One Tree Hill, Veggie Tales and Target, among other outlets. Last year, Centricity Publishing launched CentricWorship to service the global Church with songs for congregational worship.
For further information, visit centricitypublishing.com.
##
Media Contact:
Brian Smith
PRESIDENT
Emily Kohl
VICE PRESIDENT
Turning Point Media Relations, Inc.
106 Mission Court, Suite 106
Franklin, TN 37067
615.261.1818
turningpointpr.com