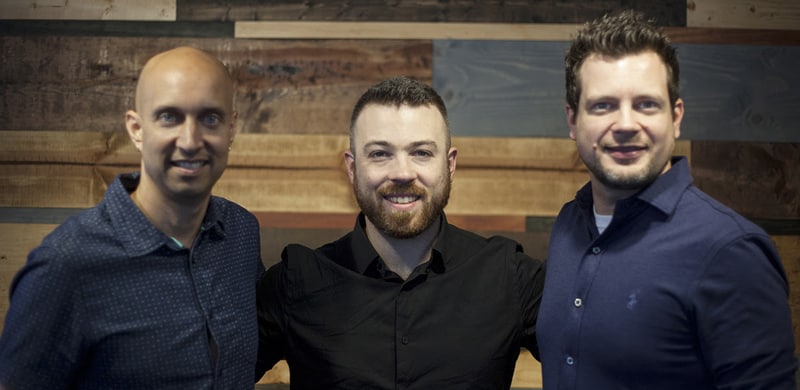 Pictured L-R: Chad Segura, Vice President, Centricity Publishing; Seth Mosley; Justin Nicolet, Manager, Centricity Publishing
Multiple Award Winning Producer/Songwriter, Seth Mosley, Signs New Exclusive Contract with Centricity Publishing
Nashville, TN (July 11, 2016) — One of the most awarded and in-demand producers and songwriters in the Christian music industry, Seth Mosley, has signed a new exclusive contract that will continue his successful relationship with Centricity Publishing. In 2015 alone, Mosley won his first Grammy Award for Best Contemporary Christian Music Album, received the SESAC Award for Christian Songwriter of the Year and was the top winner at the Dove Awards by winning four of his five nominations that included Producer of the Year and Songwriter of the Year (Non-Artist). Currently, Seth has songs climbing the Country, Mainstream Rock, and Christian radio charts.
"Seth Mosley is one of the most talented writers that I've ever had the pleasure of working with. His credits speak for themselves, but beyond his amazing talent and drive, he's a phenomenal human being and a blast to work with," says Segura. "We are honored and excited to continue our partnership with him and his talented team, and can't wait to see what this new season holds for all of us!"
"I am beyond excited for this renewed partnership with Centricity Publishing," adds Mosley. "Chad Segura and his team are top shelf, both professionally and personally. They get the power of songs and how they can change lives and impact hearts through eternity. That makes me and the rest of Full Circle Music proud to be on the same team with them! Momentum is only beginning and these next couple of years have great things in store."
Mosley began his career with Centricity in 2009 as the frontman for the band, Me In Motion. In 2012, the Ohio native shifted his focus from artistry to songwriting and production, and immediately became one of top talents in the industry. He is known for such hits as "Born Again" (Newsboys), "Fix My Eyes" (for King & Country), "He Knows My Name" (Francesca Battistelli), "Start A Fire" (Unspoken), "You Are I Am" (Mercy Me), and "Who I Am" (Blanca). His production credits include Run Wild. Live Free. Love Strong. (for King & Country), Sovereign (Michael W. Smith),This is Not a Test (TobyMac), He Knows (Jeremy Camp), Unashamed (Building 429) and Something Different (Sidewalk Prophets). Overall, Mosley has been the writer of over 70 charting radio singles and has received 38 SESAC Awards for top radio activity.
For continued updates on Mosley please visit www.centricitypublishing.com, www.fullcirclemusic.org.
About Centricity Publishing
Launched in 2005, Centricity Publishing has become a leader in writer and song development. The company is home to an impressive roster of artists and songwriters including, Seth Mosley, Lauren Daigle, Jason Gray, Jordan Feliz, Unspoken, Aaron Shust, Jonny Diaz, Carrollton, JJ Weeks, Mike Grayson, Paul Duncan, Justin Morgan, Dave Myers and Gary Rea. In addition to placing songs in multiple genres, the company's music has also been featured in productions from the likes of NBC, The CW, ABC Family, Fox Sports, NFL Network, Speed Network, and Target, among others. Centric Worship (a division of Centricity Publishing) serves as a vehicle for bringing fresh, new congregational worship songs to the global Church. Centricity Publishing took home top honors at the 2015 SESAC Christian Music Awards by being named Christian Publisher of the Year, while Seth Mosley took home the award for Christian Songwriter of the Year. For more information about Centricity Publishing please visit online at www.centricitypublishing.com.
##
Media Contact:
Janet Bozeman
615-472-8417
janet@bozemanmedia.com