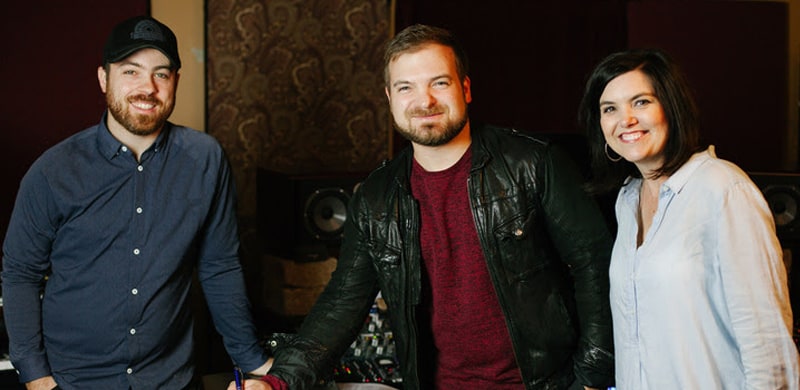 Pictured L-R: Seth Mosley, Riley Friesen, Stacey Wilbur. Photo Credit: Celi Mosley
Riley Friesen signed to Songs for FCM Publishing
Nashville, Tenn. (Dec. 6, 2016) – Announced earlier today, Seth Mosley, founder of Full Circle Music, received a GRAMMY® nomination for his songwriting on for KING & COUNTRY's hit "Priceless," included in the Best Contemporary Christian Music Performance category. This marks the second time Mosley has received recognition from The Recording Academy for his work with for KING & COUNTRY, winning his first GRAMMY® award in 2014 for producing their album RUN WILD. LIVE FREE. LOVE STRONG. The 59th annual GRAMMY® awards will take place on Feb. 12 in Los Angeles, CA.
The nod comes as Mosley announced the signing of Riley Friesen to Songs for FCM Publishing with Kobalt Music Publishing Global. Friesen's credits include notables like Family Force 5, Michael W Smith, Jordan Feliz, Audio Adrenaline and Group 1 Crew.
"I love getting to work with people that I am already a fan of, and Riley Friesen is one of those people. I became a mega fan of his production chops and songwriting sensibilities on his work on the previous Family Force 5 record. I was producing other tracks on the record and just hearing his songs, made me want to step my game up because iron sharpens iron," shares Mosley. "I am so excited about the future of Riley Friesen and getting to be a part of the journey with him."
Last month, Full Circle Music was a part of the history making, chart topping single "Feel Invincible" from GRAMMY® nominees Skillet. The multi-platinum rockers became the first Christian band to hit No. 1 on the Mainstream Rock Chart. Mosley and company have also been an intricate part of the success of Country duo High Valley's new record Dear Life. The album hit #3 on overall Country iTunes chart, and the single "Make You Mine" is climbing up the National Country Radio Chart. Full Circle Music will kick off 2017 with the return of their sold-out Music Makers Bootcamp geared towards producers, songwriters and artists. Courses include live training on hot topics such as selling music online, writing songs that last, mixing, editing and more.
About Full Circle Music:
The GRAMMY® winning & Billboard Producer of the Year Seth Mosley stands as the mastermind behind some of the biggest hits in the CCM industry, helming No. 1 singles from for KING & COUNTRY ("Fix My Eyes"), Francesca Battistelli ("He Knows My Name"), Jeremy Camp ("He Knows") and more in one year alone. Altogether, Mosley's full-service production company, Full Circle Music, has contributed to over 20 No. 1 chart-topping songs and worked with artists, both signed and independent, including Skillet, Mat Kearney, TobyMac, Jon Foreman (Switchfoot), Newsboys and country acts like High Valley, Ricky Skaggs and more. The team writes and produces an average of 150 songs each year in their Franklin, Tenn.-based studio. Mosley and group unveiled the music production school Full Circle Music Academy and Songs for FCM Publishing with Dove Award winning Matt Hammitt as their first songwriter, followed by the signing of Riley Friesen. Focusing on crafting music for the future, Mosley is the curator of the Full Circle Music Podcast which sits down with industry icons.
Get Connected With Full Circle Music
www.fullcirclemusic.org
www.thefullcircleacademy.com
Snapchat // fullcirclem
#FullCircleMusicShow // fullcirclemusic.org/podcast-media
Twitter
Facebook
Instagram
##
Media Contact:
Velvet Kelm, Courtney Hyder, Kirsten Grenier & Brooke Huppenthal
the media collective
velvet@themcollective.com
courtney@themcollective.com
kirsten@themcollective.com
brooke@themcollective.com
(615) 591-7989
www.themcollective.com