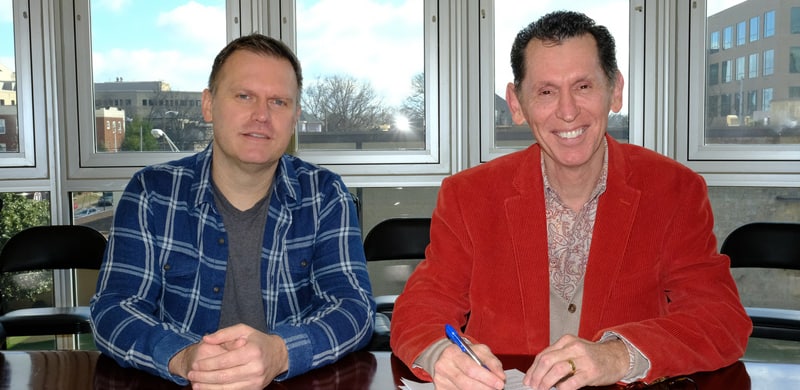 Pictured L-R: Wayne Haun, Partner and Producer at StowTown Records, Tim Lovelace
Nashville, Tenn. (Feb. 16, 2017) —- The multi-talented comedian, musician, motivational speaker and award-winning songwriter, Tim Lovelace, has signed with StowTown Records, marking the first time the label has added a comedian to the artist roster. A comedy DVD that will feature Lovelace's unique clean comedic style is scheduled to release in early fall 2017 and will be available at all digital and retail outlets.
"We are excited to welcome into the StowTown family the most versatile, multi-talented, clean comedian in the business today," said Nathan Goble, Partner/Financial Manager, StowTown Records. "Tim delivers side-splitting storytelling and award winning musicianship that appeals to a wide audience that includes colleges, corporate events, churches of various denominations, small private banquets and conventions."
"I am thrilled to become a part of the amazing StowTown Records family! I have known Landon Beene, Ernie Haase, Nate Goble and Wayne Haun for years, and have been very impressed with the creativity and production they offer as a team," explained Lovelace. "I am extremely excited to collaborate with them, and I am very much looking forward to great days ahead with StowTown and their Provident Distribution team."
Ernie Haase added, "Tim Lovelace and I go WAY BACK! We've been colleagues and friends for over 25 years. And now, to be able to partner with him and his brilliant humor, music and motivational speaking is icing on the cake. Welcome to the StowTown family old friend."
Tim Lovelace has kept people around the world laughing and inspired for three decades with his unique brand of humor that intertwines his musical talents on piano, guitar, harmonica and inspiring life stories. He is also known for appearing as host of "The Music City Show," as seen on RFD-TV and four other major networks in the last four years, including FamilyNet. At the same time, Lovelace keeps a heavy tour schedule that includes former appearances at the Oak Ridge Boys Theater in Branson, MO, the historic Grand Ole Opry and Ryman Auditorium in Nashville, TN, Dollywood in Sevierville, TN and has traveled to Amsterdam, Great Britain, Spain, Honduras, among many others.
Lovelace's talents also expand beyond the stage and tour dates, as he is a well-known songwriter who has written numerous hit singles that include three of his own, "Don't Sit in My Pew," "Everything That Won't Be There," and "Side Effects." He's a two-time Gospel Music Association Hall of Fame Inductee, Grammy and Dove Awards nominee, won a BMI Citations of Achievement award and was a nominee for a Diamond Award for Comedian of the Year.
Lovelace will host and appear on the "Music City Show Cruise," that will depart from Port Canaveral, FL Feb. 19 and will visit exotic ports of call through Feb. 26. For more information about the cruise, www.themusiccityshow.com/cruise and for Tim Lovelace: www.timlovelace.com, www.facebook.com/comediantimlovelace, www.twitter.com/timlovelace.
About StowTown Records
Founded in 2011 and expanded in 2014, StowTown Records reflects the musical vision of Ernie Haase and Wayne Haun, in partnership with Landon Beene and Nate Goble. The independent label is the creative home for several top artists in the Southern Gospel, Inspirational and CCM marketplaces, and quickly garnered industry attention with multiple Gospel Music Association Dove Awards and chart-topping releases.
##