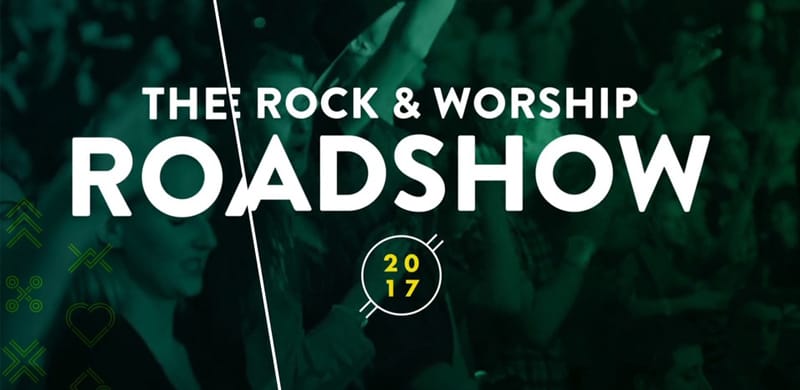 NewReleaseToday Joins Rock & Worship Roadshow For Sixth Year Running, Bringing Music & Freebies On 2017 Tour
Industry-leading media outlet to offer 40 songs to the tour's VIP ticket holders
BOISE, Id. (Feb. 16, 2017)—The largest Christian music site online, NewReleaseToday (http://www.newreleasetoday.com), will be an integral part of the Rock & Worship Roadshow tour for the sixth year running as the tour's official media sponsor.
The Compassion International owned and sponsored tour kicks off for its ninth year, Feb. 24 in Cape Girardeau, Missouri, running through April 2, when it will conclude in Baltimore. The $10 a ticket tour features Steven Curtis Chapman, Francesca Battistelli, Rend Collective, Passion, Family Force 5, Jordan Feliz, along with Derek Minor and Urban Rescue, and is hosted by author/speaker/recording artist Carlos Whittaker.
Beyond providing in-depth, exclusive, behind-the-scenes coverage of the 23-city tour, NRT will once again return as a part of the Roadshow's premium experiences, providing a 40-song download for VIP guests (a $50 value). That augments the $50 VIP ticket's other offerings, which include early entrance for premium seating, an exclusive tour T-shirt, a VIP laminate and special pre-show Q&A with the tour's top artists. VIP tickets are available at https://theroadshowtour.com/vip.
"It's been a great partnership between the Roadshow and NewReleaseToday over the last six years, because it's a perfect fit," said Brian Seay, Executive Producer of the tour. "NewReleaseToday is an amazing resource for all Christian music fans and they continue to bring that same value to the Roadshow. Our VIPs have loved what NewReleaseToday brings to the table with their downloads, and we are grateful to keep this going in 2017."
In addition to the VIP download, NewReleaseToday will offer a number of freebies at its booth, located on the concourse in the merchandise area at each tour stop.
"It's amazing that we've been partners with the Rock & Worship Roadshow for six years," said NRT Founder and President, Kevin McNeese. "It's a tremendous honor that we don't take for granted, both because of the great people we get to work with, and for the experience of connecting with tens of thousands of Christian music fans across the country. We wouldn't miss this for anything. It's going to be an amazing night."
Christian music fans can connect with NRT by visiting http://www.NewReleaseToday.com, and can learn more about the Rock & Worship Roadshow's dates and venues by going to www.theroadshowtour.com.
##