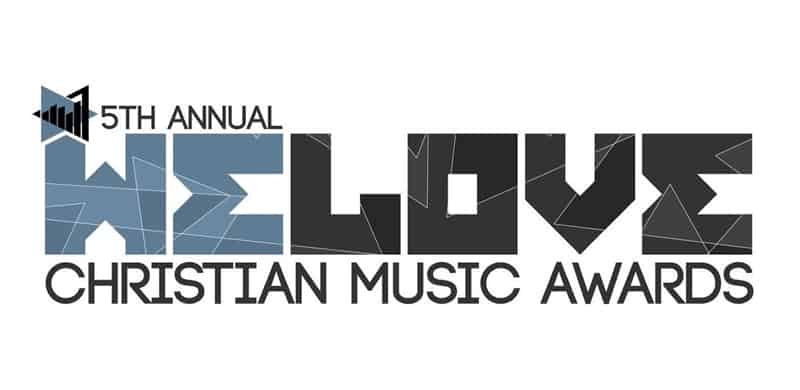 CHRISTIAN MUSIC'S MOST INNOVATIVE AND UNCONVENTIONAL AWARDS, THE WE LOVE CHRISTIAN MUSIC AWARDS, KEEPS PACE AS NEWCOMER GAWVI LEADS ALL 58 NOMINATED ARTISTS WITH 4 NODS
Voting now open to the public in 17 categories; produced exclusively by the largest Christian music site online, NewReleaseToday, and sponsored by JUCE TV
BOISE, Idaho (Dec.2, 2016) — There must be "something in the water," because Reach Records' newest artist, GAWVI, became the unexpected leader of nominations in the fifth cycle of the WE LOVE CHRISTIAN MUSIC AWARDS.
The four nods to the singer/producer signify the latest sign that the awards–created and produced by the largest Christian music site online, NewReleaseToday (http://www.newreleasetoday.com), continue to be the most innovative and unconventional in the industry.
Known for recognizing the best Christian music in a particular calendar year, the WE LOVE AWARDS, sponsored exclusively by JUCE TV (http://www.jucetv.com), gives attention to fast-rising corners of the industry, including electronic/dance music, urban/rap music, and rock/alternative music, and passionate fans have responded in kind.
More than 120,000 votes have been cast since the awards debuted in early 2013, and fans will get the chance to cast many thousands more as they are presented with picking awards in 18 categories, featuring 58 nominated artists.
"The WE LOVE CHRISTIAN MUSIC AWARDS is one of the most important things we get to be a part of each year," said NRT President/Founder Kevin McNeese. "We get to take a look at the state of the industry, celebrate its successes and uncover some of its best kept secrets. Five years in, it's clear that the fans of Christian music see us as an important part of the conversation."
As previously mentioned, GAWVI leads all nominees with four nods, as his Lost in Hue EP is up for Electronic/Dance Album of the Year ("The BPM Award") and EP of the Year. The artist himself is being considered for New Artist/Group of the Year, and his "Late Nights" visual treatment is a nominee for Music Video of the Year.
"As a new artist, it's such an honor to be nominated for these categories," GAWVI said. "My desire is to continue being able to shift our culture with music. Thanks for this amazing opportunity!"
The huge year in Christian music and the diversity of this year's nominees is reflected in the six-way tie for second-most nominations, between Bethel Music, Hillary Scott & The Scott Family, Jordan Feliz, Lacey Sturm, NEEDTOBREATHE, Skillet and Switchfoot.
Most of those artists have songs being considered this season for Song of the Year; voters will decide between Hillary Scott & The Scott Family's "Thy Will," Jordan Feliz's "Never Too Far Gone," NEEDTOBREATHE's "Hard Love," Skillet's "Feel Invincible" and Switchfoot's "Float."
The Male Artist and Female Artist of the Year categories cover a wide gamut of styles and fanbases. Pop singer Britt Nicole joins Lady Antebellum frontwoman Hillary Scott, Christian music mainstay Ginny Owens, former Flyleaf frontwoman Sturm and worship/contemporary artist Meredith Andrews as being under consideration for Female Artist of the Year.
Rapper Derek Minor, worship leaders Chris Quilala and Phil Wickham, chart-topper Jordan Feliz, and a former winner of The Next Big Thing award, independent solo pop act Spencer Kane, are up for Male Artist of the Year.
And speaking of The Next Big Thing, this year's nominees have similarly broad stylistic representations, including contemplative worship group Doxa Theo, Aussie pop singer Emma Mullings, electronic poets Graceful Closure, worship leader Jeremy Vanderloop, and Northwest rock band The Incandescent.
"These awards are all about celebrating the best Christian music being made," says NRT's Executive Editor, Marcus Hathcock. "Anymore, that's not limited to whether or not an artist has a label, or whether they're part of a certain genre or not. We've heard over and over that we're championing artists and projects that don't get this kind of attention elsewhere, and we couldn't be more proud."
Voting is now open at www.weloveawards.com, where fans can pick their favorites in the 18 categories as many times as they want between now and Jan. 27, 2017. After announcements at concerts, on a nationwide tour and in a groundbreaking documentary in the past, this year's winners will be announced in a completely different way in February 2017 in partnership with JUCETV, this year's sponsor. Stay tuned for more information on the announcements.
Learn more about the WE LOVE CHRISTIAN MUSIC AWARDS, view the full list of nominees and vote at http://www.weloveawards.com.
About NewReleaseToday
NewReleaseToday [NRT] launched in August 2002 and has become the largest Christian music and media site online, offering the most complete and up-to-date info on faith-based arts and entertainment. From album release dates to exclusive interviews to world premieres and Christian music news, NRT has become the go-to place for what's new in Christian music, and boasts more than 120,000 registered users as part of its NRTeam Community. NRT also has spawned the NRT Radio Network with five unique stations featuring dance/electronic, worship, rap/urban and more.
About JUCE TV
JUCE TV is a faith-friendly national entertainment TV network designed to appeal to the 14-29 age group. JUCE TV has a wide range of programs and specials from feature length movies to action sports, reality shows, concerts, live events, and much more. JUCE TV is available in up to 50 million U.S. households each day via AT&T U-verse (channel 570), Dish Network (GEB America Channel 363), DirecTV(KTV channel 264), over the air broadcast, dozens of regional cable providers, and live streaming on both its website (http://www.jucetv.com) and its app for tablets and smart phones.
##
Media Contact:
Kevin McNeese
President, NewReleaseToday
info@newreleasetoday.com