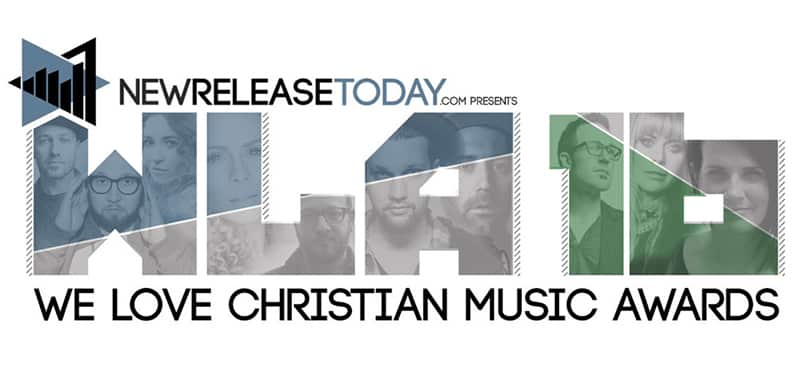 IT'S THE YEAR OF RISING STARS AS UP-AND-COMERS LEAD 4TH ANNUAL WE LOVE CHRISTIAN MUSIC AWARDS
NewReleaseToday releases first episode of groundbreaking Christian music documentary, Why We Love Christian Music, as part of this year's awards cycle
Watch Episode 1 now, here:
BOISE, Idaho—After fans cast more than 37,000 votes for their favorite artists, rising stars Jonathan Thulin and VERIDIA claimed the most awards won in the Fourth Annual WE LOVE CHRISTIAN MUSIC AWARDS, presented by the largest Christian music site online, NewReleaseToday.com, and sponsored by Grand Canyon University's Center for Worship Arts.
In the coming weeks, fans will have a chance to learn more about the winners and nominees through a groundbreaking documentary about "Why We Love Christian Music," produced by NewReleaseToday. The first episode in this three-part series is now available on-demand here and features exclusive interviews from the WE LOVE nominees, as well as special, one-of-a-kind performances from Jamie-Grace, Rapture Ruckus, SHINEBRIGHT, Jimmy Needham, JJ Heller and more. To view Episode 1 please view here:www.weloveawards.com
"We're excited to share with the world a creative State of the Union about where Christian music is at, and why we all love it," NRT President Kevin McNeese said. "There's so much to love in the industry right now, and this project will do so much more than just announce the winners of these awards."
Rock band VERIDIA has risen to elite status over the last year, amassing an army of followers and garnering arguably the most meaningful of the year's awards, the write-in only vote for the Fan Impact Award, where fans shared the most impactful artist of the past year.
VERIDIA's Deena Jakoub was voted Best Lead Singer, and the band has 2015's EP of the Year with Pretty Lies.
Thulin's 2015 Dream Records release, Science Fiction, was the sleeper hit of last year, as devoted fans showed up en masse to propel the Swedish-born pop artist to wins in The Hook Award (for Pop Album of the Year), Male Artist of the Year and Album of the Year.
And Thulin was attached to another WE LOVE win, as his brother, David, took home honors for Remix of the Year for the retooling of his Science Fiction song, "Compass" (feat. Manwell of Group 1 Crew).
Behind VERIDIA and Thulin, the remaining 19 categories were won by 18 different artists. Lauren Daigle took home two awards: Female Artist of the Year and the new Softlight Award for Contemporary/Inspirational Album of the Year (How Can It Be). Other highlights include Hillsong UNITED winning Group of the Year, TobyMac winning Best Collaboration (for "Love Feels Like" feat. dc Talk) and Jordan Feliz's "The River" winning Song of the Year.
Reflecting the deluge of worship music in the industry, this year's awards cycle had a record four worship-oriented categories, including newcomer categories Church Song of the Year, won by Matt Maher for "Because He Lives (Amen)," and Worship Leader of the Year, won by Gateway Worship's Kari Jobe.
"It was a tremendous year in music, with lots of incredible nominees," McNeese summarized. "As a media outlet dedicated to music discovery, we get especially excited when up-and-coming artists are recognized for their hard work. We saw a lot of that this year, and we're glad that the WE LOVE AWARDS continues to offer something different in the industry."
WE LOVE CHRISTIAN MUSIC AWARDS 2015: WINNERS LIST
(Complete details given at www.weloveawards.com.)
ALBUM CATEGORIES
The Hook Award (Pop) Jonathan Thulin
The Softlight Award (Contemp) Lauren Daigle – How Can It Be
The Prose Award (Singer/Songwriter) Josh Wilson – That Was Then, This is Now
The Encounter Award (Worship) Matt Maher – Saints & Sinners
The Chorus Award (Church-Based Worship) Passion Worship Band – Even So Come
The Hype Award (Rap/Urban) Andy Mineo – Uncomfortable
The BPM Award (Dance/Electronic) Capital Kings – II
The Amp Award (Rock/Alternative) RED – Of Beauty and Rage
Album of the Year Jonathan Thulin – Science Fiction
EP of the Year VERIDIA – Pretty Lies EP
SONG CATEGORIES
Church Song of the Year Matt Maher, "Because He Lives (Amen)"
Best Collaboration TobyMac feat. DC Talk, "Love Feels Like"
Song of the Year Jordan Feliz, "The River"
Music Video of the Year Mat Kearney, "Heartbeat"
Remix Song of the Year "Compass" (David Thulin Remix)
ARTIST CATEGORIES
Male Artist of the Year Jonathan Thulin
Female Artist of the Year Lauren Daigle
Group of the Year Hillsong UNITED
Worship Leader of the Year Kari Jobe of Gateway Worship
New Artist/Group of the Year Hollyn
Best Indie Artist/Group Jimmie Needham
Best Lead Singer Deena Jakoub of VERIDIA
The Next Big Thing Abigail Duhon
Mainstream Impact Award Twenty One Pilots
2015 Fan Impact Award (write-in vote) VERIDIA
##
About NewReleaseToday.com
NewReleaseToday [NRT] launched in August 2002 and has become the largest Christian music and media site online, offering the most complete and up-to-date info on faith-based arts and entertainment. From album release dates to exclusive interviews to world premieres and Christian music news, NRT has become the go-to place for what's new in Christian music, and boasts more than 100,000 registered users as part of its NRTeam Community. NRT also has spawned the NRT Radio Network with five 24/7 online radio stations.
About Grand Canyon University's Center for Worship Arts
With the vision to create a new generation of worship leaders who impact churches around the world, Grand Canyon University has launched the Center for Worship Arts. The inter-disciplinary center has been a collaborative achievement for the university. Through the biggest names in the Christian music industry, GCU has leveraged a depth of industry knowledge and access. Grand Canyon University is a comprehensive regionally accredited university that offers over 160 graduate and undergraduate degree programs across eight colleges both online and on ground at their approximately 200+ acre campus in Phoenix, Arizona. Their undergraduate programs are designed to be innovative and meet the future needs of employers while providing students with the needed critical thinking and effective communication skills developed through a Christian, liberal arts foundation. For more information about Grand Canyon University, and the Center for Worship Arts, visit http://www.gcu.edu.
Media Contact:
Janet Bozeman
615-472-8417
janet@bozemanmedia.com