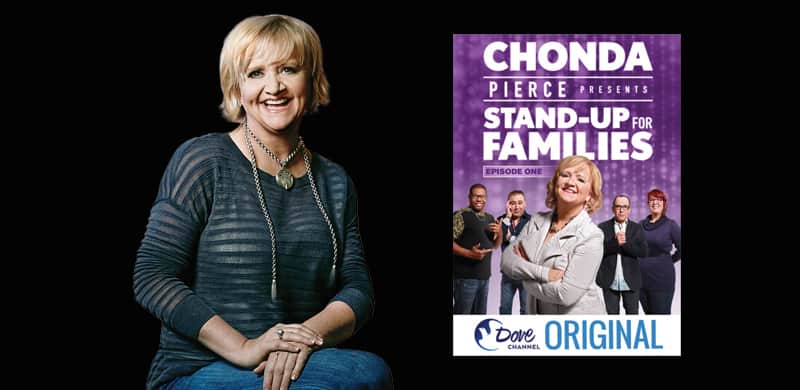 DOVE CHANNEL'S ORIGINAL SERIES, "CHONDA PIERCE PRESENTS: STAND-UP FOR FAMILIES" AVAILABLE TODAY ON DIGITAL STREAMING NETWORK
"The Queen Of Clean" Welcomes Fellow Comedians To The Line-Up: Bone Hampton, Brad Stine, PJ Walsh, Nazareth, Joby Saad, Michael Joiner, Taylor Mason, Anthony Griffith, Sandi Joy, Kay Dodd, Lisa Mills, Chinnitta Morris, Cleto Rodriguez, Michael Jr., Rik Roberts
Los Angeles, Calif. (April 5, 2016) – Cinedigm's (NASDAQ: CIDM) Dove Channel has officially launched the three-part original series, "Chonda Pierce Presents: Stand-Up For Families," starting today, April 5 with the remaining episodes set to air on May 3 and June 7.
The one-hour long episodes feature "The Queen of Clean's" trademark combination of fierce wit and southern charm in all three of the family-friendly episodes. Adding to the clean fun, some of her closest friends and all-star comedians will also take the stage. The lineup will include the talents of Bone Hampton, Brad Stine, PJ Walsh, Nazareth, Joby Saad, Michael Joiner, Taylor Mason, Anthony Griffith, Sandi Joy, Kay Dodd, Lisa Mills, Chinnitta Morris, Cleto Rodriguez, Michael Jr., and Rik Roberts.
Taped in Nashville, Tenn.,"Chonda Pierce Presents: Stand-Up For Families" is designed for families to safely enjoy together without worrying about offensive language or subject matter. Like all content on the Dove Channel, the series will carry The Dove Foundation's Seal of Approval.
"The taping was such a blast!" shares Pierce. "Not a dry eye in the place from all the jokes! It was great to see the vision come to life and witness the joy it brought to the live audience. My hope is to bring families together through laughter, and I believe this series is the key."
The special was Executive Produced by Pierce, her manager, Andrew Tenenbaum of Creative Management and Productions, along with Bill Sondheim and Yolanda Macias of Cinedigm and Stephen Yake served as Director, whose credits include the stand-up special, "Chonda Pierce: I'm Kind of a Big Deal."
"Chonda Pierce Presents: Stand-Up For Families" is the first of a new original programming initiative launched by the network. Dove Channel is planning to green-light several series, both scripted and non-scripted, to premiere on the channel over the next year.
Dove Channel can be viewed across a broad spectrum of connected devices including Roku® Players and Roku TV™ models, Android and Mac iOS, Samsung Smart TV, the web, and mobile and tablet devices.
##
About Dove Channel:
Dove Channel was developed in response to caring consumers who want to make informed choices when selecting entertainment. New streaming technologies make it challenging to locate films that do not offend your sensitivities or violate your values. Dove Channel provides a safe walled-garden with hundreds of movies and TV Series that reflect the time-honored standards of The Dove Foundation , known for its trusted Faith & Family Dove Seals of Approval. As a member, consumers take advantage of our unique Customization Tool which gives you complete control by selecting the type of entertainment that exactly fits your tastes and personal preferences. www.DoveChannel.com

About Chonda Pierce:
Chonda Pierce is the RIAA (Recording Industry Association of America) certified top-selling female comedian of all time with 8 Gold DVD's, signifying sales of more than 50,000 units, and 3 Platinum DVD's signifying sales of more than 100,000 units.
Pierce recently starred in LAUGHING IN THE DARK, a deeply personal feature documentary exploring her struggles with depression, the sudden death of her husband and her ability to overcome these traumatic events through faith and humor. The picture was released via FATHOM EVENTS as a one night theatrical event across 520 theaters on October 27, 2015. With over 125 theaters sold out for the initial screening and due to overwhelming demand, an encore screening was held on November 17, 2015 in 420 theaters. The picture ultimately earned over $1.1M at the domestic box office in just two nights. In addition, celebrities including Roma Downey, Kevin Sorbo, Sherri Shepherd, Monica Crowley, Corbin Bernsen and Duck Dynasty's Miss Kay Robertson have endorsed the project.
Pierce has received five Daytime Emmy nominations for her work co-hosting the talk show, ASPIRING WOMEN, on the Total Living Network and her first television special, "This Ain't Prettyville!" which aired on CMT (Country Music Television). She has served as host of the Inspirational Country Music Awards and Christian Music Hall of Fame Awards and also co-hosted the GMA Dove Awards in 2012. She has appeared on "The View", "Entertainment Tonight," CBN and the Fox News Channel, and her comedy is regularly featured on XM Radio's Laugh USA and Sirius Satellite Radio's Blue Collar Comedy.
In December, she appeared in the top-rated Hallmark Channel holiday movie, CHRISTMAS LAND and in the spring will begin a 40 city national comedy tour. http://chonda.org/about/

About The Dove Foundation:
The Dove Foundation (http://www.dove.org) founded in 1991, is a nonprofit organization dedicated to encouraging the entertainment industry to create, produce and distribute a greater proportion of movies that are appropriate for family viewing; and to seeing the public better equipped to identify family-friendly movies and more deeply committed to support them. Hundreds of thousands of visitors each month rely on www.dove.org for up-to-date reviews of movies, DVDs and books.
Media Contacts:
Cinedigm Public Relations:
Maggie Begley/MBC
Maggie@mbcprinc.com
Office: 310.390.0101
Mobile: 310.749.3055
The Dove Foundation:
Dick Rolfe, CEO
movies@dove.org
616.803.9010