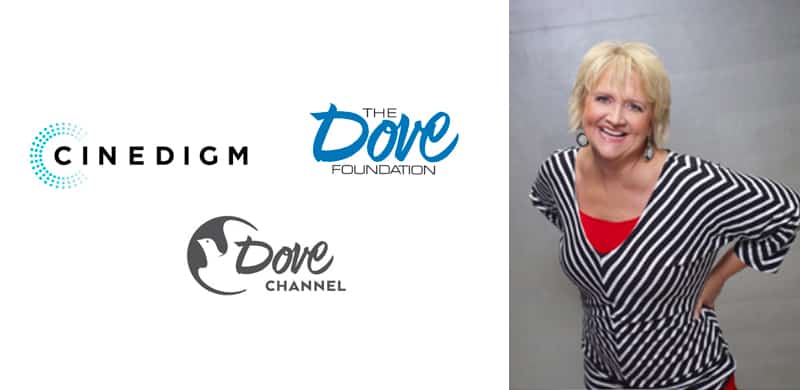 CINEDIGM'S DOVE CHANNEL TAPS CHONDA PIERCE TO HOST "CHONDA PIERCE PRESENTS: STAND-UP FOR FAMILIES"
For the First Original Programming for DOVE CHANNEL, "The Queen of Clean" Will Bring Three One Hour Family Friendly Comedy Specials To The Faith and Family Focused Streaming Channel
Los Angeles, Calif. (February 9, 2016) – Cinedigm (NASDAQ: CIDM) announced today a deal with Christian comedian, television host and author Chonda Pierce to host three one-hour episodes of "Chonda Pierce Presents: Stand-Up For Families" which is expected to premiere exclusively on Cinedigm's DOVE CHANNEL in late March leading up to Easter.
Chonda Pierce, often billed as "The Queen of Clean," will bring her trademark combination of fierce wit and southern charm to the family-friendly episodes. "Chonda Pierce Presents: Stand-Up For Families" will be designed for families to safely enjoy together without worrying about offensive language or subject matter. In addition to Pierce's opening monologue, each episode will feature four different clean comedians performing individual sets. Like all content on Dove Channel, the series will carry The Dove Foundation's Seal of Approval.
Since its launch on September 15, 2015, Dove Channel has rapidly generated over 380,000 installations on Android, iOS and Roku, and is also available on Amazon's Streaming Partners Program. With more than 130,000 registered users and an estimated 20,000 active subscribers already, Dove is gaining strong momentum as the premiere streaming channel for faith and family audiences. In addition to the Dove Channel, Cinedigm also operates streaming channels CONtv and Docurama. In aggregate, Cinedigm's channels have over 1.6 million downloads and 230,000 registered users, growing over 45% and 277%, respectively, since the end of the last quarter, September 30, 2015.
"Chonda Pierce Presents: Stand-Up For Families" is the first of a new original programming initiative launched by the network. Dove Channel is planning to greenlight several series, both scripted and non-scripted, to premiere on the channel over the next year.
"We are delighted to team up with the gifted Chonda Pierce to create and deliver a fun yet clean comedy series that will appeal to audiences of all ages," said Bill Sondheim, President of Cinedigm Entertainment Group. "This series marks the next step for Dove Channel, as we ramp up our slate of original productions, and we are excited and proud to be taking that step with Chonda, who understands our Dove audience and brings with her a devoted fan base."
"It's not always easy to find good, clean comedy," said Pierce. "So I am proud to partner with Dove Channel and recruit some of my favorite comedians to help put together a show that will be funny but also reflect positive values."
"Chonda's laser-sharp humor and inspirational point of view are right in line with The Dove Foundation's mission of bringing values-based content to audiences, " said Dick Rolfe, CEO and Co-founder of the Wyoming, Michigan based group. "Her involvement elevates the series and guarantees that it will be smart, funny and appealing to young and old alike."
Executive Producers are Pierce and her manager, Andrew Tenenbaum of Creative Management and Productions, along with Bill Sondheim and Yolanda Macias of Cinedigm. Stephen Yake, whose credits include the stand-up special, "Chonda Pierce: I'm Kind of a Big Deal" is the director. The episodes will be filmed at the Contemporary Music Center, in Brentwood, Tennessee, in front of a live audience on February 11th and 12th, 2016.
##
About Chonda Pierce:
Chonda Pierce is the RIAA (Recording Industry Association of America) certified top-selling female comedian of all time with 8 Gold DVD's, signifying sales of more than 50,000 units, and 3 Platinum DVD's signifying sales of more than 100,000 units.
Pierce recently starred in LAUGHING IN THE DARK, a deeply personal feature documentary exploring her struggles with depression and the sudden death of her husband and her ability to overcome these traumatic events through faith and humor. The picture was released via FATHOM EVENTS as a one night theatrical event across 520 theaters on October 27, 2015. With over 125 theaters sold out for this initial screening and due to overwhelming demand, an encore screening was held on November 17, 2015 in 420 theaters. The picture ultimately earned over $1.1M at the domestic box office in just two nights. In addition, it has been endorsed by celebrities including Roma Downey, Kevin Sorbo, Sherri Shepherd, Monica Crowley, Corbin Bernsen and Duck Dynasty's Miss Kay Robertson.
Pierce has received five Daytime Emmy nominations for her work co-hosting the talk show, ASPIRING WOMEN, on the Total Living Network and her first television special, "This Ain't Prettyville!" which aired on CMT (Country Music Television). She has served as host of the Inspirational Country Music Awards and Christian Music Hall of Fame Awards and also co-hosted the GMA Dove Awards in 2012. She has appeared on "The View", "Entertainment Tonight," CBN and the Fox News Channel, and her comedy is regularly featured on XM Radio's Laugh USA and Sirius Satellite Radio's Blue Collar Comedy. In December, she appeared in the top-rated Hallmark Channel holiday movie, CHRISTMAS LAND, and in the spring will begin a 40 city national comedy tour. Learn more here.
ABOUT CINEDIGM:
Cinedigm is a leading independent content distributor in the United States, with direct relationships with thousands of physical retail storefronts and digital platforms, including Wal-Mart, Target, iTunes, Netflix, and Amazon, as well as the national Video on Demand platform on cable television. The company's library of films and TV episodes encompasses award-winning documentaries from Docurama Films®, next-gen Indies from Flatiron Film Company®, acclaimed independent films and festival picks through partnerships with the Sundance Institute and Tribeca Films and a wide range of content from brand name suppliers, including National Geographic, Discovery, Scholastic, NFL, Shout Factory, Hallmark, Jim Henson and more.
Additionally, given Cinedigm's infrastructure, technology, content and distribution expertise, the Company has rapidly become a leader in the quickly evolving over-the-top digital network business. Cinedigm's first channel, DOCURAMA, launched in May 2014, and is currently available on iOS, Roku, Xbox and Samsung, with additional platforms currently being rolled out. Cinedigm launched CONtv, a Comic Con branded channel in partnership with WIZARD WORLD, on March 3, 2015. The Company's third OTT channel, DOVE CHANNEL, launched on September 15, 2015 and is a digital streaming subscription service targeted to families and kids seeking high quality and family friendly content approved by Dove Foundation.
Cinedigm™ and Cinedigm Digital Cinema Corp™ are trademarks of Cinedigm Corp. [CIDM-G]
ABOUT THE DOVE FOUNDATION:
The Dove Foundation founded in 1991, is a nonprofit organization dedicated to encouraging the entertainment industry to create, produce and distribute a greater proportion of movies that are appropriate for family viewing; and to seeing the public better equipped to identify family-friendly movies and more deeply committed to support them. Hundreds of thousands of visitors each month rely on www.dove.org for up-to-date reviews of movies, DVDs and books.
Media Contacts:
Sundari PR
Christina Garvin
christina@sundaripr.com
805.229.1612
Cinedigm Public Relations:
Maggie Begley/MBC
Maggie@mbcprinc.com
Office: 310.390.0101
Mobile: 310.749.3055
The Dove Foundation:
Dick Rolfe, CEO
movies@dove.org
616.803.9010