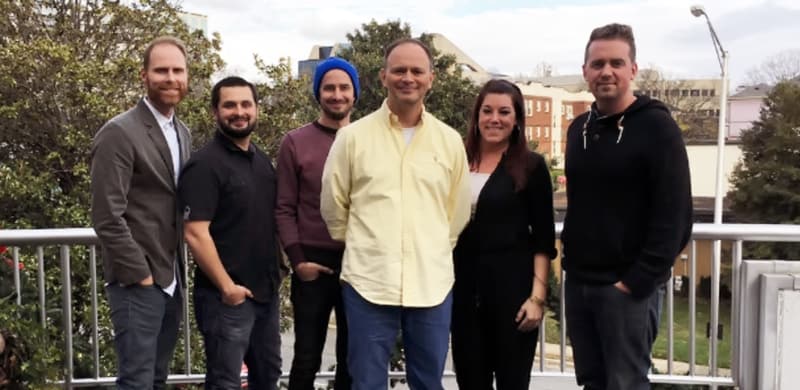 Pictured L-R: Word Publishing Staff and Tony Wood: Trevor Mathiesen, Jonathan Mason, Joel Timen, Tony Wood, Janine Appleton, Josh Bailey
NASHVILLE, TENN. (DECEMBER 01, 2016) As 2016 draws to a close, Word Publishing's Tony Wood celebrates an incredible career spent penning hit songs, with a remarkable 29 No. 1s to his name. Wood is finishing 2016 with seven new co-written Christmas songs: HOW GLORIOUS THE LOVE OF HEAVEN by Stars Go Dim, GOD WITH US by We Are Messengers, SON OF GOD, SON OF MAN by Travis Ryan, DANCE IN THE DAWN by Selah, WELCOME TO THE WORLD YOU MADE by Austin & Lindsey Adamec, HOT COCOA IN MY CUP and WHAT KIND OF THRONE by Alisa Turner.
"It is a true honor to work with Tony," says Josh Bailey, Sr. VP of A&R and Publishing for Word Entertainment. "He is a man of God, a trusted leader and friend in the industry who has touched so many with his words and contributions over the years. We have been privileged to work with and alongside Tony for years as a songwriter and have always appreciated his gifting and dedication. It is a great honor to represent him as a publisher and continue to champion his efforts and applaud his successes."
These new songs are beautiful seasonal additions to his Christmas catalog, which includes: CHRISTMAS IS, MIDDLE OF A MIRACLE and CHRISTMAS DREAMS by Francesca Battistelli; ADORE HIM by Kari Jobe; SON OF GOD by Michael W. Smith; PEACE ON EARTH and I'LL BE BRAVE THIS CHRISTMAS by Big Daddy Weave; GLORY TO GOD by Lincoln Brewster; RING THE BELLS by Big Daddy Weave with Meredith Andrews; RING THE BELLS by Travis Cottrell with Natalie Grant; IMMANUEL by Point of Grace; JOSEPH by Jason Crabb; SAVING CHRISTMAS by Building 429; SNOW GLOBE by Matt Wertz; and BEAUTIFUL BODY AND BLOOD by Glenn Packiam.
This year, Wood celebrates his 25th year of being a staff songwriter (previously with BMG, Brentwood-Benson and SONY) with a decorated career as a multiple Dove Award Winner, Songwriter of the Year nominee and 29 No. 1's in his repertoire. Currently, as a staff writer with Word Music Publishing, he has 700 songs recorded in the CCM market.
Other songs Tony has co-written include: JESUS ONLY JESUS recorded by Passion, Matt Redman, Michael W. Smith and Phillips, Craig & Dean; GOD IS ON THE MOVE recorded by 7eventh Time Down; JESUS FIRM FOUNDATION recorded by Mike Donehey, Steven Curtis Chapman, Mark Hall and Mandisa; BREATHE recorded by Johnny Diaz; THIS IS THE STUFF recorded by Francesca Battistelli; FIND YOUR WINGS recorded by Mark Harris.
##
Media Contact:
Merge PR | Lori Mahon
Lori@MergePR.com | 615.579.1266