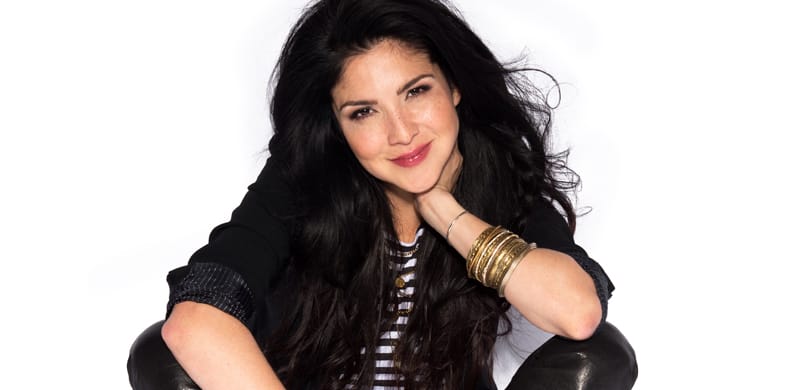 Trust, Spanish Language Confío Release From Integrity Music Into 160 Nations March 31
Album Inspired By Her Son Marks Series of Firsts for Velasquez: 1st Worship Album, 1st Simultaneous English/Spanish Release, 1st Integrity Music Recording
Bilingual, multi-Platinum selling recording artist and actress Jaci Velasquez will release her first, full-length studio album in over five years. The highly-anticipated recording, both the English-language version, Trust, and Spanish-language Confío, will release globally to over 160 nations March 31 from Integrity Music. A Billboard Latin Music Award winner with five Spanish albums to her credit, this marks the first time for Velasquez to simultaneously release an album in both languages.
Delivering 17 albums to date (not including compilations) that have gathered 16 No. 1 radio hits, 5 Grammy® nominations, 7 Dove Awards, 3 RIAA Gold Records and 3 RIAA Platinum records, Velasquez's upcoming vertical, Godward songs of worship on Trust (Confío) also mark her first project from Integrity Music. It is further Velasquez's first worship album, which was inspired by her youngest son, Soren, born in 2009.
Awakened in the middle of the night by Soren who was having "bad dreams," Velasquez consoled him and decided to play a song she recently received from Integrity Music, "God Who Moves The Mountains," written by David Leonard (All Sons & Daughters), Dustin Smith and Richie Fike. What followed was a moving time of worship for mom and son that chased away the fear.
"We adults are worried about paying our bills, getting our car fixed, health, but being scared in bed alone is a mountain to a seven-year-old," shares Velasquez, who is a dedicated mom to two young boys. "Soren and I both were moved to worship, and our lives changed in that moment. It's amazing how God uses music."
Produced by Leonard and Chris Bevins (Salvador, Phillips Craig & Dean), Trust features "God Who Moves The Mountains," as well as new songs penned by Velasquez and her husband Nic Gonzales (lead singer of Salvador) along with songs by Martin Smith (Delirious?), Dove Award winner Michael Farren and more. Notable tracks include "Rest," "It's Never As Dark As It Seems To Be" and "Trust You," which Velasquez cowrote with Aruna Abrams, James Slater and Bobby Hamrick. This song sparked the project's title and captures the core message of this new album.
"Trust is an underlying theme for me as a wife and a mom," says Velasquez. "You can't have a relationship without trust. Like my husband and I, there are no secrets and we trust each other no matter what. The same is true with my relationship with Jesus."
The theme of trust also encompasses Velasquez's hope for her son, Zealand (9), who has Autism. "There are so many days in my life that I feel like I am losing control," confesses Velasquez. "The song 'Trust You' comes from that moment of where I have to 'shake my hands,' step away and remind myself that 'I know you are worried, but God loves him more than you do Jaci. Stop worrying'."
Taking that steadfast 'trust' into 2017, Velasquez is currently working on a book, a clothing line that raises support for Autism related causes, and she will be featured in two Christian films releasing in 2017. In all this, and with her concerts around the world, Jaci's passion is to serve God with the gifts He has given her.
The full Trust (Confío) track listing, first radio single and more details will be revealed soon. For all the latest news, go to www.jacivelasquez.com, Facebook, Twitter and Instagram.
About Jaci Velasquez:
Velasquez has three RIAA® certified Platinum® albums, three RIAA certified Gold® albums, 16 No. 1 singles, 6 more singles in the top 10, 7 Dove Awards, 2 Latin Grammy® Award nominations, 3 Grammy Award nominations, has graced more than 50 magazine covers including Teen People, Latin Girl, Teen Beat, Parade, and People In Espanol, has appeared in ads for Pepsi, Doritos and Target, and co-hosted for nearly seven years Salem Broadcasting Network's "The Family Friendly Morning Show with Doug and Jaci Velasquez" on Today's CMR Network with more than 1.5 million daily listeners. In addition to writing, recording, international touring, and serving as an advocate for Autism awareness, Velasquez has been featured in five faith-based films since 2011, hosted the SESAC Christian Music Awards, GMA IMMERSE, and has been internationally active in a plethora of the music industry's niches since her impressive immergence as an award-winning artist at the age of 16.
About Integrity Music:
Integrity Music is part of the David C Cook family, a nonprofit global resource provider serving the Church with life-transforming materials. With offices in Nashville, Tennessee (US) and Eastbourne, East Sussex (UK), Integrity is committed to taking songs of substance to the local church and its leaders around the world. Integrity publishes many of the top songs in the Church, including "Great Are You Lord," "Revelation Song," "Open The Eyes Of My Heart," "Your Great Name," "I Am Free" and the No. 1 radio hit "We Believe" (Newsboys). Additional information is available at www.integritymusic.com.
##
Media Contacts:
Shannon Walker
Integrity Music
Shannon.walker@integritymusic.com
719-536-0100
Rick Hoganson
Hoganson Media Relations
hoganson@comcast.net
615-459-9870