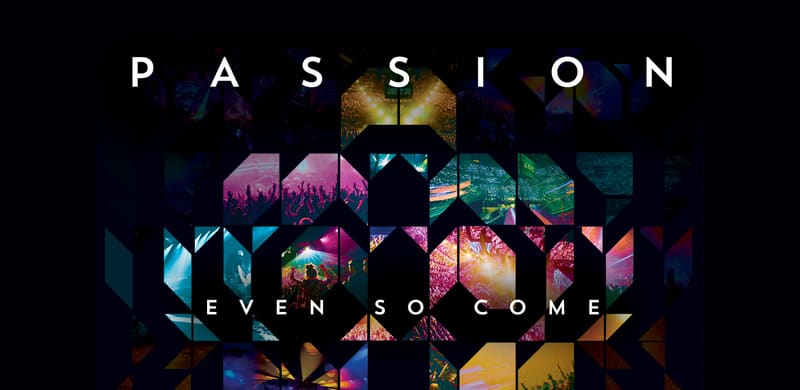 Passion: Even So Come Set to Release March 17, Album Recorded Live at Passion 2015 Gatherings in Atlanta and Houston
Passion 2015 draws over 30,000 college students together in three separate weekends
Students give nearly $1.2 million to spread the gospel to unreached people groups
Nashville, Tenn. (February 4, 2015) – Featuring some of this generation's most acclaimed worship leaders – Chris Tomlin, Crowder, Matt Redman, Christy Nockels, Kristian Stanfill and Brett Younker – the new live Passion album Passion: Even So Come is set to release on March 17.
The album was recorded in front of over 30,000 college students at three separate Passion gatherings in Atlanta and Houston. The new album follows in the footsteps of many successful live Passion recordings this decade, including Passion: Awakening, Passion: Here For You, Passion: White Flag, Passion: Let the Future Begin and most recently Passion: Take It All, all of which have debuted at No. 1 on Billboard's Christian Albums Chart.
Passion 2015 was a three-day gathering on two separate weekends in Atlanta and a final three-day gathering in Houston. The conference was attended by a generation of 18-25 year olds from around the world and led by renowned pastors and teachers Louie Giglio, John Piper, Francis Chan, Christine Caine, Judah Smith, Ben Stuart, Matt Chandler and more.
Across the three gatherings, students were challenged to meet a goal of $850,000 that would support 10 people groups in 12 nations across the world in hopes that 19 million people will hear the message of Jesus for the first time. Following the final gathering in Houston, the total donations amounted to nearly $1.2 million.
Passion also continues to shine a light on modern-day slavery through the End It Movement. Leaders announced the new 27X7 initiative inviting advocates to create teams of 27 "freedom fighters," representing the 27 million slaves around the world. Each "freedom fighter" will donate $7. All funds will be distributed among 16 coalition partners to support prevention, rescue and restoration efforts in the fight against modern-day slavery. Learn more and join the movement at enditmovement.com.
The Passion team announced that next year, Passion 2016 will consist of simultaneous conferences in Atlanta and Houston on January 2-4, 2016. They also announced plans to return to the Georgia Dome again in 2017.
For more information about Passion Conferences, visit passionconferences.com or follow on Twitter at @passion268.
Passion: Even So Come
1. Even So Come (featuring Chris Tomlin)
2. Shout Hosanna (featuring Kristian Stanfill)
3. Forever (featuring Melodie Malone)
4. Lift Your Head Weary Sinner (Chains) (featuring Crowder)
5. Draw Near (featuring Kristian Stanfill)
6. The Saving One (featuring Chris Tomlin)
7. The Awesome God You Are (featuring Matt Redman)
8. My Anchor (featuring Christy Nockels)
9. Wonder (featuring Crowder)
10. The Way (featuring Brett Younker)
11. You Found Me (featuring Kristian Stanfill)
12. The Cross of Christ (featuring Chris Tomlin)
Deluxe Edition Only:
13. We Fall Down (featuring Chris Tomlin)
14. The Heart Of Worship (featuring Matt Redman)
15. It Is Well (featuring Kristian Stanfill)
16. How He Loves (featuring Crowder)
17. The Heart of Worship (featuring Matt Redman) (Video)
18. How He Loves (featuring Crowder) (Video)
About Passion Conferences:
Led by a stirring in the heart of Atlanta-based pastor, Louie Giglio, Passion was birthed in 1997 to see the 20+ million college students across the globe awaken to the reality of an omnipotent and glorious Creator. Since then, millions of students from across the globe have joined the Passion movement, united across ministry and denominational lines, to seek the face of God in worship and prayer at nine conferences, four world tours and multiple one-day and regional events. Passion's core scripture, Isaiah 26:8 states: "Yes, LORD, walking in the way of your laws, we wait for you; your name and renown are the desire of our hearts." The small Passion Team is led by Louie Giglio and operates under the direction of a Board that is committed to spreading the fame of Jesus Christ to college students around the globe.
About sixstepsrecords:
Founded in 2000 by Louie Giglio, sixstepsrecords is a worship label and a division of Passion Conferences. sixstepsrecords' artists include Chris Tomlin (Love Ran Red), Crowder (Neon Steeple), Matt Redman (Your Grace Finds Me), Christy Nockels (Into the Glorious), Kristian Stanfill (Mountains Move), and Passion (Passion: Even So Come). The label partners with Sparrow Records/Capitol Christian Music Group for A&R, marketing, sales and distribution operations. For more information on sixstepsrecords, visit: www.sixstepsrecords.com.
Get Connected with Passion
Website // www.268generation.com
Facebook // www.facebook.com/Passion268generation
Twitter // www.twitter.com/passion268
##
Media Contact:
Ryan Anderson & Kirsten Grenier
the media collective
ryan@themcollective.com
kirsten@themcollective.com
615-591-7989
www.themcollective.com