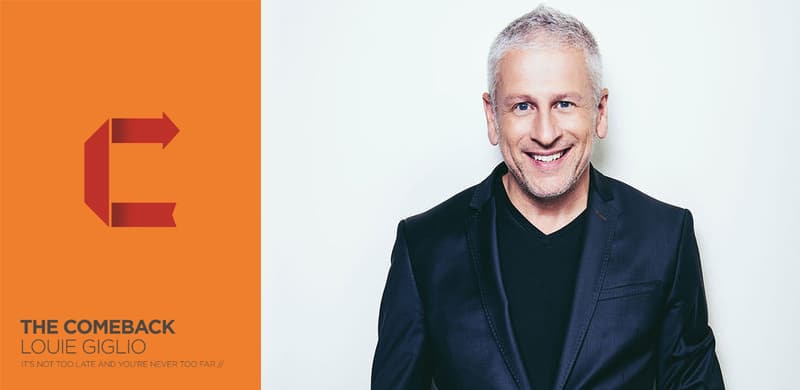 Passion Founder and Pastor's New Book Chronicling Comebacks Available Now
Nashville, Tenn. (October 21, 2015) – Louie Giglio, founder of the global Passion Conferences and Atlanta-based Passion City Church, will be live on FOX & Friends Thursday, October 22 to share about his newest book The Comeback: It's Not Too Late and You're Never Too Far (W Publishing Group, ISBN 9780718042189, $19.99, October 2015). The top-rated cable morning news show airs from 6-9 a.m. EST on FOX News Channel. National media outlets including Relevant Magazine, USA Radio, FOX Nation, Patheos, Moody Broadcasting, Guideposts, Charisma, Simple Grace and more are joining in The Comeback conversation, speaking with Giglio about the new book and his own deeply personal comeback story. Additionally, Giglio will appear on Life Today on November 23 and 26 to discuss The Comeback.
Critics are commending Giglio for his newest release. "I am grateful for this book. On every page, I expected to be disappointed. But I was consistently and pleasantly surprised by Louie's refusal to promise what God doesn't promise. I am thankful for a book on suffering that solves no problems, gives no answers, and thereby offers a glimpse of God's comfort in Jesus Christ in the midst of unbearable suffering. Comeback balances the tightrope between Scripture and life in a way that is neither theologically trite, nor pragmatically contrived. It is a book of gospel hope for those who, in their despair, stubbornly insist on trusting God's unbreakable foundations for the next sunrise. My defeated inner lawyer reluctantly commends this book to those who have no hope." – Patheos' Paul Maxwell
"This book is a slam dunk reminder of God's power and presence when nothing else makes sense."- Servant Magazine's Phil Callaway
The newest book from Passion Publishing and HarperCollins Christian Publishing's W Publishing Group delves into biblical and modern day comeback stories while walking readers through hope and direction when seeking a fresh start. Among the recent stories shared in the book, Giglio will continue to share videos of stories on Instagram and Twitter, allowing readers to hear powerful comebacks from drug abuse, cancer and more.
Watch the Clip from FOX & Friends:
About Louie Giglio:
Led by a stirring in the heart of Atlanta-based pastor Louie Giglio in 1995, Passion has ushered millions of college students from across the globe into unity, brought forth some of the most influential songs for the modern day Church and championed a full-force movement to fight the injustices of human trafficking. A passionate communicator and leader, Giglio is the pastor of Passion City Church in Atlanta and founder of the Passion Movement, which includes the collegiate gatherings of Passion Conferences, Passion Publishing and Capitol CMG partner sixstepsrecords. Widely known for the Passion Talk Series DVD messages, "Indescribable" and "How Great Is Our God", Giglio is also the author of The Air I Breathe, I Am Not But I Know I AM and Waiting Here for You. As a communicator, Giglio speaks at events throughout the U.S. and around the globe. A native of Atlanta and graduate of Georgia State University, Giglio has done post-graduate work at Baylor University and holds a Master of Divinity Degree from Southwestern Seminary.
Stay Connected with Louie Giglio:
Website// www.louiegiglio.com/thecomeback
Twitter// www.twitter.com/louiegiglio
Instagram// www.instagram.com/louiegiglio
###
Media Contact:
Velvet Kelm and Courtney Hyder
the media collective
velvet@themcollective.com
courtney@themcollective.com
(615) 591-7989
www.themcollective.com