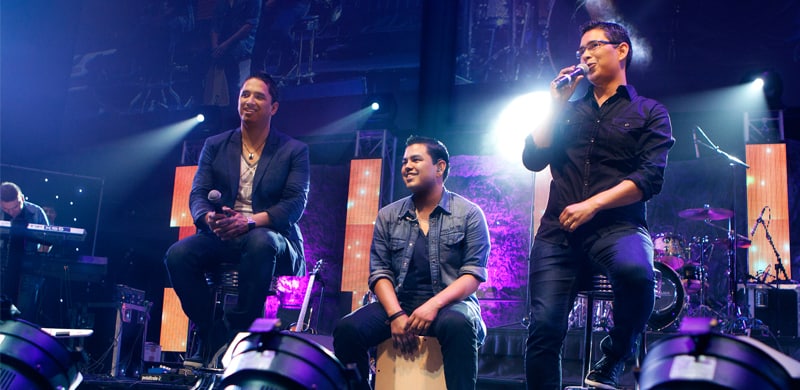 Miel San Marcos – One of the Biggest Latin Bands in the World.
(Nashville, TN) – Miel San Marcos is one of the most noteworthy bands to come out of Latin CCM. The band took home the GMA Dove Award on the Spanish Language Album of the Year category, for their record-breaking album "Como en el Cielo" (As it is in Heaven); a live recording, which also debuted #1 on iTunes Latino, and Top 5 on Billboard's "Latin Pop Albums".
Since there is no "Latin/Spanish Christian Chart" on iTunes or Billboard, Miel San Marcos has been charting alongside international pop starts such as Enrique Iglesias, Shakira, Marc Anthony, and Ricky Martin. Additionally, their world tour "Como en El Cielo" has taken them to about 20 countries and over 100 events in the U.S., Latin America and Europe, packing out the same arenas as major pop artists. According to social networks, this year the band is closing out their 2015 tour in Zurich, Switzerland, of all places.
The band was founded in 2000 by siblings Josh, Samy and Luis Morales in San Marcos, a rural town 150 miles outside of Guatemala City. They were originally the worship ministry of their home church called "Miel" (which means "Honey" in English). People began referring to them as "Miel San Marcos" and the name stuck. Today the band has nine albums to their credit and many hit worship songs in Spanish.
The band's influence can also be seen on their social networks, which has an organic following of 1.2 million fans on Facebook and combined views of over 20 million on YouTube.
The Spanish Language Category was announced during the pre-telecast portion of the Dove Awards. Moments later, in the media room, bandleader Josh Morales, next to his wife, Sayra, expressed, "This was a complete surprise to us!!! We give this honor back to Jesus Christ who called us, equipped us and is still perfecting His good work in us. Our vision is that many people may know His love. We thank our families, our home church and our beloved homeland, Guatemala… for their continued support to our calling to take this good news to every corner of the earth."
Miel San Marcos is part of the new generation of Latin CCM artists that has cultivated a growing industry, which according to industry expert, Fayra Castro, now averages 150 new releases a year.
In the coming year, Miel San Marcos will be releasing a children's album, and will continue on their "Como En El Cielo" tour, where they share messages of love, divine moments and hope to a generation that seeks to change the world with the love of God.
www.facebook.com/mielsanmarcosoficial
Media Contact:
Alex Davila
Live video "Increible" (recoded live in Mexico City)
US Tour – Naples, FL| New York City | Seattle | Portland
https://www.youtube.com/watch?v=rtambZ2XivQ
US Tour – Minneapolis, MN | Chicago, IL | San Jose, CA | Providence, RI | Woodbridge, VA |
https://youtu.be/1GV102Guva4?list=PL0MLXJ7ZO3BTNeJZdIShmOWRecVupytvc
US Tour – Tulsa & Oklahoma City
Colombia Tour
Mexico Tour
https://youtu.be/mERPSNpfO1U?list=PL0MLXJ7ZO3BTNeJZdIShmOWRecVupytvc
Managua, Nicaragua
https://youtu.be/sNboUGcxLzU?list=PL0MLXJ7ZO3BQVTpvH0tBsNHCx0l6FNKru