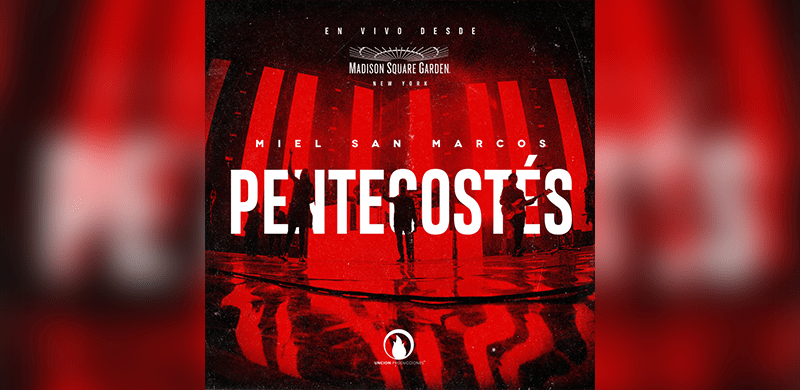 Watch "Libre" Official Music Video From The Album PENTECOSTÉS
Guatemala City, Guatemala – The 2017 GMA Dove Award winning popular Latin worship band Miel San Marcos release their tenth live album PENTECOSTÉS (Pentecost) from their historic recording at Madison Square Garden in New York.
The PENTECOSTÉS album boasts 17 epic songs that were part of the live concert recording lineup on September 2nd of this year in front of over fourteen thousand concert goers. The album includes special features and collaborations by Pastor and Latin Grammy nominated Christian artist Marco Barrientos on the worship classic "Bienvenido Espíritu Santo" (Holy Spirit, Thou Art Welcome), "El Poderoso de Israel" (The Mighty One of Israel), and a new song "Mereces Gloria" (Worthy of Glory). The night's surprise guest was the popular Mexican singer Marcela Gándara, who is also featured singing alongside Miel San Marcos on "Abba Padre" (Abba Father).
While always staying close to their praise and worship roots, Miel San Marcos experiments on the PENTECOSTÉS album with pop, rock and some EDM influences paired with electronic sounds. However, more than a genre, a style, or a musical rhythm style, this worship ministry believes that their music should be a personal experience, an experience in each person and family household.
"Libre" (Free) is this album's second single. Written by the group's lead vocalist Josh Morales, "Libre" is a soul-stirring song that reaffirms the transformation that occurs while experiencing God's freedom. The "Libre" official music video is available on YouTube.
Miel San Marcos, who received a 2017 Dove Award for Spanish Language Recorded Song of the Year for their popular worship anthem "No Hay Lugar Más Alto" (No Higher Place) featuring Christine D'Clario, keep their hearts grounded in the calling that they have received to continue writing songs for the Spanish speaking church across the world and for God.
PENTECOSTÉS is now available in all digital platforms.
##