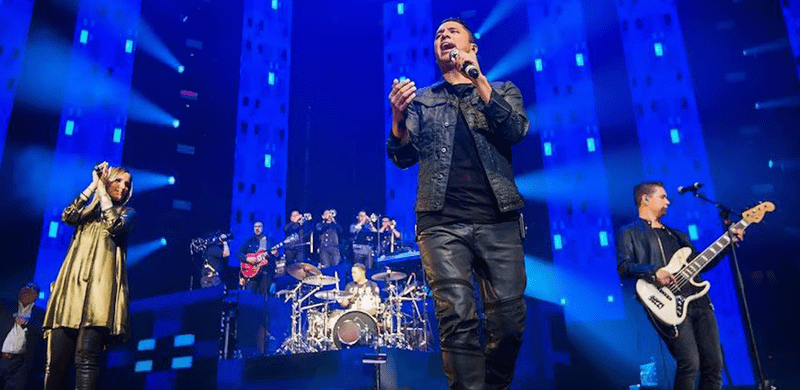 New York (September 7, 2017) – On the night of September 2, more than 14,000 fans met at Madison Square Garden, filling the arena's capacity for a historic live recording of Miel San Marcos.
The crowd joined brothers Josh, Luis, and Sammy Morales singing together their well-known songs as well as unedited and exclusive compositions for the new production titled, "PENTECOSTÉS".
Madison Square Garden is an iconic venue where many top artists have recorded live albums such as Jonny Cash, Lady Gaga, Michael Buble, Bruce Sprinting and Mariah Carey among others. Miel San Marcos saw this as the perfect place to bring unity and usher an atmosphere of worship in the most diverse city in the world.
Miel San Marcos broke records as the first Spanish Language Christian group to present itself, as well as exceeding all expectations in attendance with people representing the US, Puerto Rico, Guatemala, Mexico, Italy, Argentina and many more countries.
The night started out with the well-known Spanish humorist, Yoyito, who welcomed the crowed and then presented Miel San Marcos KIDS who sang the popular song "Increible" (Incredible). This new project called "Agradecido" (Grateful), is the children's version of some of the band's successful songs which includes a story book. Miel San Marco's children are part of the project as well as their extended family.
Miel San Marcos introduced their parents, Luis Morales Sr. and Rebe de Morales and their extended family in an emotional moment where all testified to their mutual gratitude.
The arena vibrated with joy and expectation as the concert started its first songs. Marcos Barrientos sang along with "Bienvenido, Espíritu Santo" (Welcome, Holy Spirit), as well as other songs. An unexpected visit of the singer-songwriter Marcela Gándara was received with a warm welcome as she sang "Abba, Padres" (Abba, Padre).
"People responded turning their lives to Jesus and the church's outcry was heard in the city", Josh, the main voice, stated. "¡Thank you, precious Body of Christ, for bringing up the only banner that brings joy, forgiveness, and salvation," he shared on his social networks.
Luis mentioned "it wasn't our concert, we did not fill this place, it was filled by the glory of God, it was filled by a church passionate for Jesus in this generation. More than our voices, we heard the voice of the Spanish speaking church in need, but grateful, surrendered at the feet of the Father; I know each song was recorded to bring unity, healing and salvation."
On the technical part, the event was produced by The Metropolitan and Unción Producciones USA under the direction of Oscar Morales. The album was produced by Miel San Marcos under the direction of Chris Rocha and recorded by Danny Duncan with Sean Moffitt. Manny Rodríguez was in charge of video direction together with Unción Producciones.
Miel San Marcos followers will see the end product of the Pentecostés event thru the official account on YouTube.
Miel San Marcos is grateful to Samaritan's Purse, MultiTracks, Adarga Entertainment Group, Dèxios Design, Alerta TV, Aliento Visión, Jesus es Luz Radios, Reyes Music & Events, and Pollo Campero, amongst other organizations and companies who supported the event.
##