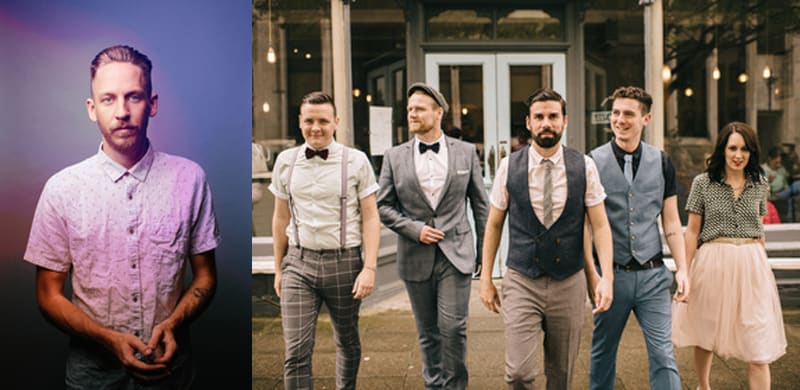 Rend Collective Launches Rend Family Records In Partnership With Capitol Christian Music Group
Urban Rescue is first official act signed to new imprint
Rend Collective and Urban Rescue team up for spring tour across the U.S. and U.K.
Nashville, Tenn. (October 23, 2015) — Northern Irish folk worship band Rend Collective has announced the launch of Rend Family Records, a partnership with Capitol Christian Music Group and an endeavor stemming from the group's heart for worship and community.
"Rend Collective has always been about finding wild and colourful ways to worship God, so as Rend Family Records, we hope to shine a spotlight on artists who are redefining the landscape of musical worship," Rend Collective shared. "We're calling ourselves a 'family' on purpose, because we want this label to be another extension of the thing we call 'church.' Our goal is to create an environment where discipleship is valued more than the 'next great idea,' to be pastorally-minded instead of product-driven."
Rend Family Records' first official signing will be Urban Rescue, a revival band from Los Angeles. Fronted by Jordan Frye, the band is on mission to inspire the next generation of believers to see their churches, communities and cities awakened by the Gospel of Jesus Christ.
"Kaleidoscope," the first single from Urban Rescue's upcoming album, is available today on iTunes, Amazon and other digital outlets. Click here to check out the official lyric video.
Learn more about Urban Rescue by watching the video below.
"It's an honor to introduce Urban Rescue as the first band signed to Rend Family Records," Rend Collective continued. "Urban Rescue has been inspiring us since 2009 with their untamed and undiluted worship. Not only do they exhibit so much of the artistry we believe in, but their passion to pursue authenticity with God and people embodies the family heart we value. We are excited and grateful to be a part of Urban Rescue's continued creative journey as they write music for the church."
Urban Rescue will also join Rend Collective this spring as they head out on tour with 50+ dates spanning the continental United States and the United Kingdom. The tour is in support of Rend Collective's most recent release, As Family We Go, which landed in the iTunes top ten albums overall in seven countries including the U.S., U.K. and Canada. They have spent the spring and fall of 2015 touring with Chris Tomlin on the most successful tour of his career, the "Love Ran Red Tour." For up-to-date tour information, visit: rendcollective.com/tour.
"We have the utmost enthusiasm and respect for the work Rend Collective has done throughout the world with their recorded music and live worship events," said Capitol Christian Music Group President, Peter York. "They have a compelling vision and a dynamic voice in the global church today. We are pleased to partner with them on their first Rend Family Records signing, Urban Rescue. This great Southern California based band has all of the essential elements necessary to launch successfully and impact the market with the same passion and originality that has become synonymous with Rend Collective's brand."
About Rend Collective
Hailing from a small town off the coast of Northern Ireland, Rend Collective (Gareth Gilkeson, Chris Llewellyn, Ali Gilkeson, Patrick Thompson and Stephen Mitchell) wants to be known as a celebration band, worshiping for God's Glory and fame. Since the release of their first album, Organic Family Hymnal, the group's authentic and energetic style of worship has attracted an international audience, with career sales of more than 300,000 albums. The group saw early success as their first ever single "Build Your Kingdom Here," peaked at No. 12 on the National Christian Audience Chart. Their 2014 release The Art of Celebration, charted at No. 1 on the Billboard Christian Albums Chart within the first week of its release. Known for their electric, lively worship, the band has been a part of several major tours with top artists such as Chris Tomlin, MercyMe, Kari Jobe, Lecrae and more. Rend Collective is currently preparing to embark on two headlining tours in 2016. The group's latest album As Family We Go, released last month, hitting No. 19 on the U.K. Albums Chart and No. 9 on U.K.'s Digital Albums Chart, making it the highest debut for a Christian album in the U.K. in almost 20 years and the highest ever Christian album debut on the U.K. Digital Albums Chart. As Family We Go also hit the No. 1 spot on the iTunes Christian albums chart in the U.S., U.K., Canada, Australia and New Zealand and landed in the top ten albums overall in seven countries including the U.S., U.K. and Canada.
Get Connected With Rend Collective
Website: http://rendcollective.com
Facebook: http://facebook.com/rendcollective
Twitter: https://twitter.com/rendcollective
Instagram: https://instagram.com/rendcollective/
Spotify: http://tinyurl.com/rendcollectivespotify
Apple Music: http://smarturl.it/AsFamilyWeGoAPL
Google Play: https://play.google.com/store/music/artist/Rend_Collective?id=Awch4mrsu4hi5utotmvhpytjiqq
###
Media Contact
Kirsten Grenier & Velvet Kelm
The media collective
kirsten@themcollective.com
velvet@themcollective.com
615.591.7989
www.themcollective.com