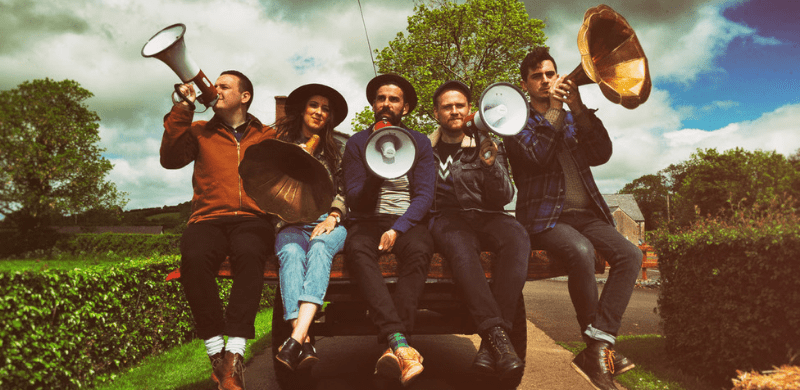 Rend Collective Continues International "Good News Tour"
Announcing New Fall Dates in U.S.
with Special Guest Cody Carnes
Nashville, Tenn. – Rend Collective's hit single, "Counting Every Blessing" has set a new career precedent for the Irish celebration band. No. 4 and climbing at Christian Airplay, the track is Rend Collective's highest charting radio single spending nine consecutive weeks in the Top 10, reaching over 7.9 million listeners. Adding to the momentum, the songs music video has gained over 1.5 million views on YouTube, with over 15.5 million streams topping 124 thousand units in global track consumption.
The anthem is featured on the band's latest, Good News, and Good News: Deluxe Edition which released on Aug. 24 with six alternative live tracks in addition to the 15 original tracks from the group's critically acclaimed Good News, which debuted at No. 1 on Billboard's Top Christian Albums chart. The six new recordings include live acoustic sessions of "Nailed To The Cross," "Rescuer (Good News)" and current radio favorite "Counting Every Blessing," as well as three live performances from the band's sold-out hometown show in Belfast, Ireland.
Rend is currently headlining their international "Good News Tour," and recently announced new U.S. dates this fall with special guest Cody Carnes in select cities. Kicking off on Oct. 17, the tour will hit 20 markets throughout the country. For tickets and additional information visit https://rendcollective.com/pages/tour.
About Rend Collective:
Hailing from a small town off the coast of Northern Ireland, Rend Collective (Gareth Gilkeson, Chris Llewellyn, Ali Gilkeson, Patrick Thompson and Stephen Mitchell) wants to be known as a celebration band, worshiping for God's Glory and fame. Since the release of their first album, Organic Family Hymnal, the group's authentic and energetic style of worship has attracted an international audience, with career sales of more than 300,000 albums. The group saw early success as their first ever single "Build Your Kingdom Here," peaked at No. 12 on the National Christian Audience Chart. Their 2014 release, The Art of Celebration, charted at No. 1 on the Billboard Christian Albums Chart within the first week of its release. Known for their electric lively worship, the band has been a part of several major tours with top artists such as Chris Tomlin, MercyMe, Kari Jobe, Lecrae and more. The group released critically acclaimed As Family We Go in 2015, followed by, Campfire Christmas Volume 1, their first Christmas record, and Campfire II, both in 2016. The critically acclaimed Good News released in 2017, followed by Good News: Deluxe Edition (2018), now available everywhere.
Get Connected with Rend Collective: Website, Facebook, Twitter, Instagram
##