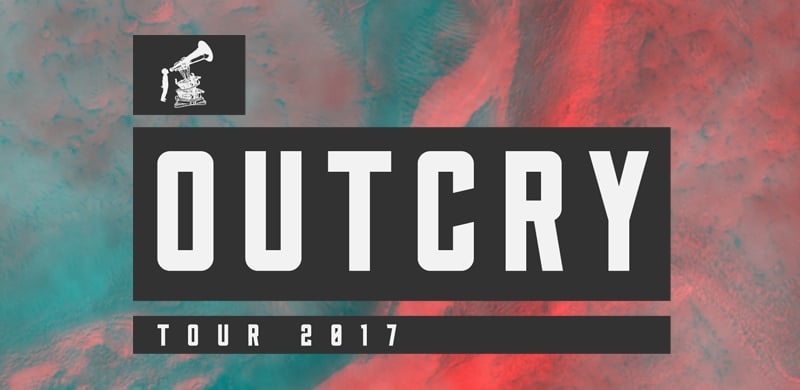 Artist Line-Up Includes Jesus Culture, Elevation Worship and Lauren Daigle with Speakers Steven Furtick and Levi Lusko
Registration Presale Begins January 20, On Sale January 23
(Nashville, Tenn.) January 18, 2016 – OUTCRY announces dates and the line-up for the 18-city OUTCRY: Spring 2017 Tour, which champions, represents and promotes the local church: the Bride of Christ. The tour will highlight the creativity, heart and mission of the local church. Featuring a unique combination of artists and worship leaders, OUTCRY: Spring 2017 Tour provides attendees with a rare opportunity to see this group of artists together on one stage. Artists teaming up for the OUTCRY: Spring 2017 Tour include Jesus Culture, Elevation Worship, and Lauren Daigle with speakers Steven Furtick and Levi Lusko. Registrations for OUTCRY: Spring 2017 Tour are available January 20 with an on-sale date beginning January 23.
"OUTCRY continues to be such a humbling tour to be a part of," said Ryan Romeo, creative director for the OUTCRY Tour. "Each time we get out on the road, I'm reminded of what God is doing through his Church across the nation. He is moving in His people power and unity, and I'm filled with a huge sense of anticipation to see what He continues to do this year."
"We are excited to be a part of the OUTCRY tour again! It was so amazing to see people from many denominations come together and worship Jesus," said Kim Walker-Smith, Jesus Culture Artist. "The heart behind OUTCRY is to promote the local church and to encourage unity amongst the body of Christ, which is so important to us at Jesus Culture. We are so happy to be a part of that!"
For more information on the OUTCRY Tour 2017 and to register, please visit: http://www.outcrytour.com. Pre-sale: 1/20/2017 with code: LOUDER
*OUTCRY: Spring 2017 Tour dates:
4/20/2017 Minneapolis, MN | Grace Church
4/21/2017 Chicago, IL | Sears Centre Arena
4/22/2017 Ft. Wayne, IN | War Memorial Coliseum
4/24/2017 Grand Rapids, MI | Resurrection Life Church
4/25/2017 Ypsilanti, MI | EMU Convocation Center
4/27/2017 Washington, D.C. | EagleBank Arena
4/28/2017 Raleigh, NC | PNC Arena
4/29/2017 Reading, PA | Santander Arena
4/30/2017 Cincinnati, OH | BB&T Arena
5/2/2017 Pittsburgh, PA | PPG Paints Arena
5/3/2017 Charlotte, NC | Bojangles' Coliseum
5/4/2017 Atlanta, GA | First Baptist Woodstock
5/5/2017 Orlando, FL | First Baptist Orlando
5/7/2017 Miami, FL | James L. Knight Center
5/9/2017 Nashville, TN | Municipal Auditorium
5/11/2017 Birmingham, AL | Legacy Arena at the BJCC
5/12/2017 Bossier City, LA | CenturyLink Center
5/13/2017 Tulsa, OK | Victory Church
*Artists and speakers vary by date. Visit outcrytour.com for full details.
About OUTCRY:
OUTCRY is the lights and sounds of a movement. A gathering of worshipers. A reflection of the local church. www.outcrytour.com
##
Media Contact:
Premier Productions
336-887-3582
info@premierproductions.com