NOBLE STORY CO. Secures Motion Picture Rights to Novel THE HEART MENDER, Written by Three-Time New York Times Bestselling Author Andy Andrews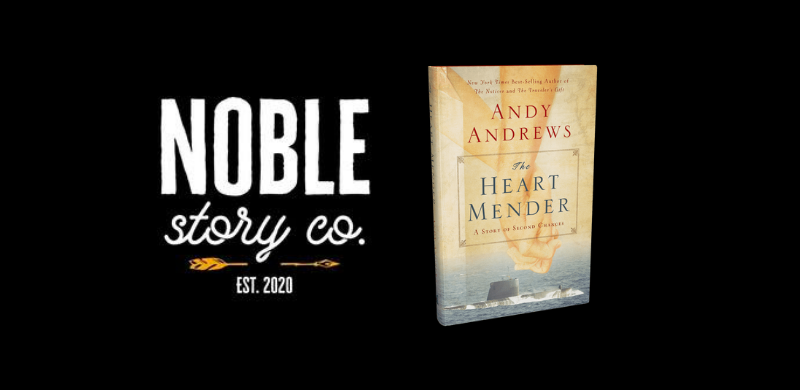 Grand Rapids, MI. December 6, 2021 –
NOBLE STORY CO
. is honored to announce the beloved historical fiction novel THE HEART MENDER is being developed as a feature film. The novel, penned by three-time New York Times best-selling author Andy Andrews, shares a powerful story of loss, reconciliation and the universal healing experience of letting go.
THE HEART MENDER shares the story of Helen Mason, a young woman who is unable to abandon her resentment toward the Nazi war machine that took her husband's life. In the summer of 1942, Helen comes upon German U-boat officer Lt. Josef Landermann, who had washed ashore after being abandoned and left for dead by the Kriegsmarine. This moment changes Helen's life forever.
"This has long been my favorite book I've written," says author Andy Andrews. "It's a thriller, a mystery, and a true story of second chances."
Most Americans are completely unaware of the German U-Boat presence off the US Gulf Coast during World War II. In fact, more Allied ships were sunk in the Gulf than were destroyed in the attack on Pearl Harbor. Coastal residents of Louisiana, Alabama, and Mississippi reported hearing splashing and German voices at night, and there were reports of finding Campbell's Soup cans, movie ticket stubs, and fresh turnip greens aboard a captured U-Boat. Ultimately, nearly 7,000 Americans lost their lives as a result of the German campaign in the Gulf.
"This is an incredible story about a little-known piece of World War II history," shares Andrew Teravskis, co-founder and CEO of Noble Story Co. "That, coupled with the poignant and timely message of forgiveness across enemy lines, makes this story an undeniable addition to our slate."
The project was brought to Noble Story Co. and will be produced by Edgar Struble, multi-talented artist and businessman who has spent the last decade working on independent films including CROWNING JULES and GOD BLESS THE BROKEN ROAD. Also producing are Andrew Teravskis and Adam Gregory of Noble Story Co., who are also providing development financing. Noble Story Co. was founded by Teravskis and Gregory, passionate creatives and business strategists who seek to bring to life what they call "stories worth re-watching."
With five other feature films and two episodic series currently pending, NOBLE STORY CO. is disrupting the independent film space by creating a fan-owned movie development and production company. "We live in a time where there's an overabundance of content to watch, but it seems there's never been fewer movies that I actually want to watch," says co-founder and COO Adam Gregory. "We're betting film audiences feel the same way. Now, we're allowing fans of 'stories worth re-watching' to get involved in the decision making process by owning part of Noble Story Co." The company has recently started an equity crowd investing campaign. More information can be found at
wefunder.com
.
Additional production announcements to follow in early 2022.
Noble Story Co. is repped by Arine Harapeti.
Andrews is repped by Neely & Callaghan.