Comedy Central Host Chris Hardwick's Nerdist.com Exclusively Premieres Skillet's "Back From The Dead" Music Video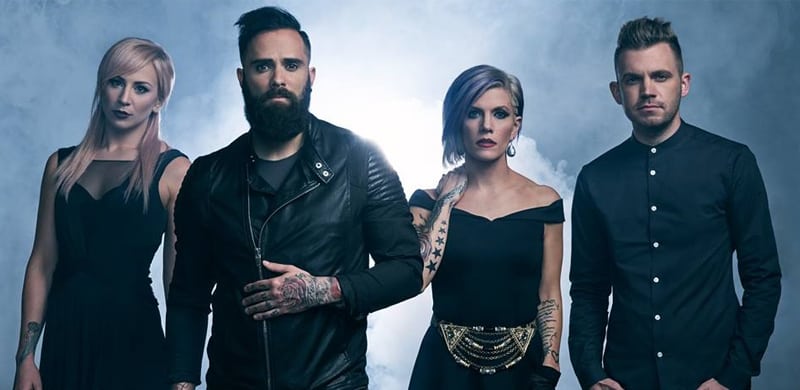 Nashville, Tenn. (March 14, 2017) – Nerdist.com exclusively premieres Skillet's post-apocalyptic, zombie themed music video for "Back From The Dead," featuring the band's waged war against the "rock n' roll" walkers." Nerdist.com founder, Chris Hardwick, is the host of Comedy Central's Emmy Award-winning nightly comedy game show @midnight with Chris Hardwick, along with AMC's Talking Dead, a live television aftershow featuring commentary surrounding The Walking Dead and Fear the Walking Dead.
Sharing the concept behind the video, Skillet's John Cooper reveals to Nerdist.com, "I write in metaphor quite a lot. The idea that there are people out there that want to chase me down and steal away my hope, try to drag me down, try to make me as miserable as they are: that felt a little bit like zombies to me. That thought led to many lyrics in the song."
Cooper continues, "Skillet has been told throughout our years that we could be more successful if we strayed away from our Christian message, stop playing Christian shows, festivals. We have had to stand up for our beliefs and not compromise in the face of those challenges. This song is about not giving up that fight."
From Skillet's chart-topping album UNLEASHED (2016), "Back From The Dead" is making waves at radio, currently residing in the Top 20 on the Active Rock Building, Active Rock Rolling and Active Rock Published charts.
About Skillet:
Skillet has cemented its place as one of the 21st century's most successful rock bands. Selling more than 11 million units worldwide, the Wisconsin quartet have received two GRAMMY® Award nominations and won a Billboard Music Award for the platinum-certified Awake. Their double-platinum single "Monster" is "the eighth most-streamed rock song of 2015" with a total of 57 million plays (and counting) on Spotify and would earn the distinction of becoming "the best-selling digital single in the history of Christian Music." 2013's Rise bowed at #4 on the Billboard Top 200 upon release and received resounding and eclectic acclaim from the likes of USA Today, New York Times, Revolver, Loudwire, and more.
Website: www.skillet.com
Facebook: https://www.facebook.com/skillet/
Twitter: @skilletmusic
About Nerdist.com:
Nerdist.com is the heart of Chris Hardwick's (host of Comedy Central's Emmy Award-winning nightly comedy game show @midnight with Chris Hardwick, AMC's Talking Dead, and voice as "Craig" in the Nickelodeon animated comedy series Sanjay and Craig) digital media empire. With daily news, videos and reviews of the latest games, movies and comics, Nerdist's team explores the nerd fabric of today's pop-culture landscape.
##